Dustin Huckabe, president of OU Students in Recovery and social work senior, held back tears as he announced that the group had received $10,000 from the Charles and Cassandra Bowen Charitable Foundation.
The donation came immediately before a Sept. 27 event hosted by Students in Recovery called "A Night of Recovery," where a panel discussed implementation of a collegiate recovery program at OU, and before Students in Recovery launched a separate fundraising campaign at the event.
Discussion panelists included Tim Rabolt, executive director of the Association of Recovery in Higher Education; J.D. Fennell, executive director of Recovery Teen Solutions; Adran Gibbs, OU Student Government Association president; Cleveland County District Judge Michael Tupper; and Max Vrana, a student in long-term recovery and member of Students in Recovery.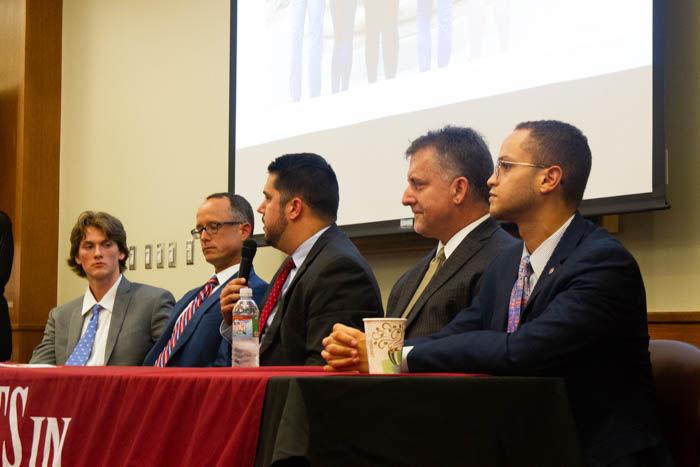 The discussion panelists each talked about their own areas of expertise on the subject of collegiate recovery programs, recovery in general and the effects that these things have on the community. 
The panelists also answered audience members' questions specifically on the subject of the benefit a collegiate recovery program at OU would provide. 
The discussion was moderated by District 16 State Sen. Mary Boren, State Sen. Chuck Hall and State Rep. Jacob Rosecrants also attended the event.
Before the event, Huckabe had been unsure whether members of OU administration would attend the event. Many declined their invitations due to their busy schedules. 
Kristen Partridge, associate vice president for student affairs and associate dean of students; Maggie Pool, assistant director of clinical services at Goddard Health Center; and Kye LeBoeuf, Comprehensive Alcohol Program coordinator, Alcohol Strike One health educator and general health educator at Goddard Health Center, attended the event.
"(OU administration asks) why OU? Why now?" Huckabe said at the event. "I say, why not OU? Why not now?" 
During the event, the organization announced the launch of its Thousands Strong fundraising campaign, which Jennifer Dell, faculty sponsor for Students in Recovery, said is extremely important in the mission of funding a collegiate recovery program at OU. The campaign is open until Oct. 25.
"It would make a huge statement if we could say we had 200 donors to this campaign," Dell said. 
The campaign surpassed its $2,500 goal within three days of its launch.
OU Students in Recovery has been working since fall 2018 to show the OU administration that having support and creating space for students recovering from addiction is important and needs to be addressed by creating a collegiate recovery program. 
A collegiate recovery program is a "supportive environment within the campus culture that reinforces the decision to engage in a lifestyle of recovery from substance use," according to the Association of Recovery in Higher Education.
Huckabe and Dell advocated for the importance of developing a collegiate recovery program at OU. 
"The expansion of recovery support on campus and the creation of a collegiate recovery program is a big part of creating the diverse, equitable and inclusive community that OU wants to create," Dell said.