OU President David Boren said that if his recently announced penny tax initiative passes in November 2016, he could have the funds to freeze tuition rates.
Boren's penny tax would raise approximately $615 million specifically for Oklahoma education in one year. Of that sum, higher education in Oklahoma would receive $125 million, while the majority of the revenue would be put towards K-12 teacher salary raises. 
This money would contribute enough funds to OU to freeze tuition and fees from increasing, Boren said.
"I would say we would freeze them for at least a couple of years, maybe longer depending upon how the budget impact is," Boren said, "But I would say that I could foresee us freezing tuition and fees for at least two years."
Boren said his group, "Oklahoma's Children — Our Future," will file the initiative with the Oklahoma State Supreme Court in late October. Though Boren said he could use his position as university president in hopes of garnering student support for the initiative, Boren said he will file the initiative as a private citizen.
Boren's penny tax initiative would add a one cent tax to Oklahoma's existing sales tax through a change to the state constitution. All the revenue from the tax would go directly to education funding, and none would go toward administrative spending. 
"Polling data demonstrates that a large majority of likely voters in both parties favor a sales tax," Boren said. The initiative is planned to be bipartisan with elements that both parties can support, Boren said.
After the initiative is filed with the courts, they have 90 days to determine whether it's legal or not. If the courts declare the initiative legal, Boren said they have to get 135,000 signatures. However, he wants even more signatures than that.
"But to be safe, we're going to try to get 200,000 because people can come in for a month and try to knock signatures off… So you want to try to have some extra signatures," Boren said.
Boren said the general election ballot is the best chance the tax will have to pass.
As far as the rest of the $615.5 million goes, $378 million will be dedicated to raise teacher salaries, $50 million would go to locally controlled reforms, $50 million would go to early childhood programs and $12.5 million would go to the vocational and technical school systems.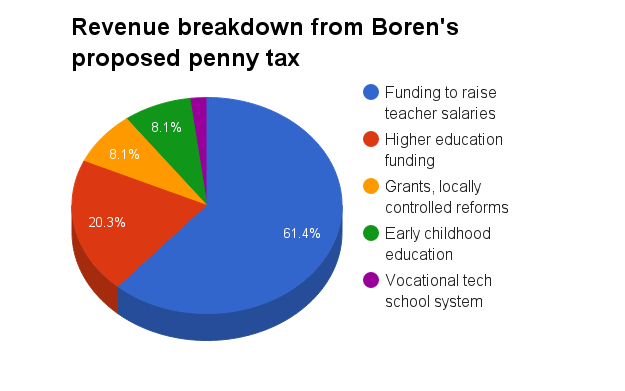 ---
Read the full letter from Boren below:
Andrew Clark contributed to this report.