William McCollum currently works six days a year.
Every OU football home game, the political science junior at Rose State College displays a cardboard cutout with a dollar amount written on it in an attempt to court game-goers' cars onto his property. This is the third football season he has been in business.
McCollum, along with many other Norman residents who live within relative walking distance to the Gaylord Family-Oklahoma Memorial Stadium, doesn't spend his Saturdays cheering for the Sooners at the game. He spends his time at home, with vehicles parked on his lawn and pockets filled with cash.
For the Ohio State football game Sept. 17, McCollum charged customers $25 for a spot on his property on Garfield Avenue, which is less than a half mile from the football shrine.
"We can usually fit around seven or so (vehicles) in the front yard and then about 12 or so in the backyard," McCollum said.
Do the math. If he sold all of those spots, McCollum would make $475 in a day. If McCollum were to make that much each OU home game, he'd make $2,850 per season.
A person making minimum wage would have to work more than 393 hours to match those earnings.
McCollum plays to the market, though.
"On a less important game, we'll do $20 (per spot), but for games like Ohio State, we'll do $25," he said.
McCollum's next-door neighbor, Sonny Priest, graduated from OU in 2008 with a degree in film and video studies, now known as film and media studies. He's offered game attendees spots in his yard since his days as a student.
His business model is more strategic than McCollum's, though.
"Some people block people in, and then some people do what's called 'easy-out' parking," Priest said. "No blocking in is very attractive to a lot of people. Like last week — if it's a blowout, and people want to leave at halftime or the third quarter, you don't want to be stuck at your car and not able to leave."
Priest said he parks fewer cars than some people can but charges a little more per car since he offers easy-out parking.
"If I wasn't doing easy-out, I'd do like $20, fill 25 cars and just pile them in the back. But then everybody would hate me afterwards," he said.
He said he even has a returning clientele.
"Customer service," he preached. "If you're nice, if you're responsible. ... You just treat them like you want to be treated."
Sonia Adkins owns rental properties across Norman. Before the Ohio State game, she sold parking spaces at one of her properties on Debarr Avenue with the help of her son and daughter-in-law for $30 per spot. She upped it from her normal $20 for that day but not because of the game.
She didn't even know who the Sooners were playing.
"I see the people," Adkins said. "I started at $20, but this woman (a few doors down) ... is charging $35."
She's been selling spots at that particular property for 15 years. She said she's earned a nickname from doing so: the moneybag.
"You know Mr. Moneybag in the casino? That's 'moi,'" she said.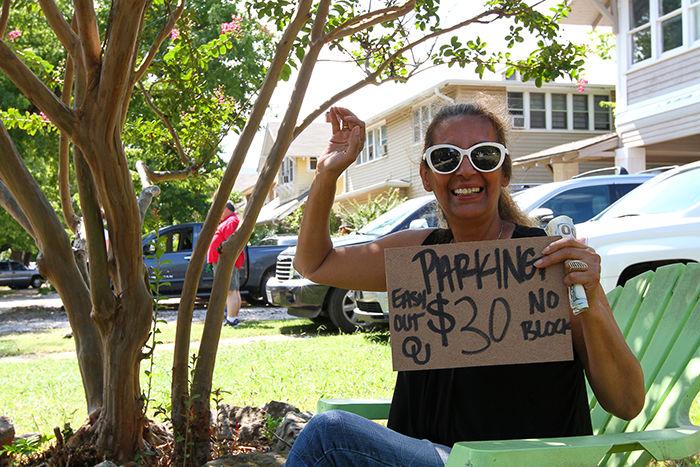 Adkins immigrated to Oklahoma from Egypt 40 years ago after she fell in love with her husband, who was the first American she ever laid eyes on, she said. They originally owned a farm in Goldsby, Oklahoma, but since they moved to Norman, Adkins has been selling parking spots.
But she said the business is more about the fun than the money.
"My last name is not Trump," she said. "My last name is Adkins. The Adkins family are very nice people here in Norman.
"(Upcharging people for parking spots) is not good business," she said.
Sometimes customers give the sellers more than just money.
"A lot of times they offer beer," McCollum said, clenching a can of Michelob ULTRA. "It's really fun."