New OU President James Gallogly announces major administrative restructuring plan, removes multiple executives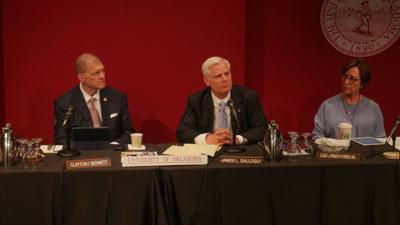 The University of Oklahoma has announced a major executive restructuring on James Gallogly's first day as OU president, according to an OU press release.
Gallogly's reorganization brings the number of executives reporting to him from 25 to 17, including staff from all three OU campuses. According to the release, this reorganization is aimed to "streamline reporting, bring in fresh, diverse perspectives, and improve its cost structure."
"When our university strives to be more efficient and cost effective, college can remain within the reach of more students," Gallogly said in the release. "During this time of change, we will continue to focus on academic excellence, student success, employee engagement and efficiency. These first steps are needed to help maintain current tuition levels and work toward faculty pay raises."
National recruitment searches will be conducted for the positions of vice president and chief financial officer, vice president for human resources, vice president for university development, vice president for student affairs, vice president for public affairs, executive director for government relations and chief auditor.
Nick Hathaway's former position of executive vice president for administration and finance has been eliminated, with the chief financial officer, chief human resources officer and vice president for facilities and services now reporting directly to the president, according to the release.
In addition, the vice presidents of enrollment and student financial services (Matt Hamilton), university community (Jabar Shumate), outreach (Belinda Biscoe) as well as the leaders of the Colleges of Business (Daniel Pullin), Law (Joseph Harroz), and Atmospheric and Geographic Sciences (Berrien Moore) will be made part of the Norman office of the provost, "to better align those functions with student and academic needs," according to the release.
The vice president for government relations and executive director of federal programs will be combined into one position, reporting to Anil Gollahalli, the general counsel. Information Technology will now report to the chief financial officer and the leadership in the Development office will also be reorganized, according to the release. Tripp Hall served as vice president of University Development under President Boren.
"We view this as an excellent opportunity to hire new talent to bring fresh perspectives and improved diversity to our organization," Gallogly said in the release. "We wish to thank Nick Hathaway, Chris Kuwitzky, Clive Mander, Rowdy Gilbert, Scott Mason and Jonathan Nichols for their service to our university and wish them well in their future endeavors."
Hathaway was the former executive vice president and vice president of administration of finance, Kuwitzky the former associate vice president and chief financial officer, Mander the former chief audit executive, Gilbert the former associate vice president for public affairs, Mason the former executive director of federal programs and Nichols the former vice president for governmental relations.
"We are positioning our university to remain the university of choice in a dynamic education landscape," Gallogly said in the release. "We have ambitious plans and look forward to an even brighter future."