Limited on-campus parking causes problems for OU students, faculty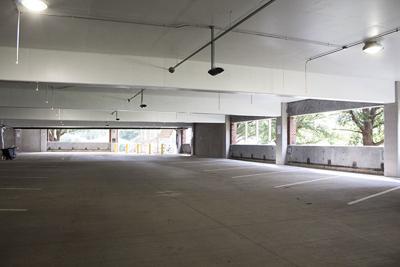 It's 11 p.m. on a Sunday night and Erin Palmer is just getting back to campus.
Palmer knows there will not be housing parking anywhere close to the dorms, since students have returned from their hometowns to campus for school tomorrow. Still, she hopes to find a space.
Half an hour after arriving on campus, the then-health and exercise freshman is tired, stressed and hungry, and still has not found a spot. She doesn't want to park far from the dorms this late at night, so she decides to park in a spot not designated for her. She sets an alarm to move the car early tomorrow morning before class.
When she returns before her 9 a.m. class the next day, she has a ticket.
Parking services charges $274 for a student parking permit, although having a permit does not always guarantee a spot. According to director of parking services Kris Glenn, parking services does not limit the amount of permits it sells because not everyone is on campus at the same time.
Although parking services does not limit purchases of permits, only commuter permits exceed their amount of spaces. Glenn said in an email that parking services sold 6,098 commuter parking permits this year, with 3,022 commuter spaces available across campus. That leaves 3,076 commuters without parking if all require a space at one time.
"The number of permits sold vs. spaces available doesn't really tell much of a story," Glenn said in an email. "Occupancy at peak times is what really matters."
Peak times for the number of cars parked on campus are 10 a.m. to 2 p.m., Glenn said.
Palmer, now a sophomore, moved off campus for this school year, so she purchased a commuter permit to drive to class. When she first started commuting to school this year, she witnessed how much peak times can affect parking.
"I learned that week that if you get here at 10, there's nowhere to park," Palmer said. "I basically parked at Callaway for like the first week."
Palmer said she has to get to campus around an hour early just to find a place to park so she can make it to her 10:30 a.m. classes on time. 
The amount of spaces available during peak times still exceed the amount used, with more than 100 commuter spaces and over 400 housing spaces available at these times, Glenn said in an email.
"Students have issues finding available parking on campus because they go to where they would like to park instead of an area that has open spaces," Glenn said. "The best practice is to not circle popular areas that are full but instead go to the sure bet of available parking. Right now that is typically the Jenkins garage for commuters."
Parking is not a struggle limited to students. On Aug. 16, adjunct faculty in the Gaylord College of Journalism were informed the parking pass usually gifted to them by the college would be revoked, and they would have to buy their own passes if they were going to park on campus. This decision was reversed less than a week after this announcement after adjuncts like Jarena Lunsford voiced their concerns.
"I've always been really appreciative that the Gaylord college provided the parking permits for the adjuncts," Lunsford said. "Initially I emailed back … and I think a lot of people did the same thing. It was an email chain of just a lot of like shock and 'is this really happening?'"
Adjunct faculty either bought a parking permit or parked near campus without a permit from the first day of school until the decision was reversed, Lunsford said. Lunsford parked in a residential area near Headington for the first few days while considering her options with parking.
"At the end of the day, (purchasing a permit was) just what we were going to have to do ," Lunsford said. "On my way after class … there was a tow truck on the street towing a car, and all I thought was 'That could be me any day, for whatever reason.' ... So then I told my husband, 'We're just going to have to buy the permit.'"
Lunsford said the adjuncts who purchased permits were able to refund them after the decision was reversed, and that she was happy to have administration who listened to their concerns on parking.
"I was happy to be a part of the Gaylord college," Lunsford said. "I really felt like Dean (Ed) Kelley and Dr. (David) Craig appreciate the work the adjuncts do, they appreciate the role we play in the college."
Although Lunsford does have a faculty permit now, she said parking with a faculty permit is still difficult, especially in the afternoons and evenings when she spends "a good 20 to 30 minutes" looking for a spot.
"I think a lot of people think having a faculty and staff parking (permit) is like having a Willy Wonka golden ticket," Lunsford said.  "I'll be the first one to say no it is not. It does not guarantee you a parking space at all."
Palmer knows this from her experiences living on campus last year. However, when she received her ticket, Palmer said she attempted to get her ticket appealed. She said she told parking services she parked there so that she would not have to walk a long distance to her dorm late at night by herself, but that parking services told her she should have parked in Lloyd Noble and used SafeWalk to get back to the dorms.
"It's just so crazy because Lloyd Noble is far," Palmer said. "SafeWalk takes a bit of time ... for them to get to you. It was just dark, cold and I'm a girl on campus — there's not a lot of light on the main road like there is on campus. That was just not a response I was looking for."
Parking services issues an average of 50,000 citations a year according to their website, but the parking appeals board gives students the opportunity to get their citations overturned. Mechanical engineering senior Nathan Schmenk serves as the chief justice of the parking appeals board, and said he could not comment on issues with parking on campus or the issue of overselling permits.
"I can say I have faith in our administrators and parking services staff," Schmenk said in an email. "I've seen the extraordinary work each and every one of them do firsthand. The entire administration of parking services has always been overwhelmingly positive to any recommendations we make to them to improve student parking on campus."
Schmenk said that any issues students face with parking can be addressed through emailing parkingappeals@ou.edu, so that the parking appeals board can "help improve the student situation in any way we can."  
Although he could not comment on the problems with parking and permits, Schmenk said he has seen many improvements with parking over the years.
"They've become much more receptive to student concerns and issues," Schmenk said in an email. "Kris Glenn is one of the best directors I've ever seen in this position ... It's very clear that the entire parking services staff has improved with his leadership, and the relationship between SGA and parking services couldn't be better."
Over time, parking services has opened up new garages and also made changes to the way certain lots and spaces are designated. The Jenkins garage opened up in January 2017 and added 1,217 spaces to campus, and the Timberdell garage opened over the summer and added another 990 spaces.
Although the Timberdell garage added parking to campus, many spaces are only available to residents of Cross Village, which is only 30 percent full. During a peak time at 10:30 a.m. Sept. 11, 186 spots designated for Timberdell permits were empty in the Timberdell garage out of 350 spaces available for Timberdell permits.
"They should make it open to all housing people too," Palmer said. "Especially Cross … it's not nearly full enough for them to have two full (parking) floors just for them when there are like barely any residents there."
Parking services also made changes to the Jenkins garage after commuter parking difficulties the first week of class, opening up a floor to commuters that was previously designated as housing only.
Lunsford said she thinks that when universities are as large as OU is, "you're just going to run into this issue." However, she also said a re-evaluation of the allotments for each type of parking may be beneficial.
"Parking should be the least stressful part of college," Lunsford said. "It doesn't seem to be that case, whether you are a student, faculty, staff or visitor."