The investigation into allegations of sexual misconduct by former OU President David Boren totaled over $1 million, according to records obtained by The Daily.
The first billing statement from the Jones Day law firm for the investigation into "serious misconduct" was from Dec. 7 for $84,802.50, according to the records. The investigation was first reported in February 2019.
Since then, the university has been billed five more times by the firm for the investigation, with billings on Jan. 17 for $78,957.27, Feb. 26 for $166,814.04, March 20 for $376,558.36, May 10 for $304,093.07 and May 22 for $106,317.50. The total cost was $1,117,542.73, according to the records.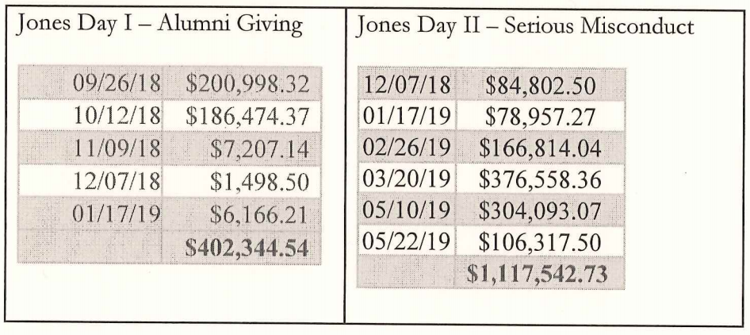 The total amount the university was billed by Jones Day was $1,519,887.27, due to the firm's initial hiring by the university to investigate misreporting of alumni donations, according to the records. 
The law firm's first billing to the university for the misreporting investigation was on Sept. 26 for $200,998.32, with billings on Oct. 12 for $186,474.37, Nov. 9 for $7,207.14, Dec. 7 for $1,498.50 and Jan. 17 for $6,166.21. The total cost for this separate investigation was $402,344.54, with the investigation into donations first being reported Dec.10. 
Jones Day submitted its final report to the OU Board of Regents in April, when the regents received a six-hour briefing on the findings of the report in executive session. At the regents' June 27 meeting, chairwoman Leslie Rainbolt-Forbes said the board had concluded its work with the university. 
Boren resigned from his president emeritus status and teaching position in June, cutting all ties with the university and ending the Title IX investigation into the allegations against him. According to a report by the Oklahoman, the university shared the Jones Day report with the Oklahoma State Bureau of Investigation, which opened its own inquiry in March.