Joe Exotic's limousine fit perfectly on Pi Kappa Phi's front lawn.
The former Oklahoma zoo owner was running for governor at the time and was in Norman to attend the OU fraternity's philanthropy event, Pi Kapp Pups. Being the big personality that he is, he had to make an entrance. And what better way than parking the white, 30-foot limo on the front lawn of 500 Elmwood.
"It's weird to say, but it wasn't a bad experience," said Pi Kappa Phi member Garrett Gappa. "He brought us a lot of money in."
Exotic has been one of the most discussed topics — other than COVID-19 — in America the past couple weeks, after the release of the Netflix documentary "Tiger King," which chronicles Exotic's rise to fame as an exotic animal owner and his eventual arrest for allegedly hiring a hitman to kill Carole Baskin, the owner of Big Cat Rescue in Tampa, Florida. The seven-part documentary — currently No. 1 on Netflix — has provided a much-needed distraction as the world continues to fight the global pandemic that has everyone searching for normalcy.
Exotic, who was sentenced to 22 years in federal prison in January, has been an especially hot topic among Oklahomans, as his zoo was in Wynnewood — a small town about a 50-minute drive south of Norman. He also ran for governor as a Libertarian two years ago, which is why he showed up at Pi Kappa Phi's event in April 2018.
"He was running for governor at the time, but he was also a huge meme," Gappa said. "Connor (Kerl) was the one to kind of introduce us to the meme."
Kerl, a member of the Libertarian party, had been following Exotic's campaign and persuaded Gappa to reach out to him via Twitter. Gappa was surprised when Exotic responded to his Twitter direct message and agreed to come.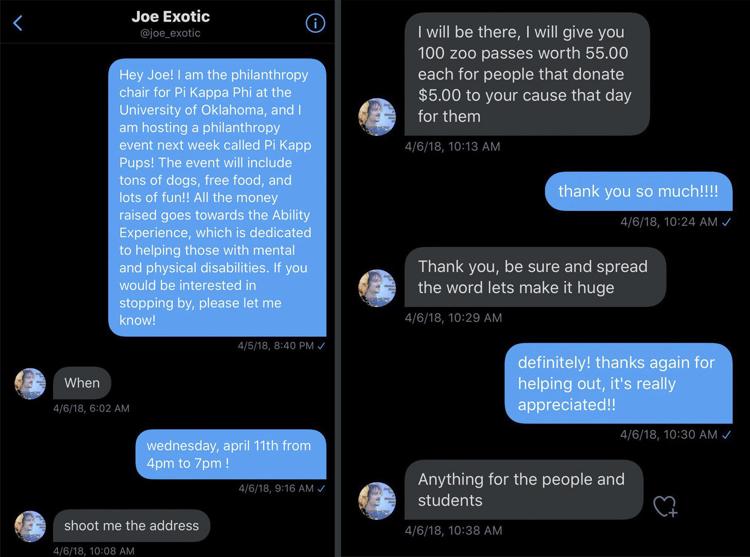 Gappa said Exotic's appearance helped the fraternity raise around $1,500, which far exceeded expectations by over $500.
"He brought like 100 zoo passes worth $55, and he allowed me to give them to people who came to our philanthropy event, which was $5," Gappa said. "He was able to help us raise a ton of money."
Exotic didn't just come to support the cause, though. He was there to campaign. He handed out posters, stickers and rolling paper that said, "Vote for Joe." He also spoke with Gappa alone for over 30 minutes to better understand how much it costs to attend OU.
"We sat down in the living room and he was asking me about fraternity dues, how tuition works, how it's different from fraternity dues, what students pay when living in dorms — essentially it was political advice," said Gappa, who is set to graduate with a degree in history in December. "He thought tuition was too high. He was trying to get a scope of what those costs actually look like for an OU student."
One of Exotic's top focuses in his campaign was legalizing marijuana and increasing teacher pay with the money the state would save from not incarcerating people who are in possession of marijuana. Kerl said Exotic's ideas were shockingly bright.
"I was kind of thrown off by how knowledgeable he was about political issues in person because in the videos he releases and in the documentary he does kind of seem like an odd guy, and he definitely is unique," said Kerl, who graduated from OU in 2019. "But I think it's almost kind of an act he puts on. It's part of the showmanship of the animal park. But I think in reality, one-on-one with him, he was a politician that saw an issue in drug sentencing and wanted to fix it and improve the education system at the same time."
As the global pandemic continues to spread and more people become stuck at home, Exotic's fame will continue to rise in the weeks and months ahead. And as they do, more OU appearances will be recalled.
Like the time he spoke at an SGA meeting in 2018.
Join us April 25th to kick off The Gubernatorial Panel Series with Chris Powell, Joe Exotic, and Rex Lawhorn. Snacks will be provided! 👀 pic.twitter.com/O5EjbSJy7y

— UofOklahoma SGA (@OU_SGA) April 22, 2018
Or the time one of his tigers was used as part of a magic act during halftime of the 2017 OU-Texas basketball game.
Halfway through #TigerKing. It is bananas. Knew I'd seen Jeff Lowe before — Took this a couple years ago right after the halftime act finished at an OU basketball game. 😬 pic.twitter.com/RsPJMeHxCD

— Nate Feken (@TheGreat_Nate) March 25, 2020
Or the time he was kicked out of a 2016 Donald Trump rally at the Norman residence of Kathy Miller, the daughter of legendary OU football coach Barry Switzer — who told The Daily he's begun watching the documentary.
September 17, 2016
Or the time he showed up to Pi Kapp Pups.
side note, he also parked his limo in our front yard pic.twitter.com/7rhZImyWDf

— garrett gappa (@garrettgappa) March 27, 2020
"The documentary obviously has a lot of negative things about him. All of that kind of caught me off guard. He is an odd, odd character. The documentary highlights that, and that was kind of the reason behind the documentary from the beginning," Gappa said. "But he was really nice. A really, really nice seemingly genuine dude. So when all this other stuff started to come out — the murder-for-hire — it kind of caught us off guard. We had no idea of that stuff at the time."
Exotic will be 78 when he's scheduled to be released from prison. Gappa and Kerl will be in their 40s. The two will always be able to say they met the "Tiger King" and have the photos and merchandise to do so. So while Kerl may not support him as much as he once did, one thing is for sure: he is never throwing out his "Joe Exotic for governor" T-shirt.
"It's probably worth its weight in gold now," Kerl said with a laugh. "I'm never getting rid of that."