Last year Virginie Perez Woods, who oversees student tutors in the OU School of Computer Science, had a mysterious problem — her tutors seemed to be skipping work.
"I started having complaints ... (students) kept telling me that they needed to go see the tutors, but every time they would go to the computer lab where the tutor has ... office hours, they were never there," Perez Woods said.
After checking the tutors' timesheets, Perez Woods was confused. "I thought, 'No, they're there,'" she said.
It turned out the tutors had been in the computer lab all along. But the computer science students had been looking for men — and the tutors were women.
"(It was) like they couldn't fathom that a tutor can be a female," Perez Woods said. "Oh, wow, what a revolutionary idea."
This is one example of the biases women and minority groups are trying to overcome in computer science, Perez Woods said. She is the business manager and academic programs coordinator for the school, as well as the adviser for OU's Association for Women in Computing.
Over the past 10 years, women have been the recipients of around 18 percent of computer science degrees at OU. While the number of female computer science graduates has increased over the years — from four in the 2008-09 academic year to 37 in the 2018-19 academic year — the ratio of women to men averages 12 to 57 over the past 10 years, according to OU Institutional Research and Reporting data.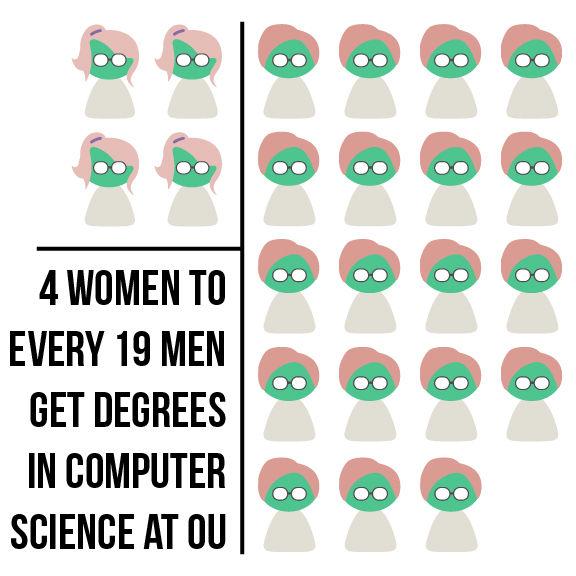 While it's hard enough for women to succeed in computer science, layering on other marginalized identities can compound inequality even further, Perez Woods said.
Jasmine DeHart is one of two black women at OU pursuing a doctorate in computer science and one of only around 60 black women doing so nationwide, Perez Woods said.
This scarcity was something DeHart said she was not even aware of before applying to doctoral programs, where everyone kept mentioning it.
With a dissertation focused on machine learning and privacy, DeHart is interested in the stability that a career in computer science offers. But her ultimate goal is to be a pastry chef, and she would use her Ph.D. to support this passion.
Deborah Trytten, an OU computer science professor who has been teaching for 28 years, said she was "quite distressed" to see how few women and minority students were in her introductory computer programming classes this semester.
"If members of underrepresented groups are not in my class ... they will not be computer science majors," she said in an email. "And this discipline desperately needs the contributions, knowledge and perspectives of a more diverse group of people."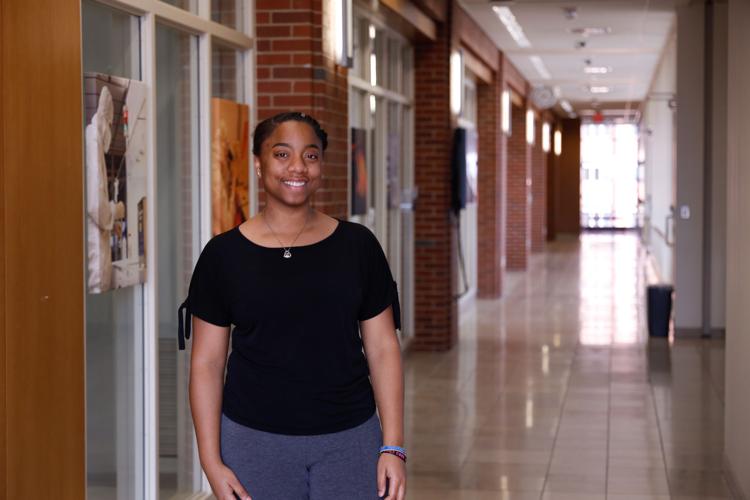 Trytten is one of only three female professors in the computer science department, which has a total of 17 full-time professors. Again and again, the school of computer science has missed chances to recruit more women as faculty members, Perez Woods said.
Perez Woods said this spring the school of computer science has the opportunity to recruit four more professors, a decision made by the director and a committee of professors from the school.
"I truly hope that we can get ... more female professors and, hopefully, females from underrepresented groups as well, because I think it would really make a difference with students and prospective students," she said.
Despite the school's gender and racial disparities, Perez Woods said OU is making strides to retain female students in computer science, like starting the Association for Women in Computing about four years ago.
The push to create the association — and other STEM-related organizations like the Women in Engineering Program and the Society for Women Engineers — came when leaders noticed women often left the College of Engineering by the end of their sophomore year. The goal of creating these organizations was to give female students a community and support system within the college, Perez Woods said.
Jennifer Pham, a computer science sophomore, is secretary for the Association for Women in Computing and president of the Computer Science Student Board. Through the Association for Women in Computing, Pham said she attended the Grace Hopper Celebration, a conference for women in tech.
Female students have gotten opportunities to work at companies like Apple and SpaceX as a result of the conference, Perez Woods said, and overall, the school is on track to make changes for the better.
The Association for Women in Computing is one of the most active associations in the department, and women make up around 70 percent of the team that puts together Hacklahoma, a hackathon that takes place every year on OU's campus, Perez Woods said.
"They're creating programs left and right," Perez Woods said. "They're unstoppable, and their willingness to pay back is commendable."
Hacklahoma, which was created in 2018, is a 24-hour hackathon where OU students from various majors come together to create new technology, said Amy Le, computer science senior and 2020 Hacklahoma executive director.
Le said the event was originally created to fill a gap in Oklahoma's tech industry and encourage technological innovation. Now, the event is geared toward students and furthering a variety of skills through the experience. 
"I would say that a lot of students are inspired by coming to Hacklahoma and actually want to become a part of Oklahoma's tech industry and helping it grow," Le said. "And I think that's kind of what the mission was: to grow or build innovative ideas and put innovative leaders in this community."
Le has been involved in the organization for the past three years and said this year's event Feb. 8–9 exceeded her expectations, with almost 60 more participants than the previous year. 
"I would say this is one of the most successful hackathons we've had," Le said. "We had about 282 participants show up and about 40 sponsors come in and help mentor the hackers."
Le said, over the years, she has seen the event and the hacker community become more diverse. This year, attendees were 40 percent Caucasian, 38 percent Asian/Pacific Islander, 7 percent African American, 6 percent Hispanic and 2 percent American Indian or Alaskan Native, Le said. 
Le said more than half of the Hacklahoma organizers are women, and many are minorities, while the registrants were roughly 70 percent male and 30 percent female. Le said the event's statistics reflect the current male-dominated STEM industry. 
"I would say it's gotten a lot better, especially this year, because the number for male participants used to be much higher," Le said. "But I think, just with the amount of support that the female organizers here have been pushing for, (that) has really helped out a lot."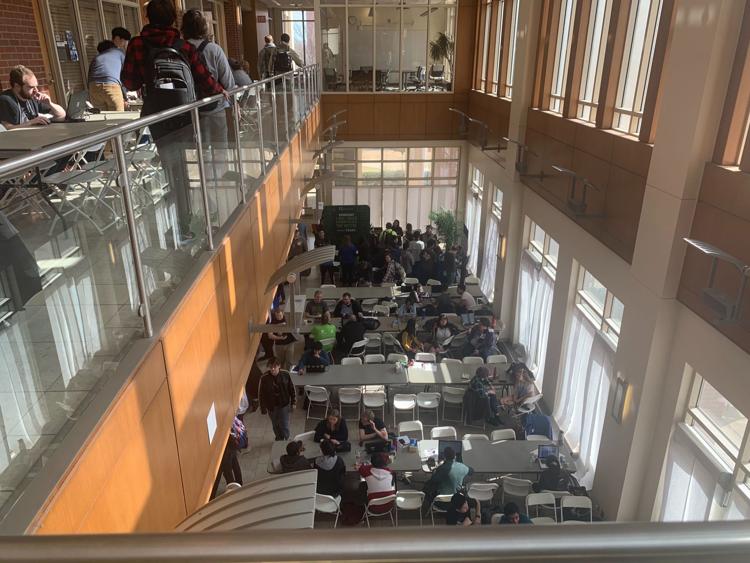 Le said the hackathon teams also reflected this diversity. While there were many same-sex groups, there were also teams that were a collaboration of both men and women. Le said many of the groups were friend groups who did not care about gender differences and wanted to have fun creating new technology. 
Le said the organizers worked to be inclusive for everyone, regardless of their backgrounds. When participants received their name badges at the beginning of the event, there was a line for pronouns and a line for majors. 
"We want to make people feel visible there and that we don't just assume who they are and what they are," Le said. "We just see them as a hacker, but we also want to acknowledge that they're a part of a community, and we accept them for who they are." 
Even though OU is working on making STEM more inclusive, Pham said the thought of going out into the male-dominated computer science workforce is intimidating.
"And on top of that, I'm a minority — female — and then I'm another minority, Asian," she said.
Trytten said she hopes to see the school work harder to recruit students who might not initially think of themselves as computer scientists. Meanwhile, DeHart said the school needs to increase the pipeline of black women to graduate programs.
"I don't really think they understand how to reach those groups, and I think that's the biggest problem for recruiting for the graduate school here," DeHart said.
For Pham, who didn't get much opportunity to learn about computer science in high school, many elements of her major are entirely new to her.
Being surrounded by people with prior knowledge of computer science, some who have been programming since they were 12, can be overwhelming, Pham said.
"You can't help but compare yourself to other people sometimes," she said. "I always have to remind myself like, 'It's okay. I'm taking those classes to learn ... they're expecting you to not know anything. That's why you're taking the class.'"
Pham also said she is optimistic. 
She has made male and female friends in the computer science department, and she is investing in the future of girls through outreach programs in the Norman community. Although she's dabbled in other majors, she keeps coming back to computer science because it just makes sense for her, she said.
"As a child of an immigrant parent, all my mom has ever wanted for me was get an education, grow up, have a good future, be successful," Pham said. "CS provides that."