Students crossing Lindsey onto the South Oval late in the week may sometimes feel a light thumping in their chest, the result of heavy bass reverberating between the buildings lining each walkway.
Those who make their way toward Bizzell Memorial Library will more clearly pick out iconic tunes from ZZ Top, Black Sabbath and The Beatles projected from an amp setup in the shadow of William Bizzell's statue — accompanied by the black-clad, long-haired, rocking-and-rolling figure of Andrew Yoon, OU's very own (bass) guitar hero.
"I do it as kind of a stress reliever — it's a good way for me to blow off steam," said Yoon, a management information systems senior and Norman local. "I kind of compare it to, say, going with your friends, the golf range or gun range or something like that, and it's been a great creative outlet for me."
No effort is spared for his impromptu performances, Yoon said. He always makes sure to bring his amps, guitar and, most importantly, excitement.
"As a musician who has performed on stage, I do really enjoy it whenever the band is into it, and I don't necessarily care what kind of music is being played. If I can find a way to groove, I like doing that," Yoon said. "Especially if I go to shows, I want to see energetic people. I go (to the oval) because I don't think my room necessarily has the space to accommodate me jumping around."
Yoon said he typically tries to get out and play toward the end of the school week on Thursday or Friday afternoons. Ashley Newton, an assistant professor of accounting at OU who taught Yoon, said Yoon's public performances are part of his outgoing and friendly personality.
"He has this unique ability to relate to anyone," Newton said. "One day he was playing 'Cat Scratch Fever' (by Ted Nugent), and on another occasion after that we got into a conversation about how much we both like cats."
Khoi Trinh, a natural gas engineering and management graduate student, said he met Yoon when he was eating lunch during his sophomore year. Yoon approached him after noticing Trinh wore a band T-shirt he recognized.
"He's a lot," Trinh said. "He's a really good guy, and he's a lot, in a good way. I went out (to play on the oval) with him once for an hour in the heat, and I was just like, 'How do you do this?'"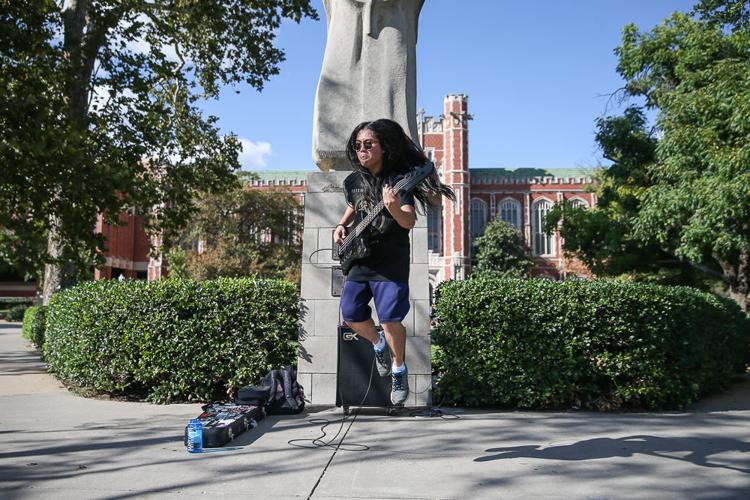 Although he is unabashed during his South Oval performances, often hopping along to the music, Yoon said he is not totally fearless.
"Believe it or not, I do get moments of stage fright, man," Yoon said. "I had that one time I choked up during a piano recital ... on campus at Catlett (Music Center)."
Yoon said he's also played several venues around Norman and Oklahoma City as a backup bassist with local bands Useless Randy and On Holiday, and has even gone on months-long tours into Texas with stops in Arlington and San Antonio. While he said playing full time would be an attractive career, Yoon currently has plans to remain a fill-in for bands seeking a bassist temporarily.
"I like to think I can adapt easily to situations and to play in different bands with different kinds of music styles and genres," Yoon said. "I've played with a death metal band, I played with an alternative rock band, a punk rock band — I really enjoy it."
Despite currently favoring the bass guitar, Yoon said he has a deep musical background. His parents would listen to and play compositions from classical music titans like Beethoven and Mozart, and piano was one of the first instruments he learned to play.
"If it wasn't that kind of stuff we were listening to, it would be Roy Orbison, The Beatles, Elvis Presley, so I love that kind of music," Yoon said.
Alongside several years of piano, Yoon said he also played clarinet and tenor saxophone. He only took up bass guitar following a chance encounter, Yoon said.
"My friend, Joey, he's a drummer for this band called Locust Grove out of Oklahoma City. It's a southern metal band," Yoon said. "I was just hanging with him, and he had a bass at his place, nobody touching it, and I don't know if it was a sign or something, but I was like, 'Hey man, is anyone using that bass right now?'"
The tendency for people to overlook the bass guitar's role in a band was part of his fascination with the instrument, which Yoon called the "unsung hero" behind the more popular lead guitars. Some of the first songs Yoon learned featured notable bass guitar lines, he said.
"I think one of the first songs I learned to play completely on bass guitar was 'Gimme Shelter' by the Rolling Stones," Yoon said. "One of the most fun songs I love playing along to is 'Panic Station' by Muse. When I first heard that song I was just like, 'Man, that's groovy,' you know?"
While he did not expect to become a minor celebrity, Yoon said, he appreciates that some people on campus enjoy his music enough to recognize him around Norman.
"I've been very surprised at the amount of people who seem to recognize me at this point now," Yoon said. "There was a lady on the bus about a week ago, and I started chatting with her because she had a band shirt on, and then she's like, 'Oh, my gosh, are you the bass guy on the South Oval?' She started bugging out, like 'Oh, my God, my boyfriend's not gonna believe who I ran into on the bus tonight!'"
Yoon is hoping to graduate in December, but said he plans to continue playing for both himself and the students on the oval during the time he has left at OU.
"I had been doing it with the kind of approach where most of it was like yeah, I just wanted to play," Yoon said, "but I guess over time it shifted to where people are also noticing this and saying nice things about it. So then it just became like, 'You know what? Yeah, let's start playing for the people.'"