When Ivanna Wilson was commissioned to paint a Christmas window display on the windows of Pryor's Pizza Kitchen, she labored over the mural for nearly 12 hours in the freezing cold.
The painting of a Christmas village spanned the entirety of the business's front window and was the largest project she had taken on. Wilson, a studio art sophomore at OU, is one of many student artists who makes a living selling her art — and whose business has changed due to COVID-19.
OU students who are self-employed artists have struggled to create new work, buy supplies and meet with customers amid COVID-19 shutdowns and isolation measures. Although the pandemic has dramatically altered these artists' processes, they are working to find a new normal and continue doing what they love. 
In addition to Wilson's mural work, which she won a contest for, she produces art in ink, pencil, graphite, block carving, watercolor and acrylic paint. She currently sells her work by advertising on Instagram and selling through Redbubble.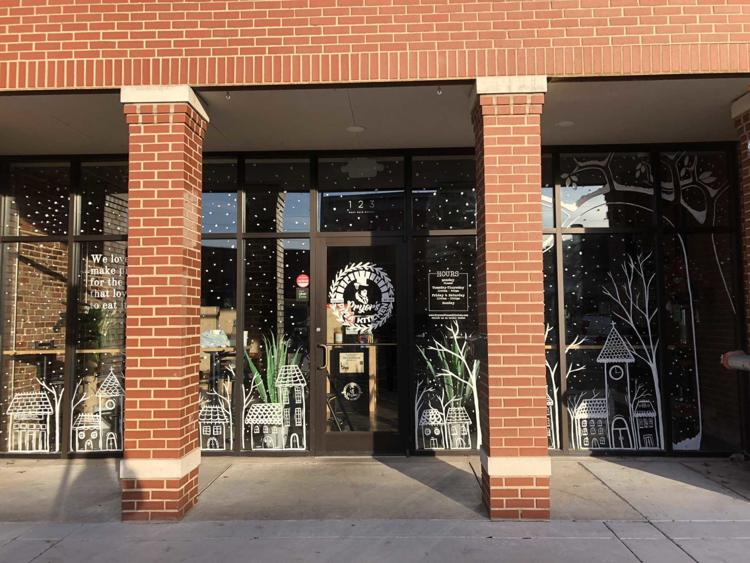 Business through Redbubble has been slow during the pandemic and Wilson said it's important to support local artists during this time. She said artists who sell their own work put their heart and soul into the pieces they produce.
Wilson said it's especially tricky to navigate art school during the pandemic. Transitioning to online classes has been difficult and caused her to lose valuable experience in the art studio. 
Although Wilson enjoys freelance work, she said she hopes to have a more stable job in the future. After completing her undergraduate degree, she plans to earn a Master of Fine Arts to become an art professor. 
"The arts right now aren't as important in schools and you can send so many messages through art. It's a really good way to bring people together," Wilson said.
Despite her successes, she said she is often hyper-critical of her own work.
"It's really easy to doubt yourself when you're an artist," she said. "It's easy to be really self-critical because art school is just critique, critique, critique."
Wilson said even though the art business can be draining, she loves her job and believes self-employed artists have a unique ability to create art for people that fits their distinct style.
"(It's a way) for people to add a personal touch... when people commission (something) specific instead of just getting something millions of others have too," Wilson said.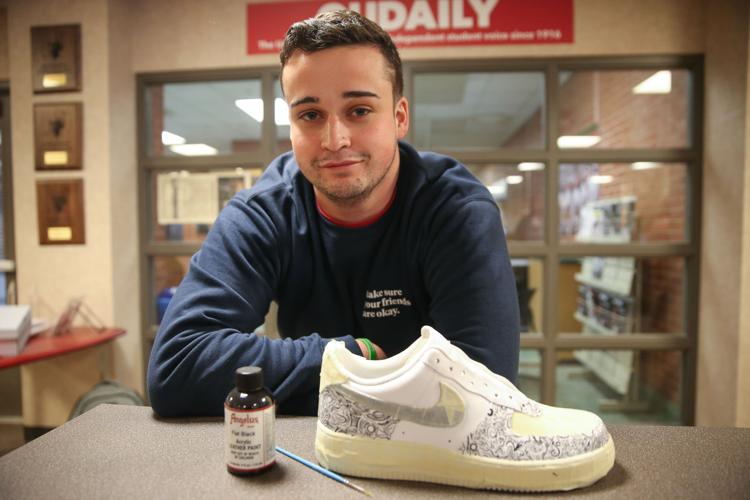 Jesse Andersen learned to draw as a little kid by watching cartoons, like Bugs Bunny.
Now a social work senior, Andersen runs his own art business by painting custom Vans. The business began after Andersen saw another artist on Instagram decorating shoes with markers and decided to use paint to create more detailed designs.
He began posting the shoes he made to his Instagram page, and before long, he said he was fulfilling requests for multiple people.
The intricacies of Andersen's designs require extraordinary attention to detail and he said many people don't realize the amount of work that goes into creating a single pair of custom sneakers.
"I spend anywhere between 20 to over 50 hours (on each pair)," Andersen said. 
Although Andersen started his OU academic career as a graphic design major, he said his personal life pulled him in a different direction.
"My brother was an addict most of my life growing up and so that affected me in many ways," Andersen said. 
After the death of his brother, Andersen said he wanted to help others struggling with addiction. He changed his major to social work and joined the Students in Recovery program at OU.
Andersen said he enjoys feeling like he's given people something special with his art and that the time he has spent in isolation due to the pandemic has given him motivation to start new projects. 
"I want to make people happy with my shoes. If I can put out a piece of work and have it brighten up (someone's) day, I feel like I did my job," Andersen said.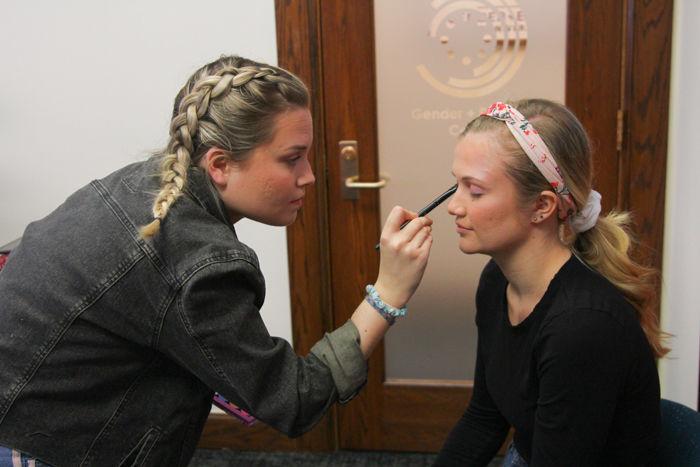 Lexi Audas, a makeup artist with over 2,500 followers on Instagram, expresses herself through eyeshadow, blush and lipstick.
"It's like painting, but on a different canvas," the public relations senior said.
Audas specializes in creating unique makeup looks with pops of color and unconventional techniques. She said her zodiac sign project, a series of makeup looks inspired by the various astrological signs, helped her step away from the usual rules of makeup.
"It pushed me to be more colorful and go out and buy blue eyeliner and use bright pink blush as a bronzer. (Who says) you can't put eyeshadow on your cheeks?" Audas said.
When she was in high school, she said she was too shy to wear eccentric makeup to class. So, she decided to share her creations on Instagram and eventually people started asking her to do their makeup for them.
"I started realizing I loved the way people look at themselves when they look in the mirror and they feel confident. It was really cool to see I could give that to somebody," Audas said.
She started charging her clients $15 for a full face of makeup and when she started turning a profit, she realized she could turn it into a career. 
In time, Audas said she hopes to expand her business further and is currently developing her own vegan and eco-friendly makeup line. But, social distancing measures have prevented her from meeting with clients and safety concerns are affecting the development of her makeup line.
"I'm not able to make my eyeshadow orders now, because I feel like I shouldn't be putting my hands on them if I haven't been tested (for COVID-19)," Audas said.
Audas said there is a misconception that makeup artists are just self-absorbed girls who want to be pretty, but to her, makeup is an art for genuine self-expression. 
"I think being an artist is one of the bravest things you can be, because you're putting your feelings out for the public to look at and judge and say whatever they want to say about it," Audas said.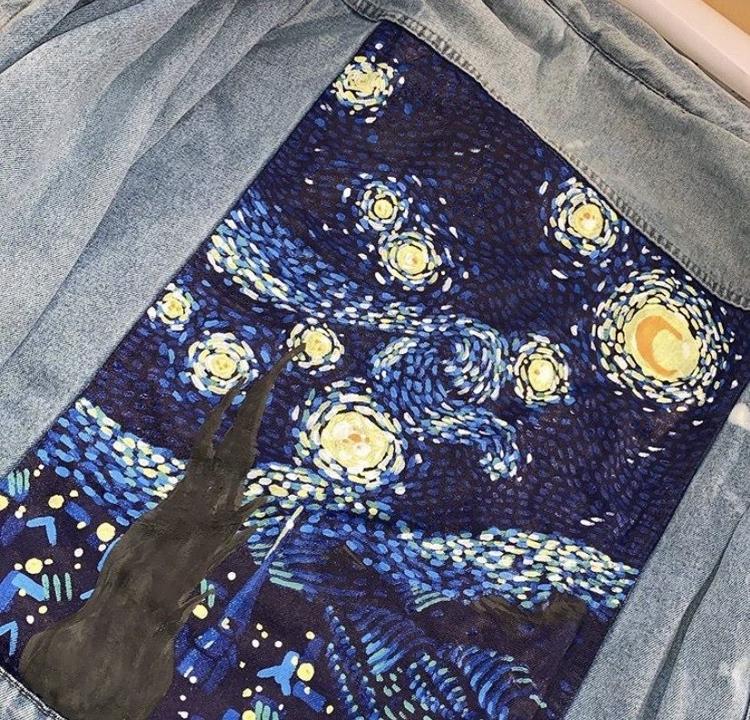 Margaret Cochell, a visual communications junior, said her art career began as a toddler when she started drawing on walls. 
"It came very naturally to me," Cochell said.
In school, Cochell focuses mainly on graphic design, but makes most of her money selling acrylic paint pieces. She said it was shocking at first to have people pay her for her art.
"I could not believe I live in a world where I get to do my favorite thing and people want to give me money for it. It always felt like I should pay people to let me make art," Cochell said. 
Cochell has been commissioned to do murals, graphic designs and pet portraits. These commissions allowed her to quit her waitressing job and fully support herself as an artist. She sells her pieces online and is often approached by clients through her Instagram page.
"I like the client to be a part of the process. I've noticed that makes them love it so much more if they feel like they worked on it with me," Cochell said.
At times, she said her job can be overwhelming when it starts to feel like work. Luckily, those feelings never last long and she can pull herself out of her funk with a new project.
"Making art for other people is so rewarding because you do the work part, and then you get to give it to them and they're so happy ... that's why this matters so much to me,'" Cochell said. 
Cochell has been trying to stay positive during the pandemic, but said three clients have backed out of commissions and she's been struggling to buy supplies. She said support from family and friends by sharing her art online has been the most helpful during this time.
"The empathy and support from other people has been awesome. I've had multiple friends and family reach out to me and ask to support me in small ways," Cochell said.
Cochell hopes to continue her career as a freelance artist for as long as possible, but said she's also considered becoming a graphic designer. She said she believes every business needs an artist on staff and that's why she believes in supporting student artists. 
"Most student artists are really, really talented and in this unique space where they're not fully professional yet, but still have really high quality art to give to the world. They deserve to be seen and they deserve to be heard," Cochell said.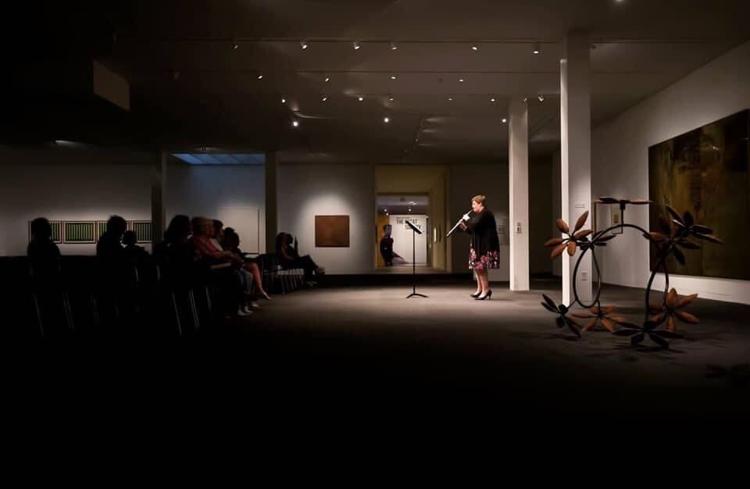 When doctoral student and oboe player Robin Sweeden isn't working on her degree, she's a small business owner, professional musician and also teaches oboe lessons. 
While COVID-19 has changed everything about her career, she's relying on her love of the oboe to keep herself motivated. 
Sweeden comes from a musical family, she said. Her grandmother was a musician and vocalist, and by the time Sweeden took her first piano lessons at 6, she knew music would be her career.
The private lessons Sweeden once taught in person have now shifted online due to COVID-19. It hasn't been an easy transition, she said, but her students are finding more time to practice. 
"I teach a lot of students, and that has been really difficult, not being able to see a lot of them in person," Sweeden said. "I miss my kids ... I'm a teacher." 
Sweeden also runs her own oboe accessory business, which she started to help students at local and low-income high schools find quality products they could afford, such as reeds. 
In addition, Sweeden gains income from playing solo gigs and ensemble performances, which typically pick up in the springtime due to Easter church services, high school musicals and recitals, she said. 
During this time of year, her income typically triples. That won't be the case this year, she said.
Several of Sweeden's paid gigs have been canceled, including a 45-minute solo recital for senior citizens in Altus, Oklahoma, she said. 
"I was heartbroken ... I still have a red sparkly dress in my closet and everything for it," Sweeden said. 
Finding the drive to continue working on her craft when the landscape of in-person performances are uncertain has been difficult, Sweeden said, but she's using it as time to practice her fundamental skills. She's been working on pieces for future competitions, but the fear that performance opportunities may be impossible for the near future is still daunting for musicians. 
"Especially since what we do is for human consumption...it's hard to want to create something when I know no one will hear it," Sweeden said. 
Ultimately, Sweeden's love for music and playing the oboe is keeping her from focusing on the stress of COVID-19, she said. 
"If I continue to put forth all of this effort, I know that I will end up in a place where all of this will be worth it," Sweeden said.