In December 2019, Brian Heermans graduated from OU with his bachelor's in industrial systems and engineering. He was prepared to enter the workforce with expertise in data collection, mathematics, statistics and logistics that would apply to production- and management-based positions. 
As Brian earned his degree, he said it was difficult to find fulfillment in a schedule governed by group projects and graduate courses. His desire to focus on his two loves of food and cars grew week by week, as did his discontentment. 
"I'll tell you now I did not plan on being in the food industry my whole life — it was kind of like the backup plan," Brian said. "(But) when I got through engineering and looked at some of the stuff I'd be doing in life, I was kind of hesitant to jump out into that world."
Passion ultimately outweighed practicality as Brian chose to leave behind four years of education to pursue his dream of opening a restaurant. Brian's dream became a reality June 9 in the form of a pizza establishment called Sauce It Up.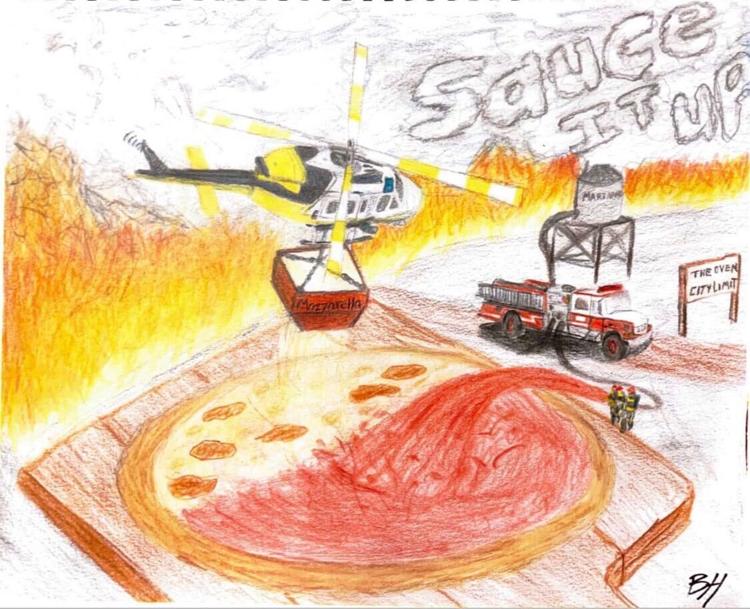 Sauce It Up's origins balance both past and present. While modernity is suggested in the establishment's name — which was inspired by Lil Uzi Vert's 2017 hit "Sauce It Up" —  Brian's family possesses a rich background in food distribution that left long-lasting roots in Norman's food community. 
It was 1951 when Rosa and Paul Malone, Heermans' great grandparents, founded Malone Chili Company in the back of a pick-up truck off of Classen Boulevard. Brian's grandparents, Bill and Shirley Malone, continued their legacy, turning the family business into a brand called Malone Products in the confines of a warehouse during the '60s. 
The warehouse was on 3051 Classen Blvd. in Norman, where Taco Bell and Buffalo Wild Wings currently reside, Brian said. The Malones served as food distributors to companies like KFC and Sonic from the 1980s to 2003, when they sold their business. 
Brian said he originally wanted to maintain his grandparents' legacy with a burger shop, using his family's award-winning ground chuck burger and chili recipes. After years of planning and consideration, however, he said he sought inspiration from his father's East Coast roots — choosing pizza over patties.
"Every restaurant that doesn't specialize in something sells burgers — it's just the easy thing to do," Brian said. "We wanted to put ourselves differently in this industry. One thing I saw was there's not a lot of good pizza places (in Norman). … I had never worked with pizza before, but last January I decided I was going to start messing around with pizza and it took me that long to get to this point." 
Like a perfectly prepared pizza, Brian said the development of Sauce It Up was well-thought out and planned — it had all of the right ingredients.
Finances, Brian said, were not an issue in the construction of Sauce It Up because a silent business partner accepted his offer for equipment. He said the franchise provided him with tables, refrigerators and freezers they no longer needed after two of their restaurants were shut down. 
Zach Heermans, Brian's brother and an employee at Sauce It Up, said the former owners managed a Billy Sims Barbecue franchise, leaving behind a strong aroma of brisket and barbecue sauce. He said the restaurant's shell was bland and had an inefficient layout for serving pizzas. 
The Heermans, Malones and any volunteers they could gather were left with the task of revamping the establishment in January.
"Another reason I lucked out with having my parents around is that a lot of the people who did work for us and helped build this place are their tailgate friends," Brian said. "Having that relationship with my parents ... brought in so much outside work. People were so eager to help because I've grown up with them my whole life."
Brian said things like the establishment's woodwork, crimson and cream paint, and restroom signs would not exist without their assistance. He also said his degree in engineering proved helpful in creating an effective layout. 
"Everything is laid out super easy and super quick so it's not hard to do your job," Brian said. "People always ask me, 'How are you so quick? How are you so fast with getting the food out?' Well, we designed it to be that way."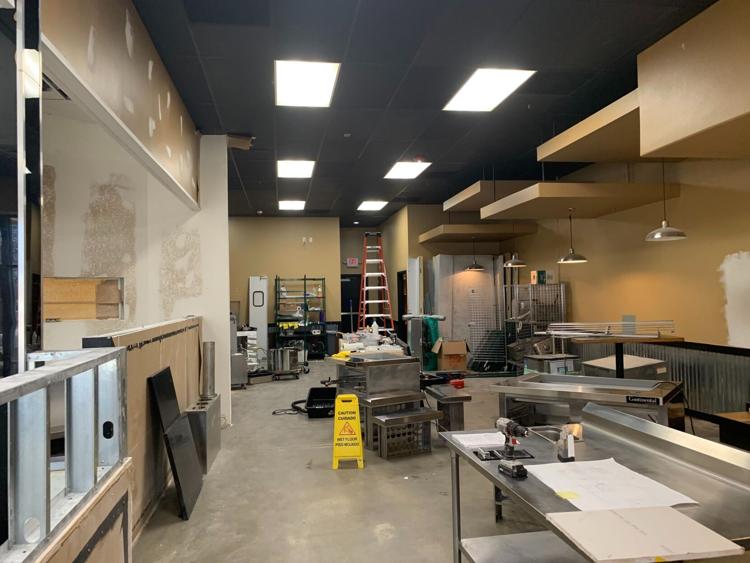 Zach said Brian's ardor comes from the way he and his brother were raised as their parents encouraged them to work hard and remain perseverant. He said Brian's eagerness to serve the people of Norman is ultimately what encouraged their family to contribute in every way possible. 
Brian and Zach's aunt Susan Von left her job in the child nutrition department at Noble Public Schools to serve as the manager of Sauce It Up. 
Von said it is difficult to seek and experience change at 57. She said she had to do a lot of soul searching as she thought about whether or not she should take the position. 
Her decision, she said, was based on a pros and cons list she kept over a couple of months. 
"I am a very visual person, so I had to have a notebook piece of paper with Noble schools on one side and Sauce It Up on the other," Von said. "Change is scary … especially (as) a widow because I didn't have anybody to fall back on. … (But) one day, I woke up and decided to take the lead." 
After her husband passed away two years ago, Von said her enthusiasm for her previous job was waning. She said Brian offered her the position so she could monitor the kitchen and advise employees on how to pass health inspections. 
Now, Von said she looks forward to spending her days at work. 
"I love coming to Sauce It Up every day, and that was part of my discontentment after my husband died — I felt myself not being happy," Von said. "Other people didn't know that because obviously, I've become a very good actress … but I actually love coming to work."
Although the initial project lacked certainty concerning things like a steady paycheck or insurance, Von said this position took her out of her comfort zone — reminding her of what passion looks like.  
"I left the stability of knowing that Noble Public Schools is going to be there no matter what," Von said. "A lot of people always say you go into the restaurant business and about 90 percent of those fail within the first year. Do I think this is going to fail? Absolutely not. … (Initially) I had to make some adjustments in my life financially, but it has worked out amazingly."
Personal sacrifices, however, are not the only challenges Sauce It Up has faced in its opening. Starting a restaurant during the pandemic is something Brian said presented unique challenges. 
Food and drink distribution companies like Coca-Cola and U.S. Food cut down service times, resulting in the delay of product deliveries. As Brian was forced to wait three months for a Coke machine and four for a tea tower, he said he was compelled to address supply issues creatively. 
"We started without a fountain drink machine and just had bottled cokes from the gas station or Sam's Club," Brian said. "I think it's about being innovative — you really want to put your customers above yourself."
In terms of sanitation, Brian said he worked diligently to create a hygienic dining environment. He said he wants people to feel like they can safely eat inside his establishment. 
"It was tough to open up … (and) to get our name out there," Brian said. "But what really helped us keep going is knowing that we're safe or sanitary. … You'll have times where people are scared to sit in but then they see that we're socially distanced or sanitizing and it just makes me feel better. We have a lot of returning customers that simply return because they feel safe." 
The best pizzas, Brian said, are not made great because of the sauce or cheese — rather, they are prepared and served with an emphasis on customer service. 
Von said her goal as the store's manager is to help customers feel at home when they eat at Sauce It Up. She said she encourages employees to wait until customers leave to vacuum or fill the Coke machine so they can take time to enjoy their meal. 
"When I go out to eat, I go out to visit with my girlfriends and to relax," Von said. "If girlfriends come in here to eat and they're drinking a glass of wine, I'll clear their table after they've eaten so they can just talk. … (I think people) should be able to take as long they want to enjoy their meal and they can stay all day with us if they want and visit."  
Brian said he also stresses the importance of maintaining a five-star rating on Sauce It Up's Google page. He said any rating that fails to meet this standard is followed up by a comment from him. 
"My mom always jokes with me that I'm super critical of our Google and Yelp ratings because it's five stars — it has been five stars," Brian said. "So I'll see one four-star and immediately want to know what happened. … My goal with this place is to have the best service, best pizza and best restaurant — not only in Norman but in the metro."
Ultimately, Brian said he hopes to see Sauce It Up continue the legacy of Malone Products by serving high-quality food to people in Norman. He said he cannot imagine bringing his dream to life anywhere but here. 
"It is all about the heritage," Brian said. "We have been in Norman for three or four generations … (and) I think one of the reasons that I'm here and continuing is that I want that same level of customer service Malone Products had when our customers come in. I think that level of quality and commitment to customers is continuing what Malone Products were all about."