On a Thursday morning, OU alumna Sara Brooks works at her home studio in Norman. The bookbinder hand-sews the custom journals for clients — each one unique. 
Accompanied by her studio pet, a Great Dane named Monty, Brooks checks her supply of journals with smooth, jet-black covers and embellished gold zodiac symbols.
Brooks said she has always been creative — interested in art, photography and writing from a young age. The Tulsa native studied art and photography at OU and earned her master's degree in fine arts from Indiana University. 
During her photography classes at OU, Brooks said she noticed unnecessary waste involved in the production of a single gallery project. 
"I just threw away most of my test prints, and there was just a lot of electronic waste and paper waste, and I hated it," Brooks said. 
After college, Brooks lived in California for four months volunteering for the U.S. National Park Service. She said living in California made her more aware of the waste she produced, the water she consumed and her overall environmental impact. For this reason, she created her bookbinding business to specialize in creating new products from recycled and reused materials. 
"(I take) what would normally be considered trash and turn it into this usable, functional, practical item that brings creativity and joy to someone every day," Brooks said.
Brooks travels frequently for her work — she spends her weekends traveling to pop-up markets and art shows across the region. From Denver, Colorado, to Wichita, Kansas, Brooks shares her books with art lovers and list-makers alike.
All of Brooks' journals are handcrafted and hand-sewn, a task she often completes at night while watching TV with her husband. Her most popular product is a mixed paper notebook that features six different types of paper and envelope pockets. 
Brooks also produces custom journals, zodiac sign notebooks and notepads with funny sayings. 
"Anything that has a curse word on it, people love," Brooks said.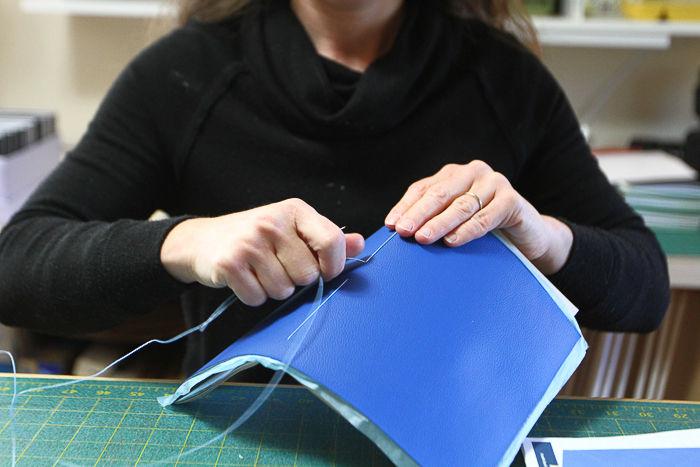 Brooks' passion for the arts began when she was young. While attending Jenks High School in Tulsa, Brooks took photography classes at WaterWorks Art Center — where she would later return as a teacher — and was an active member of the zine community.
Zines are photocopied pieces of paper stapled together to showcase an artist's work. Brooks said her passion for bookbinding began with her interest in zines' alternative format. 
"(Zines are) this whole kind of underground subculture where people self-publish their work, artwork and writings," Brooks said.
Zines are typically sold in record shops and independent bookstores. Brooks remembers finding zines for the first time on sale in a music shop called Mohawk Music in Tulsa. 
In high school, Brooks used her zines to showcase her friends' poetry articles and her artwork. Today, Brooks said the community creates room for marginalized groups of people. 
"I find, lately, zines are really good for the LGBTQ movement," Brooks said. "Really, people with an alternative voice."
Lee Anne Zeigler, executive director of the WaterWorks Art Center in Tulsa, said it was rewarding to see Brooks take classes as a teenager and then return to teach the next generation. 
"We're thrilled to have her," Zeigler said. "She is very knowledgeable and very patient. She's everything a good teaching artist should be."
Zeigler said art classes are an important part of young people's development.
"I think it's important there's a facility like WaterWorks Art Center because the arts just aren't facilitated in the public school system anymore, and so there's a real void in that area," Zeigler said.
Zeigler said the arts are not just important in developing hand-eye coordination, but also for emotional development. 
"Seeing your world in a different way gives you, literally, perspective," Zeigler said. 
Brooks' close friend Frankie Myers, a self-employed artist based in Asheville, North Carolina, said she didn't realize her own artistic potential until her senior year of high school, when in order to graduate, her school required her to take at least one art class.
"I had a really great teacher, and she recognized that I had talent in me," Myers said. "That's when I realized there was an artist hiding in me."
Today, Myers sells handcrafted wallets, purses and handbags made from recycled materials. Instead of making handbags from leather, she repurposes the material from discarded rafting inner tubes. She also makes comic book-themed wallets by sewing artwork from recycled comic books into the fabric. 
Brooks' and Myers' similar approach to crafting things with recycled materials for others brought them together about five years ago at a traveling pop-up market. Since then, the two have struck up a friendship, and they help each other work in their respective studios. 
Myers said visiting Brooks' studio was surprising because most artists' studios can be pretty messy. 
"She's very neat and put together," Myers said. "I joke sometimes to her that she's the most grown-up friend I have." 
Brooks' orderliness is certainly helpful in maintaining her business.
"There's a lot of skills and knowledge and understanding of materials (in bookmaking)," Brooks said.
Brooks said the bookmaking community is relatively small, and she doesn't know of anyone who does things quite like her. While she knows of one other bookbinder who uses recycled materials such as scrap vinyl from billboards, her products generally differ from other bookmakers in the community. 
Bookbinding businesses, such as Oklahoma City's Ace Bookbinding Company, specialize in repairing old and damaged books for clients. Ace Bookbinding Company's most popular services include Bible repair, printing and soft- to hard-back conversions. According to their website, they use only "genuine animal hide skin leathers" for binding.
Brooks, on the other hand, obtains recycled and reused materials for her art in any way she can. 
"I have teachers donate the composition notebooks to me at the end of the year that are half used, and they still have all this great paper in it that normally would just be thrown away," Brooks said.
In addition to her workshops in Tulsa, Brooks started offering a build-your-own-book option at art shows and markets across the region where she sells her work. 
"You can come to my little pop-up market and pick out your book cover and all your paper, and I help you put it together," Brooks said. "I've only done it once, and it became my best-selling item that day."
Brooks' beginner workshops typically focus on the essential components of bookmaking — learning to use the tools and three basic book structures. Brooks also offers more advanced classes that are several hours long and teach more complicated binding techniques.
"If you have any kind of creativity in you, you can take what I teach you and put your own spin on it to make little gifts for people," Brooks said.
Brooks said in addition to keeping things out of the landfill and teaching people a new craft, she also takes pride in knowing she created something for someone that brings them joy. 
"Personal stories about how people use their books are really rewarding. I see those results are continuous — it's not just a one-time thing," Brooks said. "People are always using it, and it's always involved in their lives now. I like knowing that."
Editor's note: Ace Bookbinding Company declined to comment.