A bright pink tunnel shaped like an ear once led visitors into an art exhibit consisting of rooms, hallways, tunnels, stairs and caves filled with interactive items. But now, as COVID-19 disrupts daily lives, the creators of the exhibit are finding new ways to bring the eccentric art to the public.
"Mix-Tape," an art installation from Oklahoma City-based art collective Factory Obscura, is an interactive exhibit meant to evoke joy, angst, love, melancholy, hope and wonder, according to a colorful wall outside the main exhibit. Although it closed March 12, Factory Obscura is hosting live streams online, posting coloring and activity sheets and working on a 360-degree virtual tour of "Mix-Tape."
"Because our space is so highly interactive and touchable, we didn't want to take any risks," said Factory Obscura co-founder Kelsey Karper. "We've been working on other ways that we can stay in touch with our audience and fans and keep our artists busy."
The creation of "Mix-Tape" was influenced by songs that staff artists at Factory Obscura found inspirational, Karper said. A few OKC musicians even wrote original songs inspired by "Mix-Tape" after hanging out in the spaces, jotting down notes and gaining inspiration from the feelings the spaces evoke, according to a Factory Obscura news release. 
"('Mix-Tape') is really unique — it's everything someone created and I think it's really cool," said Serena Ovalles, an OU psychology sophomore who visited the installation in early March after seeing it on her Instagram feed.
Certain features in "Mix-Tape" provide a more interactive experience. For example, in one space, a vanity mirror transforms into a karaoke bar — the jewelry box plays, the mirror provides lyrics and the hairbrush is the microphone.
"Mix-Tape" has a wealth of Instagrammable spots with streamers, glitter and lights in every nook and cranny of the space.
"Every room is different,"  Ovalles' boyfriend Umar Muq said. "There's so many places to take pictures … it's great. The lighting is great, the effects are great and everything is so nice."
Factory Obscura was founded in 2017 by a group of acquainted artists, including Karper. The idea for Factory Obscura came from an early founder who envisioned a playground for adults. Founders drew inspiration from Meow Wolf in Santa Fe, New Mexico and City Museum, a factory transformed into a miniature city, in St. Louis, Missouri, and the idea grew something bigger — creating a permanent home for immersive art in OKC, Karper said.
"Mix-Tape" is the art gallery's first permanent installation and 20,000 people have visited since its opening in September 2019, Karper said. The installation is located at the former site of The Womb, a psychedelic art gallery founded by The Flaming Lips frontman Wayne Coyne. Factory Obscura kept most of The Womb's exterior art but remodeled the inside for the 6,000 square-foot "Mix-Tape" experience.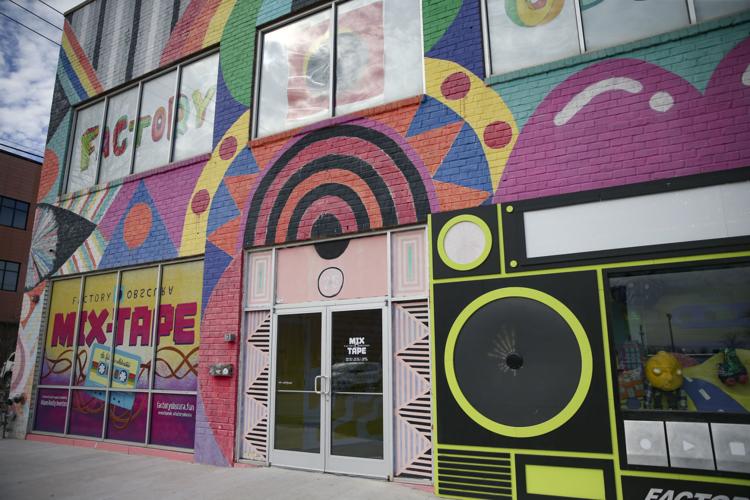 Before "Mix-Tape," Factory Obscura created temporary, immersive art installations in spaces around OKC, Karper said. The first installation, "Shift," opened at Current Studio, now closed, in November 2017 and attracted around 20,000 visitors in the three months it was open, Karper said.
"That was our proof of concept — that was when we knew that not only did we think this was a great idea, but our community was also hungry for it," Karper said.
Factory Obscura employs 18 full and part-time artistic and operational staff, and other artists are paid on a project-by-project basis, Karper said. Right now, artists and staff are all on temporary furlough due to the pandemic. 
Karper said as Factory Obscura grows, more paying artist positions will become available. One of its goals is to employ around 85 people full-time in the future.
"(Working at Factory Obscura) has been really helpful in being able to find my voice as a person within the collective and also as an artist outside of the collective," said Tiffany McKnight, an artist on the team and 2012 OU printmaking graduate.
McKnight has been with Factory Obscura since the beginning and manages its social media in addition to being an artist on the creative team.
McKnight said she uses social media to highlight the experiences of visitors and create a community online. She'll share visitors' photos or use reviews from Google or Facebook as captions on posts.
"That's kind of the beauty of what we're doing with our social media — finding a way to pull people together in the city that maybe would not normally want to converse," McKnight said.
For McKnight and Erin Latham, a lead artist on projects and a 2008 OU graduate, Factory Obscura gives artists a creative outlet where they can work on their own skills but also collaborate with others and learn more from them. 
"A lot of times as an artist, you find yourself isolated in your own practice, because you need the time to make it by yourself, but it's been pretty great to get to work together," Latham said. "We're friends here."
The creative team has a "Code of Collaboration," said co-founder Tammy Greenman. The document is an agreement among the artists that shows how collaboration works with the team.
Greenman said the code's first point is the "Yes, and" technique from improv, which helps build the ideas and lets artists work together.
"We always say, 'Yes, and what about this, what if we did this, and we could add to this and we can make it work this way,''" Greenman said. "The ideas grow into something better than they started as."
"Mix-Tape" is meant to help people to play a little bit and walk into wonder, so they can forget about their normal lives for a moment, Latham said.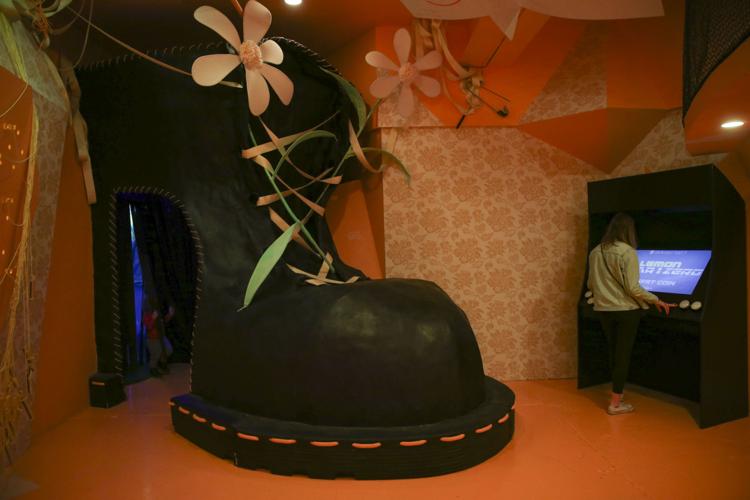 "We've had people grieve the loss of loved ones in our spaces," Greenman said. "We've had people get married in our spaces. We even had a proposal. People access their feelings in ways that are comfortable and safe for them, and that is beautiful — that is art."
Karper said she and other staff are optimistic about Factory Obscura's potential for recovery because of the number of visitors to "Mix-Tape" so far. It's unclear when Factory Obscura will reopen to the public, but Karper said Factory is working on ways to adapt once it does, such as installing more hand sanitizer stations.
"In the meantime, we're already seeing a real desire for our audience to come back and have this experience again," Karper said, "so we are working on ideas for all different kinds of scenarios … 'How do we adjust the experience to be safe?'"
Every Friday and Saturday night, Factory Obscura hosts "LIVE at Mix-Tape" on Facebook, where musicians, dancers, poets and other artists perform live from their home studios.
Karper said Factory Obscura is working on a 360-degree virtual tour of "Mix-Tape." The virtual experience will allow users to move through the art space and pull up additional information, such as images showing how the piece was made.
"Mix-Tape" is closed until further notice, but visitors can connect with Factory Obscura online on Facebook, Instagram, Twitter or its website.