The rush to stock up on food and essentials has not only emptied grocery store shelves — it's also impacting local farmers and food producers.
Many Oklahoma farmers are struggling to keep up with food orders, while farmers' markets are hastening to adapt to social distancing protocols, transitioning to online and drive-thru formats to limit the spread of the virus.  
Beth Henson, who owns The Farm on Fishmarket with her husband Mike, said their farm's online orders have at least quadrupled in the past few weeks. 
"We had a family drive here from Edmond yesterday to buy eggs because they couldn't find eggs anywhere else — and that's a pretty good drive to our place," Mike said. 
The Hensons also grow berries and vegetables at their farm about 20 miles south of Norman and are regular vendors at the Norman Farm Market and Paseo Farmers Market.
Meanwhile, William Payne said he has completely turned off his ranch's online ordering system after an influx of orders. Payne, who runs Destiny Ranch in south central Oklahoma, is focusing on selling beef out of his trailer to customers in Norman, Shawnee and Ada for the time being, he said.
"We've changed up how we sell a little bit ... we don't get real close to our customers anymore," Payne said. "Everybody's been real respectful, they stay distanced away."
Especially in the middle of a pandemic, direct access to food producers is important for consumers. Sales are shooting up for many Norman Farm Market vendors, said Kate Cooper, the market manager. 
"Our vendor that was here on Tuesday, she had so many pre-orders ... she normally just brings a truck and this time she had to bring a whole trailer," Cooper said.
Cooper said farmers' markets are exempt from closing in Oklahoma, but three local ones are using different tactics to keep customers and vendors safe. 
Norman Farm Market's new drive-thru design allows customers to pre-order from an online directory of vendors, then pick up their orders during farmers' market hours on Tuesdays and Saturdays, ensuring they never have to get out of their cars.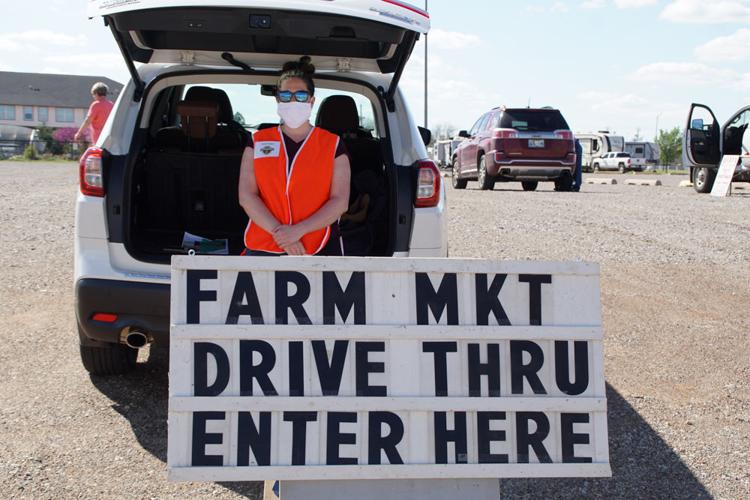 "Selling directly to a consumer is a lifeline for farmers," Cooper said. "Keeping (the farmers' market) open, while still keeping in mind social distancing and making sure that we're taking the proper precautions is really, really important for the farmers."
The Oklahoma City Farmers Public Market is remaining open, but spacing vendors farther apart and making modifications to the way goods are sold, according to its website. In contrast, the Paseo Farmers Market has gone completely online and is offering no-contact pickup and delivery, according to its website.
However, the new farmers' market arrangements aren't working for everyone. 
Payne, who sold his beef at the Norman Farm Market for four years, has opted out due to the implementation of a drive-thru format. His license makes it necessary for him to sell at a booth, he said.
"We can't just take orders, put them in a cooler and bring them to town," Payne said. "That's actually illegal in the state of Oklahoma."
Differing farmers' market formats might also be an issue for Supplemental Nutrition Assistance Program users. 
Norman Farm Market, which usually accepts SNAP, is currently unable to do so due to the drive-thru format, Cooper said.
Paseo Farmers Market is not able to accept payment with SNAP cards online, but has created a coupon code system to get around this issue: this option gives a 100 percent discount online and SNAP users can swipe their cards when they pick up their food, said Megan Sisco, farm market team member, in an email.
And while business may be booming for food producers with pre-existing websites, those who don't have online ordering options might experience challenges, Cooper said. The Hensons are helping some fellow farmers who don't have their businesses online by listing their wares on The Farm on Fishmarket's website, Mike said.
Although the pandemic has changed operations a bit, The Farm on Fishmarket is still offering strawberry picking, as long as one family at a time schedules a time slot to pick, Mike said. 
"People are enjoying the opportunity to get out of the house," he said.
Payne said he believes shopping outdoors at farmers' markets is a healthier option than cramped supermarkets with tight aisles, while the Hensons stressed that consumers know exactly where locally grown food comes from.
"Far fewer hands touch the food that (people) buy from small farmers than the food you would find in Walmart or Sprouts or Whole Foods," Mike said. "It's local ... it's good and healthy and you can talk to the person who grew it."
The Norman Farm Market runs from 4–7 p.m. on Tuesdays and 8 a.m. to noon on Saturdays at the Cleveland County Fairgrounds. The Oklahoma City Farmers Public Market is open on Saturdays from 9 a.m. to 2 p.m, and seniors are served first from 9–10 a.m.