When Tracey Mikkanen — a Kiowa and Caddo woman — first stepped onto the Oklahoma punk scene, she was infatuated with the art and musical expression. 
After watching other DJs perform, Mikkanen decided to take a shot at spinning turntables. When a club owner asked her name, she blurted out "DJ Sapphire" — the rest is history. 
The DJ industry is dominated by men — as of 2017, only 17.7% of electronic dance music festival headliners identified as women, according to Vice. But, three local DJs are breaking down those barriers for Native women in particular.  
Mikkanen, now nearing 60, said her love for the arts stems back to her childhood. Much of her musical inspiration came from '60s Motown music and the '70s music scene. On top of music, she attended OU as a classical ballet major. 
Jumping from classical ballet to the club scene might sound far-fetched, but Mikkanen said the switch felt natural. After she had been performing as a DJ on and off for a few years, Mikkanen's husband, Arvo Mikkanen, surprised her with a full set of equipment. 
"He said, 'I think that we could do this. I see what you do. Let's do it professionally," Mikkanen said. 
With the support of her husband, Mikkanen said she was able to start booking gigs as DJ Sapphire at different venues for weddings, parties and original shows at clubs, and eventually open the Main Street Event Center in downtown Norman. 
Mikkanen co-owns and operates the venue with her husband, and they offer Native painters and performers a place to showcase their talents. She said the pandemic has put a strain on the arts community, and she hopes the event center can help keep the art scene alive and thriving in Norman.
"Giving back and being able to promote these women is very important to me," Mikkanen said. "I've been very blessed to be able to help other women and other people with their talents and in their careers."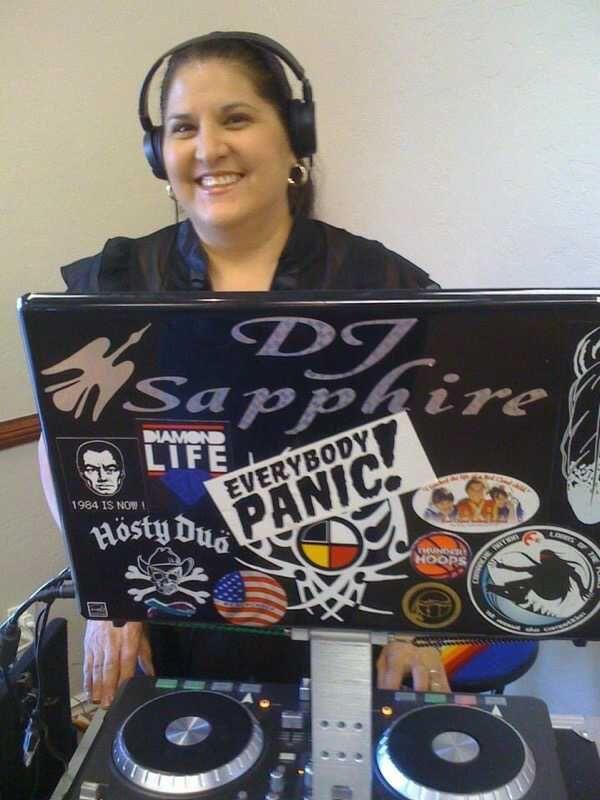 Mikkanen said Native talent is often overlooked and underrepresented, so she's made it her life goal to help uplift other Native artists and women. Mikkanen also serves as a chairperson at the Jacobson House Native Art Center, where she helps young Native artists find their creative voices. 
Through the event center, Mikkanen said she has been able to connect with other Native female DJs. In celebration of Native American Heritage Month in November, she said she plans to feature those artists at the event center to promote their work. 
Mikkanen invited Kellie Lewis, OU criminal justice graduate and Talk Jive Radio DJ, to come play at the venue for a November show. Lewis said when Mikkanen reached out, she jumped at the opportunity. 
"As Native business owners, we're a very small group," Lewis said. "We always want to make sure that we're supporting each other."
Lewis, who is Pawnee, Kiowa and Wichita, also focuses on promoting Native artists and issues at Talk Jive Radio. The station focuses on promoting independent music artists of all genres to give them a platform, according to its website.
"We (at Talk Jive Radio) provide a valuable public service," Lewis said. "We interview community leaders; we talk to tribal leaders. And, we bring a light to a lot of things, and are able to say a lot of things that people may be feeling, but they can't express themselves."
Lewis said that Native people face historical trauma and racism in everyday life. The music industry is a tough industry for anyone to exist in, but Lewis said she has faced discrimination based on her race and sex. 
"You have to steel yourself and just put your chin up and know you're just going to have to take it on the chin," Lewis said. "Sometimes people aren't going to want to work with you because they may not like women, they may not like Indians, they may not like you."
Although Lewis has been focusing on her radio DJ work, she used to be a club DJ and said she's excited to perform a set for a crowd again.         
"Your crowd is going to tell you what they want to hear and what's going to get them up," Lewis said. "Any DJ needs to understand this is, especially if you're (performing) live in front of people, you want to make sure the crowd in front of you is having the best time."
Also on the event center's invite list is Kylie Wells, a Cherokee woman and Tulsa-based electronic dance music DJ. Wells, whose stage name is "DJ Kylie," works as a club DJ and producer and draws inspiration from tribal music. 
"I feel connected to some stuff that ancestors do, like certain (types of) beats and music," Wells said. "I definitely catch myself playing more rhythmic (sounds)."
OU Lecturer of Music Christina Giacona specializes in Indigenous and modern music. Giacona said that traditional tribal music often uses similar techniques to modern music, so it is fitting that Wells draws inspiration from it.
"Most Native American music is meant to be danced to. It has a very strong beat and specific dance motions that go along with it," Giacona said. "That's exactly what electronic dance music is. (It's) music that you feel, that makes you happy and makes you move and groove." 
Wells said she has always had an affinity for making beats. When she was younger, her family had to hide anything she could use as drumsticks, even chopsticks. In school, she played the drums and said her percussion background has helped her understand rhythm and music theory. 
Although Wells is younger and newer to the DJ industry than Mikkanen and Lewis, she said she's faced plenty of sexism and racism while working. Often, the racist remarks are insults based on stereotypes.
"Being a woman in general is really hard in this industry, but throwing that on top of being even more different, sometimes ... you get discriminated against," Wells said. "People are like, 'Oh, you drink a lot,' or 'You're an alcoholic.'"
Wells said music has always been an expressive outlet for her, but she felt she needed to take a step back the past year after a series of anxiety and panic attacks. 
"I was constantly being touched and grabbed or yelled at, to the point where I just wasn't really looking forward to going to the gig anymore," Wells said. 
Wells said she's in a better headspace now and happy to be working again. Moving forward, she plans to focus more on the music production side of her career. 
"It's a lot more fun to me to take something that someone's already made and make this whole other version of it," Wells said.
Despite the challenges she has faced, Wells is still looking forward to performing live again. 
"The most rewarding thing is when you show up and everyone is just kind of 'blah,' and then you start the music and see people getting into it," Wells said. "And then by the end of the night, they're dancing, so it's kind of powerful." 
DJ Kylie will perform Nov. 14, and DJ Kellie Lewis will perform Nov. 21 at the Main Street Event Center at 300 East Main St.
Mikkanen said she's excited to have Wells and Lewis perform at the event center because both women are exceptionally talented in their respective genres. She said she hopes the shows will shine a light on the diversity of Native talent. 
"These women are in a field that if you can't saddle your own horse, then you don't need to ride." Mikkanen said. "That's how tough this industry is."
Note: This story was updated at 2:28 p.m. Nov. 2 to correct a quote.