The Norman Arts Council unveiled a public art installation Friday at the ribbon-cutting ceremony for the new Ruby Grant Park in Norman. 
Norman Arts Council executive director Erinn Gavaghan said the council reviewed hundreds of artists to find the perfect match to create an art piece in honor of the late Ruby Grant. After narrowing its search to three artists, the council selected Washington D.C.-based artist, Valerie Theberge, to create a mosaic sculpture.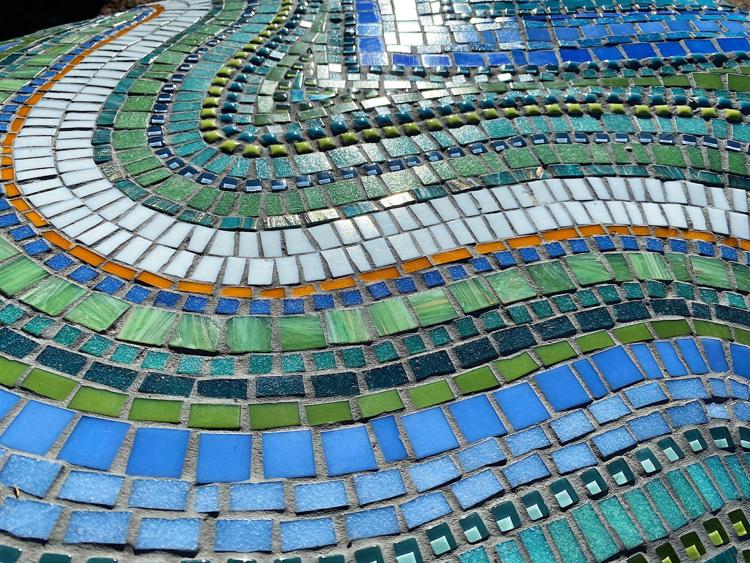 The art piece, "Triptych," is a permanent installation to the newly-opened park.
"(Theberge's) work was chosen because of its meditative nature and its accessibility to all park visitors," Gavaghan said. "I love how calming and soothing the work is."
Grant, the park's namesake, attended OU for her undergraduate and graduate education before becoming a music and remedial reading educator in Oklahoma. After her death in 1998, she left her estate to the OU Foundation to build a park. OU sold the land to the city of Norman, and plans for the Ruby Grant Park began in 2007, according to the Norman Transcript.
Theberge said she wanted to perfectly capture Grant's essence in the art piece she created. Even though Theberge is known for her work across the globe — including Macau, Hong Kong, India and China — she said she was inspired by Grant's story and everything she was able to accomplish as a woman in the mid-20th century.
"Even though she's a tiny little four-foot-ten person, she seemed like a very solid character," Theberge said. "She's had a gorgeous smile and she radiated ... joy."
To capture Grant's strong but sweet presence, Theberge said she wanted to create something sturdy, yet fun and welcoming to children. She settled on a large, "huggable" mosaic sculpture with an opening that tapers as it reaches the other side. 
"Kids are going to want to touch it and climb on it, so I wanted to make it fun and joyful, but at the same time contemplative and a place that honors (Grant)," Theberge said. 
Theberge specializes in mosaics and spent her time in Hong Kong studying the art form. She said she uses patterns and shapes that emulate cellular structures as a metaphor for the expansiveness of the universe. She spent hours individually hand cutting thousands of pieces of glass for the sculpture. 
"It's a very intuitive and meditative process," Theberge said. "It's a labor of love because every piece is carefully placed next to each other and they all work together in a harmonious way."
Therberge's "Triptych" is now permanently on display at the Ruby Grant Park, 3110 W. Franklin Road.