The Norman Arts Council enlisted the help of local artists to educate and raise awareness for storm drain pollution through the transformation of storm drains on Main Street into art.
The second annual "Artful Inlets" installation featured at the 2nd Friday Norman Art Walk was inspired by Norman's stormwater division and Mayor Breea Clark, Norman Arts Council public art manager Debby Williams said. She said the council requests and invites Norman artists to create works emphasizing the importance of clean water. 
"(This is) in an attempt to help educate the public about the importance of clean water going down the drain, because it feeds into our lakes, rivers and water sources," Williams said. "To do it in an artful way seemed like a really good way to get the message across." 
The theme for this year's installation is "H2Only", meaning only water and eco-friendly substances should go into storm drains, Williams said. This is a slogan she hopes will exemplify the consequences of things like grass clippings and bottles entering the drain systems — including clogged pipes, water fermentation and pollution. 
This year, the council will feature the works of six local artists who have transferred their designs from paper to the canvas of five Norman storm drains. 
Laura Nelsen, a visual artist and librarian in Norman, said her piece "Down the Drain" employs the visual technique of trompe l'oeil, meaning trick of the eye, to reproduce realistic water droplets on a gray-scale background. She said the subtle inclusion of the phrase "H2Only" will force passersby to stop and decipher the text — allowing its message to further sink in.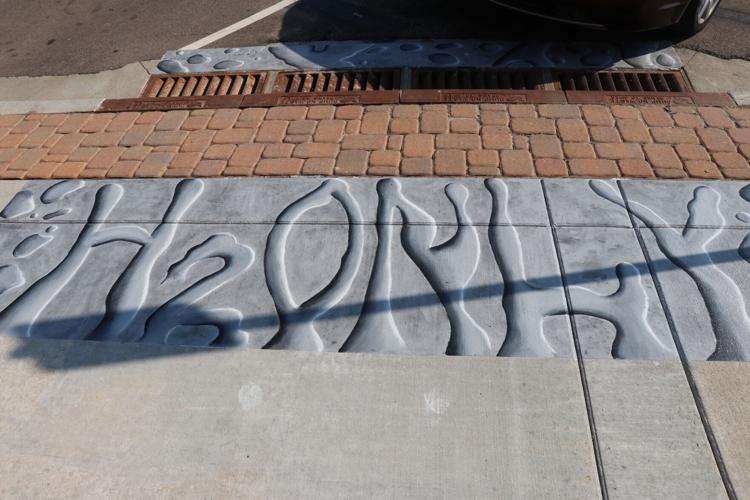 Nelsen participated in Artful Inlets last year and said this year's public art installation serves an even more important purpose — making local artist's work accessible to the public in pandemic times. 
"What I love about public art is that it is for the public and anyone can interact with it," Nelsen said. "You don't have to be confined into a gallery space where you are required to wear a mask in the building — people can literally walk across and engage with it rather than just approaching it in a gallery setting." 
Williams said the council worked to make the installation accessible to all Norman residents by hiring two videographers and photographers to capture the 2nd Friday Norman Art Walk. This installation will be available, among others, on the council's website. 
"Traffic and audience participation is good for the artist as well as the public, (because) it gets them interested and curious about local art," Williams said. "(This year), it will be available online … so people can experience it second-handed if they cannot physically be there." 
Last year, artists had the opportunity to transform their storm drains in an open Main Street, allowing people to interact with them while they worked. This year, however, local visual artist and Artful Inlets participant Kody Haskins said Main Street was shut down as they painted. 
Haskins said it was disappointing to be denied this interaction with Norman residents by the pandemic.
"I love talking to people … (so) it is definitely unfortunate that people didn't get to experience the art being made in front of them," Haskins said. "I think that was one of the cool aspects of doing the Artful Inlets the year before — people just kind of stop by and ask questions," Haskins said. 
Haskin's said H2Only made him think about how water pollution can affect animals. He decided to paint goldfish inside water bottles in his piece "Bottled Up" to emphasize how animals can be placed in an unnatural place when people add things into storm drain systems. 
"(Water pollution) has a lot of bad effects, but it kind of rubs me the wrong way that we make animals live among our trash — it seems kind of rude to me," Haskins said. "So my idea was to put them in water bottles so they're isolated — it's kind of a cute but bad deal that balances out in a way that people hopefully get what I am trying to say."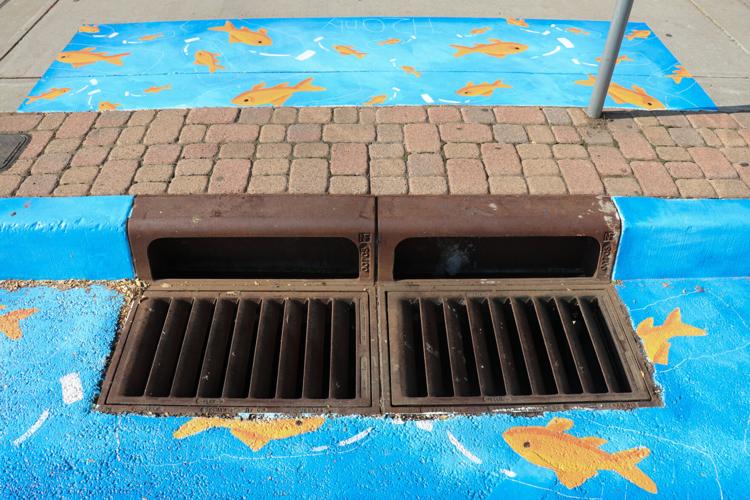 Public art, Williams said, is always available — pandemic or not. She said she hopes Artful Inlets can help artists build their resumes and Norman residents can enjoy their hard work.
"I think these kinds of projects are a win for everybody, and maybe even more so in these times of a pandemic," Williams said. "Public art is free, accessible and something people can enjoy (while being) completely healthy and safe." 
Artful Inlets can be viewed on Main Street between Crawford and Webster avenues.