At the beginning of the pandemic, photographer Cody Giles couldn't bear the thought of being trapped in his house. 
Before COVID-19, Giles was never home, attending events across Norman. 
"Every single event Norman had, at every fundraiser, gala, ball, festival, you name it, I'm there, either taking photos or just attending," Giles said. 
When the pandemic began, these events ended overnight, and Giles said the lack of things to do was jarring. 
"I went from going 100 miles an hour to zero, spending very little time at my home to every waking minute at my home," Giles said.  
He said the lockdown began to affect him mentally, so he started looking for creative ways to keep himself busy. 
Giles' projects and the projects of three other Norman artists will be featured in MAINSITE Contemporary Art's upcoming exhibit "Between Art and Quarantine." 
Erinn Gavaghan is the executive director of the Norman Arts Council, which operates MAINSITE Contemporary Art Gallery, and said the exhibit is a way to keep art galleries relevant and keep art at the forefront of people's minds.   
Gavaghan said the idea for the exhibit came from an Instagram challenge started by the Getty Museum in Los Angeles called "Between Art and Quarantine," where people recreated famous works of art with household items. 
After seeing the creativity inspired by this challenge, Gavaghan said she realized Norman had several local artists who were also being creative while in quarantine and practicing art in new and different ways. 
Gavaghan began reaching out to these artists to create an exhibit and ended up with four artists who are closely tied to the Norman Arts Council: Joshua Boydston, Cody Giles, Brad Andrew Stevens and Shevaun Williams. 
When planning the exhibit in early June, Gavaghan said she was worried that by November, the exhibit wouldn't be timely. 
"I was afraid that by this time, we would be tired of talking about it, and that we would be past it and onto other things, and that it wouldn't be relevant anymore," Gavaghan said. 
However, as the opening of the exhibit approaches, she said she feels that the exhibit is even more relevant now.  
Giles' project, the pandemic family portraits, makes up the core of the exhibit, Gavaghan said. 
Giles said he was inspired by a social media post of a family picture during the pandemic and wanted to capture more photos of family life during lockdown.  
He created a Google Form and posted it on Facebook, inviting families to sign up and have a photo taken outside their home at a scheduled time. Giles would then drive up and take the photo, remaining socially distant.
Giles said he wasn't expecting the idea to be as popular as it was. 
"I thought 20, 30 people of my inner circle — my close circle — would do it, and by the end of it, I had nearly 200," Giles said.
Giles said he mapped out the locations and spent several days driving around, going from location to location and taking photos of families. He said this process helped him explore more of Norman and see the city's sense of community.  
"Norman is not a small place. Land wise, it's a very big city, so I got to know just about every inch of it and shot families from all walks of life," Giles said. "Single families, big families, small families, single people, more affluent, less affluent, just across the board. If you signed up, I showed up and shot it."
"Between Art and Quarantine" will also feature Giles' other quarantine project: redesigned logos of Norman businesses. 
Giles wanted to remind people to support local businesses during the pandemic. He said he started with Mitchell's Jewelry and ended up making 127 new logos.  
"I just started writing down local businesses that I enjoyed going to before this, and ones that I know the community has historically wrapped around and supported," Giles said.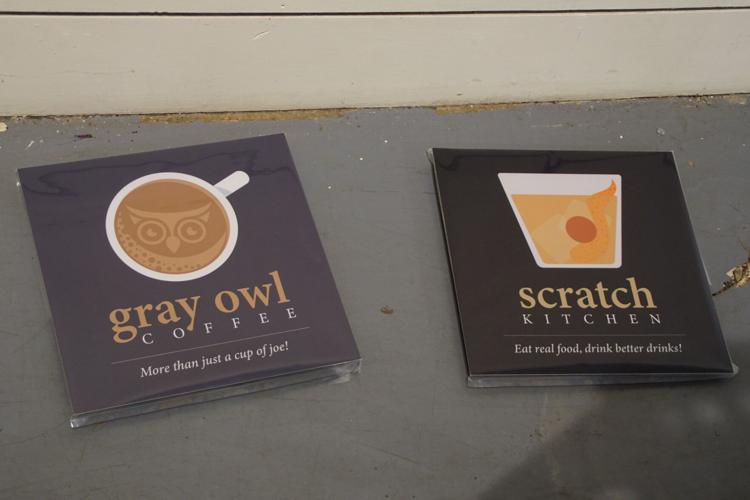 Around 40 of these logos will be included in the exhibit, printed on metal sheets. Giles said that sales of the logos will go toward the local business they represent.  
Brad Andrew Stevens, the chief preparator and exhibition designer at the Fred Jones Jr. Museum of Art, is also featured in MAINSITE's exhibit. 
While he is a painter, Stevens said he used his time in quarantine to build his skills using digital platforms like Photoshop and experimented with digital painting. 
Stevens said he was inspired by pet portraits he saw on social media where pets were edited into classical style paintings. He said it was a fun idea and thought it was something he could do himself. 
"I started playing with it and started creating a few of our own animals, and it kind of took off after I started showing people on Facebook what I was doing," Stevens said. 
Friends and family began asking for portraits of their own pets, Stevens said. Eight of these works will be included in the exhibit.  
In addition to the pet portraits, Stevens also created digital collage works that address current political events. 
"In grad school, I kind of focused on a lot of political stuff, and I wanted to move away from that," Stevens said. "But, with the pandemic and the election and all the other stuff going on in 2020, I started doing these reaction paintings to the news."
He said the four works that will be shown express his feelings toward topics like reopening schools as well as the social justice movements that have happened this year. 
"That's hard to do as a Caucasian male, to talk about social injustice and Black Lives Matter … because I am so far on the outside of that, but I can be an advocate for those types of things as well and still deal with it in a way that I see, that I can understand," Stevens said.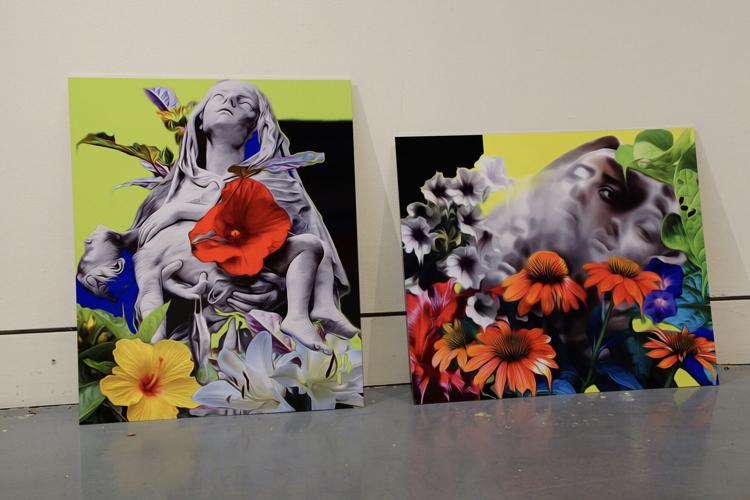 His piece "Pia" features the face of "The Ecstasy of Saint Teresa" sculpture with brown skin, surrounded by flowers. He said this piece aims to examine the importance of individuality, which he compares to a garden.
"Just because someone is of a different color or a different background, when you put them all together and we create this society of just a mix-mash of cultures. In a way, we are kind of like a garden where when you look at the whole garden, it's beautiful," Stevens said. "And as you start going in and looking at the individual flower or the individual plant, it also has its own beauty that needs to be upheld and behold and viewed as important."
Stevens said he hopes the exhibit shows the necessity of creativity during times of deep concern. 
"Some things are going to be a little bit difficult … to look at; some things are going to be more lighthearted," Stevens said. "But I think in general, it's just going to show that the creative process didn't die with the pandemic and that nothing can keep that creative spirit from doing its thing."
Shevaun Williams has been involved in the Norman arts scene for years, using her studio on Main Street to host galleries and art openings.  
"We were the germ for the Norman Art Walk," Williams said. 
Williams said she feels that art was vital to getting through the pandemic. 
"Everyone used different forms of art to get through it," Williams said. "Anything as simple as a puzzle is a form of art. Books, music, drawing, painting, writing. Most people I know got through it by consuming or creating some sort of art." 
As restrictions began to lift, Williams wanted to create a meaningful project connected to the pandemic. She decided to focus on the importance of wearing masks and took photos of several members of the Norman community in fashionable masks. 
"It was designed as a creative outlet, as a way to highlight real people … and to encourage people to wear masks, to make masks fashionable, to have fun with your masks and, in some way, encourage people to wear them," Williams said. 
The pieces were a team effort, with makeup done by Sharon Tabb and Alex Ford and styling done by Elizabeth Wheat. Williams was the art director. Wheat also made most of the masks featured in the photos, Williams said. 
Williams said she tried to reflect the personality of the person pictured in the photos. In one photo, Norman musician Jahruba Lambeth poses with his fists out. In another, Marilyn Artus, creator of the Her Flag project that celebrates the ratification of the 19th amendment, wears a mask that says "Vote."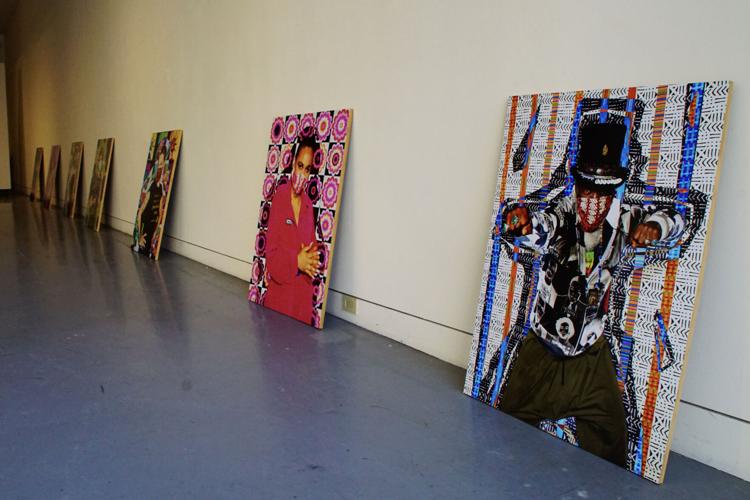 Williams said she hopes the photos make it cool to wear a mask because masking is so important to the community.   
"That's the way we get out of it," Williams said. "That's the way we get our businesses fully open, that we get art back." 
In addition to local artists, the exhibit will also feature photos from three of Norman's sister cities: Seika, Japan; Arezzo, Italy; and Colima, Mexico. Gavaghan said these photos showcase what life looks like in other communities around the world during the pandemic. 
"There's humor in the exhibit. There's poignancy," Gavaghan said. "There's a lot in the exhibit that I think people can relate to." 
Gavaghan said there won't be a public opening of "Between Art and Quarantine," but it will be featured in November's virtual Second Friday Norman Art Walk, which will begin at 6 p.m. Nov. 13 on the Norman Arts Council's Facebook page. 
The exhibit will run from Nov. 13 through Dec. 19. The gallery will be open from 10 a.m. to 4 p.m. Wednesday through Saturday. Visitors are required to wear masks.  
Giles said he is unsure what the impact of the exhibit will be but that he thinks this exhibit showcases the sense of community that exists.
"I've been quoted saying this a lot, and it's absolutely true: 'Nothing loves Norman that way Norman loves Norman,'" Giles said. "And I think that's been put to the test this year, especially with Unite Norman coming into play … and it's really pushed people to search for that sense of community between politics and pandemic." 
Giles said he enjoyed watching the community come together to allow him to create this project and hopes that putting it on display will remind everyone that art will always have a place in Norman. 
"I think that arts have played a large role in Norman's character, in its development, in the way it has fostered a sense of community both in the past, and I think that it will in the future," Giles said.