A red and black blur on a sleek black bicycle zips down a crowded sidewalk on Campus Corner. The Hermes of ham braves the summer heat once more.
The figure expertly maneuvers past the Campus Corner crowd and cuts cleanly across Asp Avenue — much like the knife that, just seconds before, was preparing the veggies and meat that will soon provide much needed sustenance to a harangued office worker or a busy student.
Sometimes heeding stop signs — and sometimes not — the figure slows only when his mission is complete and another customer receives a meal.
It's Mathew Borum, a Jimmy John's bicycle deliverer. The Normanite sports a full red beard and a genuine smile as he gives a sub sandwich to each of the dozens who call upon him in a single day.
Customers, often comfortable inside air-conditioned buildings, may not know the grueling conditions and obstacles employees like Borum can endure in the summer to deliver sandwiches "freaky fast" — withering heat, threat of dehydration, absentee drivers and broken bikes, to name a few.
Borum, who graduated from OU in May with a bachelor's in computer science, allowed an OU Daily reporter to shadow him during his shift on Thursday, one of the summer's hottest days.
Hydration hustle
Borum rolled out of bed around 10 a.m., his muscles still aching from the day before. He immediately reached for a filled water bottle at his bedside, downing about three-quarters of it — part of a renewed effort to combat dehydration after a tough shift on Wednesday. Temperatures the previous day had risen to around 98 degrees, just four degrees shy of Norman's summer high, which came in at a burning 102 degrees on July 18.
"(Wednesday) I started to get dehydrated and overheated, and that's when I realized that I've got to do more to make sure I'm not collapsing," Borum said, adding that the summer months have been "too hot."
Although the temperature had yet to break 90 degrees on Thursday, OU Emergency Prep had already warned on Twitter of a heat advisory for the day, foreshadowing another blistering shift for Borum.
The day before had not been his first experience with dangerous overheating, Borum said. Just the week before, even with average temperatures — comparatively comfortable in the 80s — a combination of dehydration and exhaustion sent him to the doctor's office, where he received IVs of saline.
Borum said it's a simple repetition of drink water, pick up orders and return for more. He said he was still getting used to the need to hydrate, since it's his first full summer working at Jimmy John's. When asked how much water he drinks in a day, Borum laughed.
"Not enough," Borum said. "This is my first full summer working, spring and fall is just not that bad, so I'm getting used to having to hydrate to go at it."
Borum arrived to work around 11 a.m. Thursday. By that time, temperatures already reached 89 degrees, and the humidity had eclipsed 50 percent.For a time he was sheltered from the elements.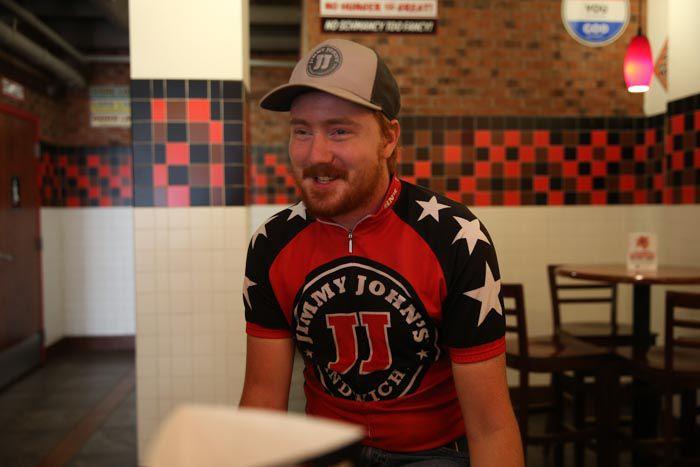 After about 20 minutes working on "daily beautifications" in the store — like cleaning wall tiles and dusting fans — the first order came in.
The 'freaky fast' formula
"Once things start heating up" — figuratively and literally, Borum said — "I have to grab my helmet, take off my apron, grab the bags and drinks and head out the door."
When the first order arrived, Borum swiftly gathered his helmet and water bottle from the back of the store, stowed the order's sandwich and drink into his bag and hopped on his bike and into action, clad in a quickly recognizable red and black Jimmy John's shirt.  Some of the store's shirts are specifically made for bike delivery drivers, to keep off sweat during hot summer days. 
By 11:20, when Borum first left the store, the slowly-increasing temperature still hovered around 89 degrees, but threatened to climb into the mid-90s. Used to these conditions, the day's first delivery posed the biker little challenge.
The first delivery was to nearby Buchanan Hall, and after about a minute's ride Borum headed inside. 
Borum said the speed of Jimmy John's delivery is mostly due to the kitchen staff — deliverers, especially the cyclists, need to avoid burning out early in the day as they stave off scorching temperatures.
"Really, the magic of us getting food to you is more that the sandwich takes 30 seconds to make than we're just super fast on delivery," Borum said. "I typically don't ride at ridiculous speeds. You have to maintain your energy throughout the day.
When blistering heat is not a threat, Borum said, there are other risks drivers have to remain aware of — and they can be just as dangerous. When riding through the alley near New York Pizza & Pasta on Campus Corner last year, Borum was once hit by a speeding car that couldn't see him.
"If the bike hadn't been there, it would have hit my legs and broken them," Borum said as he rode past the alley on Thursday. "I've been meaning to talk to the city about that alley."
Borum said other obstacles around campus include oblivious pedestrians and daring squirrels, which sometimes get too close to his bike tires — a coworker once ran over and killed a squirrel during a delivery.
"I would be devastated if I killed a squirrel," he said, but added that he might not have as much sympathy for pedestrians glued to their cell phones.
"I've got a bell and I'm not afraid to use it," Borum said. "When I first got (the bell) I didn't use it much, I thought 'am I being obnoxious?'"
Muscles and bones are not the only things that can struggle and may threaten to break down during deliveries, Borum said.
"I've broken a couple of bikes," Borum said. "This is probably my third one."
The sultan of sweat
Around 11:30, the next order came in, a much longer trek — Borum rode first to Sarkey's Fitness Center and then to the James P. Pappas Administration Building south of the towers.
After 2.5 miles covered in 15 minutes, Borum began to break a sweat — the temperature had risen above 90 degrees, and the sun continued to bite.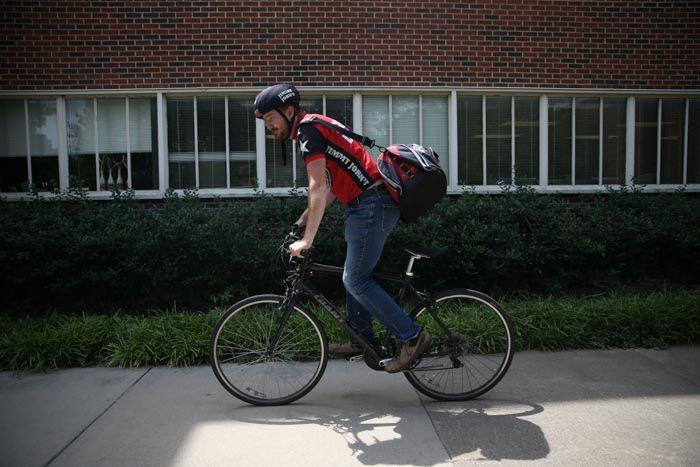 Borum finished his first bottle of water bottle during the delivery, and quickly refilled it back at the store.
Despite spending long days in the sun, Borum said he prefers hot weather and sunny skies to rain or ice. Cool and dry fall weather is the best.
"When it was just pouring constantly for days on end (in the spring), it was just awful. I think I got the flu," Borum said. "I'd say winter is the worst — the cold is brutal, and (that's) when it rains while freezing."
Borum had no time to rest or restock on water after returning to the store. He said it was far busier than an average summer Thursday. Depending on the time of day, delivery drivers can have a five- or ten-minute break between deliveries. He had no such luck now.
The Fred Jones Jr. Museum of Art and then Copeland Hall were his next stops. The delivery added another 1.5 miles to his bike's odometer — and to his muscles.
Although dehydration takes its toll, Borum said the physical fatigue from biking for two or three hours a day never really sets in.
"Really, I could probably do it all day," he said, adding that what initially seems like a lot of exercise actually is not enough to make a difference. "I still weigh the same now as I did when I started working … though I guess (biking) works out your legs, so I guess (you get) nice thighs."
On his remaining deliveries from about 12:45 to 2 p.m., Borum traveled large, sweltering swaths of OU's campus and beyond — Gaylord Family-Oklahoma Memorial Stadium, Cohiba Cigar Lounge, Zarrow Hall, a construction site on Page Street, back to the art museum. 
After 1 p.m., temperatures exceeded 92 degrees. Inconsistent cool breezes were a pleasant lifeline when they came Borum sipped his water more consistently at delivery stops. 
At one point, he stopped for breath, not feeling 100 percent. A long gulp from another refill and a moment inside air-conditioned Zarrow Hall helped him recover and continue.
The calm after the warm
Shortly after 2 p.m., Borum clocked out, removing his helmet which had become damp with sweat. After three hours, he had biked 10 miles and spent one hour moving, traveling at an average of 10 mph. 
Borum made a little over $20 in tips for his work, which when combined with his hourly wage, he said earns him roughly $20 an hour on some days. People usually tip — but once in awhile a customer doesn't, despite the heat.
"It's really rare … but you just smile and treat them like anyone else," Borum said.
Borum said the good pay compared to his previous jobs at Wal-Mart and McDonald's — where he worked more hours for less money — make up for the time he spends in uncomfortable weather.
"This is my favorite job I've had," Borum said. 
Borum said soon he will hang up his helmet to move and start his career — but he's gotten to know the university pretty well during his time taking classes and making deliveries. 
"(OU) has kind of become home … I know all the rooms in all the buildings, I've lived in Norman all my life," Borum said. "I'm going to miss it."