Ray's Smokehouse BBQ on Lindsey Street serves two things: southern barbecue and Oklahoma football.
The powerful smell of barbecue fills the place. Customers ordering see the cooks in the back chopping up meat and removing sizzling entrées from the oven.
For football fans, the grandeur of the smell of barbecue is matched only by the Oklahoma memorabilia that decorates the walls all around the restaurant. Newspaper clippings from Oklahoma's 13-0 victory over Texas in 1938, pictures of former players and various football cards.
The man who runs it, former Oklahoma safety Darrol Ray, is no stranger to football and barbecue. At one point in time, Ray had the longest playoff interception return for a touchdown in NFL history.
Now over 30 years removed from his football career, Ray runs Ray's Smokehouse BBQ, back in the town where he made some of his best memories as a safety for former head coach Barry Switzer from 1976-1979.
When Switzer originally recruited Ray out of Killeen, Texas, he originally had plans for him as a wishbone quarterback, but Switzer said they had better wishbone quarterbacks at the time and Darrol was "too good an athlete to play a backup role and not be on the field."
"He was big, he was fast, he was strong, and he was smart, and he wanted to play and knew how to practice," Switzer said. "Every coach on my staff wanted him at receiver; they wanted him at running back; they wanted him at defensive back; they wanted him at linebacker — because he was so talented, he could play anywhere."
Switzer said former assistant coach Bobby Proctor eventually decided that the best way Ray could serve a purpose on the team would be at safety, and he immediately showed that he was going to be a talented player his first few days in the position.
"He played extremely well through his career; he was an All-Big Eight safety during that period of time, made a lot of big plays, played on great teams," Switzer said. "You wish everyone you ever coached was like Darrol Ray."
Following his career at OU, Ray was selected in the second round of the 1980 NFL Draft by the New York Jets. During his time there, he made his record-breaking interception return against the Cincinnati Bengals during the 1982 playoffs, eventually advancing the Jets to the franchise's first AFC Championship.
After a few seasons in New York City, Ray decided it was time to come home in 1985.
"I came back to the Norman because I had such a great experience in Norman. I loved it," Ray said. "Met my wife first day of class my sophomore year. And she was a small town gal, and living in New York City may not have been conducive for marital harmony."
Ray initially started his own Kettle franchise when he returned to Oklahoma, which he ran for about 10 years before transitioning into his own businesses.
"If you own a restaurant and (someone) comes in there and asks for something and your name was on the sign, you're dealing with them one-on-one," Ray said. "But if they come in and you're operating a chain restaurant, your hands are limited to what you can do or even what you may want to do."
Ray then moved into the liquor business, owning and running a liquor store before deciding to focus on Ray's Smokehouse BBQ, which opened in 2008 in place of an old Pizza Hut.
"I was kind of this back-and-forth guy overseeing both of them and not really grinding it out, working one," Ray said. "I'm very grateful and extremely proud of what has been accomplished through my family and my wife and my daughters and then my crew and everybody that's just ... made it happen."
Former OU football player Dewey Selmon played for the Sooners at the same time Ray did and was one of his first customers. Although Selmon thought the restaurant was a great idea, he told Ray it would be a lot of work, but "that did not bother him at all."
"The spirit of the place kind of brings you back to the spirit we had when everybody was playing here at OU (in the 70s) because a lot of that legacy goes straight into his restaurant," Selmon said. "It's definitely built around family ... so it's a great place to not only get good food but also have that family atmosphere."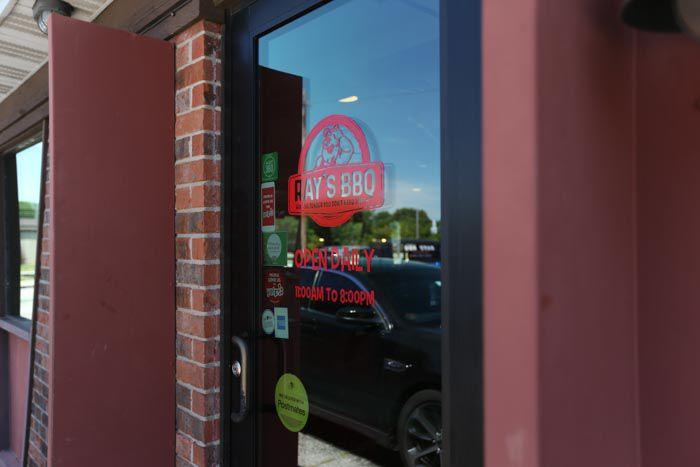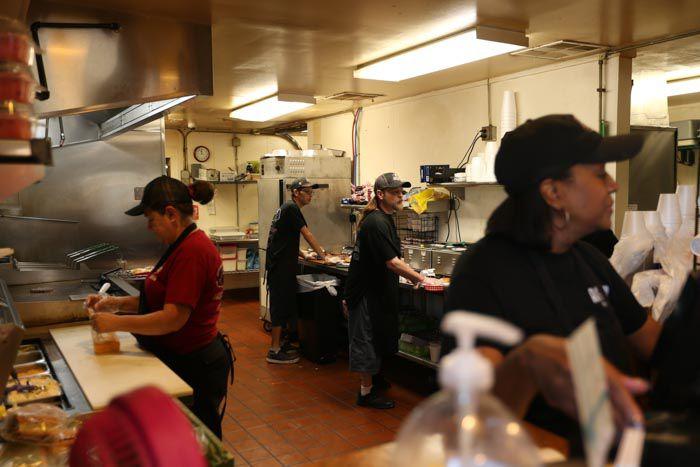 Ray's wife, Diane, and their daughter, Kendall, both help run Ray's Smokehouse BBQ. The family also opened a secondary location in Moore in 2018, and Ray can often be found working there.
Switzer said the family are great members of the community and very special, and that he and Ray have remained close throughout the years.
"He was an outstanding player through his career," Switzer said. "He's an outstanding person and citizen in our community today. Always got a smile on his face, got a great family, great family man. He's one of my favorites, always makes me smile."
Switzer said he and Ray occasionally eat together at Ray's, with Ray often asking how his restaurant measures up to former Sooner Billy Sims'.
"He'd always ask me 'Is mine better than (Billy Sims Barbecue)?' and Billy would always ask me 'Is mine better than Darrol's?'" Switzer said. "And I'd say 'It's a toss-up.'"
Ray was well-connected in Oklahoma after going to school here, so he was able to build contacts through that for his business, Switzer said. Ray returning to Oklahoma to run the restaurant was something Switzer said he would have never imagined, but he is glad he did.
"I mean it when I say he's (got) a special family, his children, they're really outstanding people in the community," Switzer said. "I really wish that all were like him; we wouldn't have any problems in this world if we were all like him."