As people stay indoors to prevent the spread of coronavirus, it's still possible to watch TV shows and movies with friends through screen sharing apps.
Apps like Skype have been popular since 2015 and can be a resource to help combat loneliness and create a community while social distancing. Here's a list to help determine which screen sharing app works best for you. Grab your favorite snack and get ready to binge watch.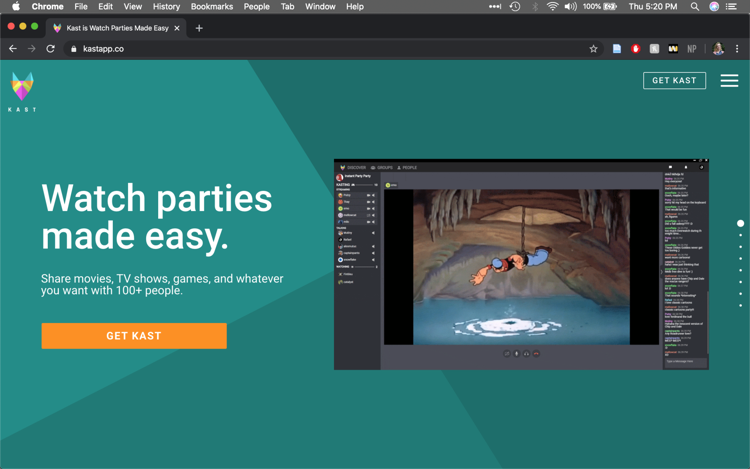 Netflix Party was recently created for people who feel lonely during social distancing, according to USA Today. Netflix Party is a screen sharing Chrome browser extension that allows users to watch Netflix shows and movies at the same time, according to its homepage. 
This extension is free and easy to set up, requiring viewers to install, click the red "NP" button to create a viewing party and share the party's URL with friends. Netflix Party also includes a text chat option so you and your friends can have a discussion about the movie or show.
However, Netflix Party will only allow a viewing party to last as long as one movie or continuous series episodes, the extension prohibits jumping from episodes in a series in a non-sequential manner, according to Tom's Guide. Additionally, the extension requires a Netflix subscription to watch films and shows on its platform. 
Kast allows users to watch shows, livestream video games or voice chat with friends. It has both a free version and a paid version for $4.99 a month, which has improved video quality and is ad-free, according to its website.
Kast uses a variety of streaming service options including Hulu, Netflix and Amazon Prime. Kast viewers can host a viewing party of more than 100 people on the site.
A potential downside of the free version of Kast is that it shows advertisements, disrupting viewing parties. Additionally, all viewers have to use Kast on Google Chrome or download the desktop app. Kast is available for Android phones, Apple phones and computers and Windows computers.
Discord operates as a text chat app that also allows users to have face-to-face conversations on laptop and chat while streaming TV shows or video games, according to its website. To view a movie or video game with friends on Discord, create a voice chat room and use the "Go Live" option to stream. 
Discord is primarily designed for gamers so if viewers are unfamiliar with gaming streaming services they can look on the Guideline Page. 
TwoSeven is another screen sharing website that does the job. This website allows you to have video chats, but you can also stream shows from services such as Hulu, Netflix, Amazon Prime and Disney+ while being able to see fellow viewers' faces.
To watch movies or TV shows on TwoSeven, viewers need to set up an account, download a Google Chrome extension and then sign in with account information.
To watch shows on streaming services, TwoSeven requires users to download a Google Chrome extension. Additionally, in order to view Hulu and Disney+, viewers need to become a subscriber to TwoSeven for $3 a month.