On March 6, then-sophomore gymnast Allie Stern thought the Sooners were well on their way to winning the 2020 women's gymnastics national championship. No. 1 Oklahoma had just beaten No. 6 Michigan on senior night, and it felt like nothing could stop them. 
"We were set to finish the year out," Stern said. "Win our national championship, everything we'd worked for."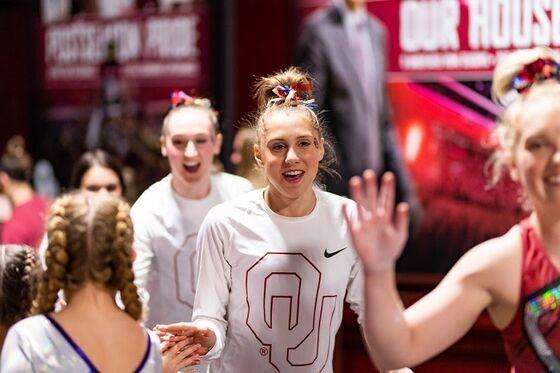 Meanwhile, then-SGA president and current vocal performance and marketing senior Justin Norris was getting ready to begin his marketing campaign for his Integrated Business Core class in the Price College of Business.
"We had just gotten a lot of our product in," Norris said. "I was the vice president of marketing for our company. We were going to go to the airport and shoot some promo stuff, and we were doing selling events."
Elsewhere, then-Men's Glee Club social chair and Scandals director Jacob Waters, currently a vocal music education senior, was busy rehearsing for the upcoming show April 2–4.
"My mind was full-on in Scandals and competition mode," Waters said.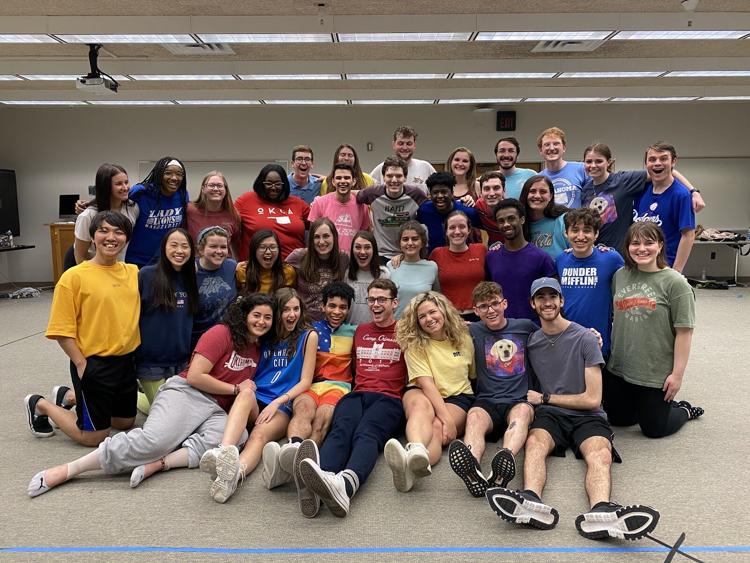 One week later, the season was over, the marketing campaign was nixed, and Scandals never made it on stage — all canceled by the COVID-19 pandemic.
In a matter of days, the University of Oklahoma transformed from a buzzing community of over 30,000 people into an eerie ghost town. The following, based on interviews with 15 students, staff and campus leaders, relives the weeks leading to the moment OU first came to grips with a global pandemic that has killed over 1.4 million people worldwide, and more Americans than the last five major U.S. wars combined.
"It was surreal," said Chris Walker, associate provost for faculty and Student Affairs. "It was chaos."
January: 'A little bit worried about this'
On Jan. 4, the World Health Organization tweeted "there was a cluster of pneumonia cases — with no deaths — in Wuhan, (China)," and investigations were underway.
Keegen Hart, then-chair of Leadership Education and Development Night and current electrical engineering senior: "We kind of knew about it at the turn of the year. I feel like there were murmurs at the end of January, but they kind of got pushed to the side. Kobe (Bryant) died, and that was all everyone talked about."
Lauren McGrath, OU graduate and then-Soonerthon chair: "I was looking back through my messages, and I sent an article about COVID in China in January to one of my friends. And I was like, 'a little bit worried about this.' So, uh, yeah, I guess that was a bit of an understatement."
On Jan. 27, OU sent its first official communication about COVID-19. The email from the president's office restricted travel to China and required community members to communicate with the university about any travel to or from China. Four days later, the president's office sent an email suspending all official travel to China. 
Dr. Dale Bratzler, OU chief COVID officer: "There was a group of us that had been watching reports out of China for quite some time."
Walker: "The idea was to monitor it and to work with Goddard to make sure that people were brought into the country and onto the campus from China in a responsible manner."
Bratzler: "We just had this bad concern that this was not going to be restricted to China at the time and that global spread was possible."
February: 'Why are we talking about it in Oklahoma?' 
Over the course of February, COVID-19 rapidly spread across the globe, with outbreaks in Iran, Italy, South Korea and Japan. 
Rachel Disler, then-management junior studying abroad in Arezzo, Italy: "The weekend after (Valentine's Day), we were riding back (from Milan) on a train. And we start(ed) getting texts from people that Italy was shutting down. And we're like, 'We have no idea what you're talking about, Italy's fine.'"
Norris: "I had heard the term 'coronavirus' thrown out in a couple of conversations. And I had been watching the news, so I was kind of like, 'I think I know what this is. But also why are we talking about it in Oklahoma? Like, isn't it like in China?'" 
Maggie Percival, OU graduate and then-College Bowl Chair: "I was actually in my crisis communications class with a fellow classmate, and he was talking about how he was getting lots of masks. And he was like, 'Oh, I think it's gonna be a big deal.' This guy was like, 'Oh, I'm preparing.' And I thought that was nuts to hear." 
Walker: "I want to say early February, we formed a special group. It's called SPPOT for short, and it stands for Special Pathogen Preparedness Operations Team. And it brought together people from Norman-HSC, Tulsa, the epidemiologist at the HSC, the dean of Nursing, four or five different medical doctors who were the leaders in their particular area.
"It was in the course of those meetings as the epidemiologist and doctors talked about this as being something that we haven't seen before — or certainly haven't seen recently — that it really started to hit home that this is going to be something fundamentally different."  
Stern: "One of my managers was very smart, into (microbiology) and stuff, studying all of that. And she started posting on her Snapchat stories something she heard about coronavirus, and she kept posting updates. My whole team saw them, and we didn't really think much of it. We had no idea that it would actually affect us in any way."
Sana Hajatalou, then-freshmen management information systems major from Iran: "The first time I heard about COVID was when it started in Iran (on Feb. 19), but in the U.S. it wasn't a big deal yet. … I was already aware and I was scared."
Disler: "Most of us likely had (COVID-19) in the monastery (where we stayed). We had a lot of people go to a doctor that we see there with severe respiratory symptoms. And they would say, 'Oh, it's this, it's that,' or a test would come back negative and we'd get some random antibiotic that wouldn't work. … We thought everyone had a cold and we were adjusting to living in a new country." 
Bratzler: "That's when I knew we were really in for a challenge here, because (Italy) is a country that has resources, that has academic medical centers, heavy research. They were really struggling with the outbreak." 
Disler: "The meeting that we had on (Feb. 24), people started saying, 'My parents don't want me to be here anymore.' My friends in Tuscany were getting sent home by affiliate programs. And I was like, 'Holy crud, they may send us home.'" 
On Feb. 26, OU sent an official email adding Italy, Iran, Japan and South Korea to the countries subject to the university's travel restrictions. 
Walker: "By the end of February, SPPOT was meeting two or three times a week, and the Norman-specific group was meeting on whatever days SPPOT didn't meet. And so there was at least one meeting per day, with all the preemptive and sort of postmortem phone calls and emails that stemmed from those meetings." 
Hajatalou: "I knew people who got it back home. Some of my relatives got it. I lost some of my family members. … I already knew their stories of how it works and what it was affecting and what's happening. I think I was more aware of it than in my surroundings here." 
Quy Nguyen, director of Student Life: "I had no idea at all at that point that COVID was going to sweep across the United States as quickly as it did. In my mind, I saw what was happening in other countries, but for some reason — maybe it was the messaging from the top in terms of the United States — it just didn't feel like it was that big of a deal. And for me, I thought it was going to have a slow progression, rather than just, like, automatic."
Amid COVID-19's spread across the globe, OU was also dealing with a racial reckoning. In the span of two weeks, OU professors Peter Gade and Kathleen Brosnan each used a racial slur during their respective classes. As a result, several students began a sit-in at Evans Hall to demand racial reform at the university. 
Walker: "There are two or three days in late February where we're trying to — in a meaningful, right way — grapple with those very real issues while being thoughtful and trying to be considerate about COVID-19. So we were having phone calls about COVID while students were exercising their right and sitting outside our doors, and being very respectful." 
March 1–7: 'That won't happen here, right?' 
On March 2, OU sent an official notice that all OU Italy programs were being closed, including OU Arezzo and all other Italy study abroad programs. On March 3, OU sent an email encouraging community members to monitor travel advisories before traveling during spring break.  
Bratzler: "It was very difficult when we asked them to come home from Arezzo, but we were very, very concerned about the safety of the students and their parents and others when they came back." 
Disler: "The big fear for us was reentry. We thought that we were going to be labeled 'the COVID kids,' and everyone was gonna be afraid of us."  
At the same time, discussions began in earnest about COVID-19 potentially affecting the Norman campus. 
Walker: "I spoke to the Faculty Senate, and we talked about staying or going online for the two weeks following spring break." 
Matt Gense, then-junior aviation major: "'That won't happen here, right?' I'm thinking, 'There's no way that reaches the middle of the country,' or, 'that's not going to happen here at OU.'" 
Stern: "We had no idea that (against Michigan) would be our last (gymnastics) meet. We did get lucky to have a senior night and to have our last meet, but it definitely surprised us when everything (was) canceled." 
On March 6, a Student Government Association and Student Affairs leadership meeting occurred that included the SGA president, vice president, Congress chair and Campus Activities Council chair, as well as several Student Affairs advisers. 
George Ahmadi, Student Government and Organization Services assistant director and SGA adviser: "Basically, we were like, 'What would this look like if the university were shut down?' But I didn't really think that was gonna happen. But by God, it did." 
Norris: "Even though we just talked about it, it just did not seem like, 'This is in our midst,' like, 'we need to change our behavior' kind of thing.
"As I was kind of leaving that meeting, I got a phone call. It was kind of like a group conversation with some people and it was more along the lines of, 'OK, this is kind of where the thinking is, we've been working on this for a couple of weeks now, almost a month. We've been anticipating this. And now it comes to the point where we feel like we're going to put it into action.'" 
Emma DeAngeli, then-SGA Congress chair: "That was kind of like, 'OK, that makes sense. And if that's what public health officials think, then cool. If that's what needs to be done, that's fine, but it's only two weeks. So you know, what does it matter?'" 
Walker: "We were planning on parallel tracks. If they come back, how do we reintegrate 20,000 or so students back on the campus again responsibly? And at the same time, if we decide because of the data and the trends that we can't do that, then ... how do you extend that from not just, you know, online school through the two weeks, but all the way through to the last week of school?" 
Ahmadi: "I was like, 'No way.' What would this look like? Would students still be able to tap into the resources? How is SGA gonna meet? In my area, what are RSOs gonna do and all that stuff? So I think at that point I just kind of lived in both worlds; anything can happen." 
On March 7, Soonerthon took place, bringing over 3,000 students and families together in the Sarkeys Fitness Center for 12 hours of dancing and fundraising. 
McGrath: "(Nguyen) and I had a conversation. We decided that, since at that time there was only one case in Oklahoma, and it was the day before, that we felt pretty safe about going forward with the event." 
Nguyen: "It was just making sure that we were being safe. Obviously, we were bringing families. We didn't know a ton about COVID at that time. We didn't know how it spread, we just knew large masses of people together could be potentially of higher risk. But again, we just didn't know how it transmitted at the time. And so that was the conversation with her. What does this event look like? How do we stay safe?" 
Norris: "Whenever I was there (at Soonerthon), I definitely was a bit more conscious. I think my main thought was, 'Oh, it's so unfortunate that we won't be able to have events like this for the two weeks after spring break.'" 
McGrath: "It was like one day everything was normal and we're having Soonerthon and we have 3,000 people in one room. And then a few days later, everything is shut down." 
Nguyen: "If we knew what we know now, there's no way that we would have had that event. It would have totally been adjusted. Because you had over (3,000) people in a room with children that are immunocompromised." 
McGrath: "I feel like no one was thinking in that moment that in the next week, literally, the NBA would cancel their season and Disney World would shut down and all the things that happened literally a week after." 
March 8–13: 'What is going on?'
On March 9, OU sent general guidance to community members recommending they stay home if sick. On March 10, Harroz sent an email confirming OU was considering going online for a period after spring break and that students should bring home instructional materials. The same day, OU suspended all university-related domestic air travel. 
Percival: "I was just like, 'Are you serious?' It was really just kind of like, 'No, no way.' It was almost a disbelief kind of feeling because that just seemed so, like, that just couldn't happen to us." 
McGrath: "It felt very surreal. I remember thinking when they started saying that we were going to have two weeks off, I was like, 'There's no way it's just gonna be two weeks.'" 
Stern: "We didn't even think about the possibility of everything being shut down. But we were like, 'Oh my gosh, we might not have fans. This is gonna suck.'" 
Dalton Gau, then-SGA vice president: "Things were literally changing every day. Some days I would kind of get an early scoop of what was happening and then other days, I would literally check my email and Joe Harroz emailed the whole student body in a mass email, and that's where I got my information." 
Waters: "I think we all knew that that was a reality of how it could be, but we were all pretty optimistic that we would come back from spring break; we'd be on campus. Maybe we wouldn't be doing the full shows with maximum capacity in Holmberg, but surely there's gonna be something with maybe limited capacity or spacing out the events so that casts could have time to disinfect and stuff." 
Hart: "I was thinking like, maybe a couple of weeks. ... (Then) everyone's just going be cautious and then it'll be fine. So I didn't think we were just going to permanently be online in limbo. I just kind of thought we would take a brief break and get back to it." 
On March 11 at 7 p.m., a scheduled game between the Oklahoma City Thunder and the Utah Jazz was canceled minutes before tip-off, with players having to leave the court after warming up. Later that night, ESPN's Adrian Wojnarowski broke the news that Jazz center Rudy Gobert had tested positive for COVID-19. The entire NBA season was suspended that night. 
Gense: "I was blessed to get tickets from a friend. I was with my friend's family. We were actually in the players' family section, so we were Row 4, right behind the bench of the Thunder. I still have the ticket. … I'll never get rid of that ticket just because of how interesting that night was."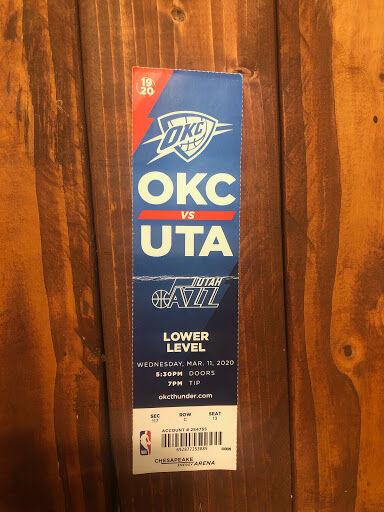 Percival: "We were actually in our last College Bowl meeting when the Thunder had to get everybody out of the arena." 
Hart: "I was in the (Alpha Tau Omega) house in my room, and I was watching the game. ... I was like, 'Oh wow, that's crazy.' And then other games were stopping and stuff. It was just very surreal. 
Bratzler: "One of our infectious disease physicians (who) was consulting with the team physician got the call, said, 'We've got a player that's tested positive.'" 
Gense: "We're sitting in our seats, and the players' families are all right around us. And the Thunder and the (Jazz) come out, they warm up, and it just kind of stalled. Nothing was really happening. The players, you could see chatter on the court. Something just felt off, but no one had any idea what was going on. (Thunder owner Clay Bennett) was sitting next to (Gov. Kevin) Stitt, and they were a row in front of us. And someone came up and told them something. And the dominoes fell from there."  
Nguyen: "I had just got home from work. And I just remember turning on the Thunder game, and it just felt super weird, like, chaotic. I was like, 'What is happening?'" 
Stern: "I actually was taking an exam on campus that night. It was physics. And then I come out of the exam, probably like 9 or something at night and check my phone. I have so many notifications in my team GroupMe about, like, 'Oh my gosh, what does this mean for the rest of season? This is in our state now. We have no idea what this means.' And I was like, 'Oh my gosh, what is happening?'" 
Gense: "Nobody really knew how serious or not serious COVID really was at that time. So like, did I just get exposed to the plague? What was going on?" 
Percival: "I think that's when it was just like, 'Oh my gosh, yeah, OK, this is serious, we might actually have to do the two weeks.'" 
On the morning of March 12, Harroz announced that all classes were moving online for two weeks after spring break and that all on-campus events were suspended from March 14 through April 5. 
Norris: "I think I was in my office, just like hanging out, doing an office hour, and I then got the email." 
Stern: "I was kind of expecting it because there was so much talk about it."  
Waters: "All I could really think was, 'How is this going to affect (Scandals)?'" 
Nguyen: "We had a retreat planned for Student Life. It was just a day-long retreat where we would go somewhere and then come back. We were just going to go to the Norman Public Library. … We were at our retreat and they made the call that morning. … We all left (the library) to come back to Student Life, to start working on our messaging for different events." 
Norris: "It seemed like it went from (COVID-19) being casually mentioned, like, 'Oh, yeah, the news is so crazy, you know, this, that and the other' to 'OK, now it's here. And we're going online. And we need to figure out how we're going to get this messaging out to the student body and the Norman community, and all these things.' So I was very thrown off in that moment." 
Hart: "If you didn't think about it, you were fine, but if you thought too much about it, you were like, 'Wow, the world is ending.'" 
Walker: "We had a pretty good idea — or at least more than a passing acknowledgment — that it may and probably would extend beyond the two weeks. I think the two weeks post-spring break was sort of a 'we need to do this because we know we have students that we cannot stop going on spring break trips.'" 
Nguyen: "I thought it was only going to be two weeks, I thought we would come back and it would be fine. … Preston (Court, Campus Activities Council coordinator), I remember him saying, 'We are rescheduling family weekend rather than canceling it.'" 
Walker: "We wanted to see what other universities were going to do. We wanted to see what the numbers look like on both the state and national levels. More importantly, we wanted to see what the trends were in those different places." 
Bratzler: "We just got a sense that we were in real trouble at that time." 
Later that afternoon, the NCAA canceled all remaining winter and spring championships. 
Stern: "I remember going to the pool to do an alternate workout since I had a sprained ankle, and I was working through that so I could be able to compete. So I was at the pool, doing the swim workout, (I came) back, and they all pull(ed) us in the team room. And (head coach K.J. Kindler) was like, 'It's canceled, like it's done, they canceled the whole season.' And I remember our whole team was basically sobbing in there. We were preparing to win another national championship and she was just telling us to go home." 
That evening, the last two non-atheltic on-campus events of the semester took place: LEAD Night and the spring choral concert. 
Waters: "I remember the conductor of Men's Glee just going on and on about how glad he was that he rescheduled the concert to be a week in advance, that week, rather than the next week, just because he was very pessimistic about any more events happening on campus."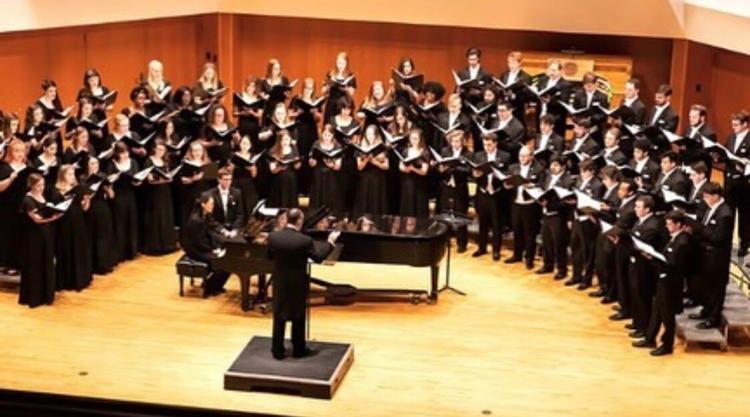 Hart: "One of the (LEAD Night) speakers was going to do an activity with glow sticks, where everyone in the audience holds their hand, it forms a chain and lights up the other side of the stick or something. And she was like, 'Well, we're not gonna do that so we don't have everyone contacting each other.' But there were no masks, no anything. So just kind of a no-one-knew-anything point." 
Waters: "(Associate Director of Choral Activities David) Howard definitely made a joke. Like, 'See y'all next semester.' We didn't really treat it like a big goodbye, just more like a joke. Like, 'Oh well, I guess I'll never see y'all again.' 
Hart: "I know that Kari (Dawkins, assistant director for the Leadership and Volunteerism Office) kept making that joke. I feel like it was just kind of a general consensus that, like, wow, this could be it but probably not. It was like a snow day at that point. We were like, 'Oh, like this could be it for a while,' and it turned into a lot more than a snow day or two." 
March 13 was the last day of on-campus classes before spring break, and subsequently ended up being the last day of on-campus learning for the semester and for the summer. For seniors, it was likely their last day on campus as an OU student. 
DeAngeli: "That Friday right before spring break was when it was like, 'Oh, shit, OK, this is actually happening.'" 
Nguyen: "It just moved so quickly. One day we're having a retreat, and then the next day, it's like, 'All right, this is the last day here, bring your laptop with you.'" 
McGrath: "It doesn't even feel like that all happened in the course of a week. But it did." 
Percival: "I think I went to Student Life and I dropped something off for (Court). And then I literally called my mom as I was walking and I was like, 'OK, I'll be gone for two weeks.' I literally just walked to my car and then drove for the rest — for the end of my college career." 
DeAngeli: "I remember walking back from the library and just taking that all in, just that area (by the Bizzell Memorial Library), which was one of my favorites. And I saw it every day walking to my office. And I just remember thinking, 'I don't think I'll feel like this on campus again.'" 
March 14–18: 'It just happened' 
Spring break began March 14. On March 15, Harroz announced the first positive COVID test in the OU-Norman community and that campus would be closed March 16 through 20. 
McGrath: "I was supposed to go to New York for spring break, and we ended up canceling that trip a couple of weeks before. And then I was gonna go home to Colorado, and I was gonna fly and I ended up canceling my flight and just drove because I was worried I wasn't going to be able to get back on the plane." 
Ahmadi: "I came into work on Saturday and Sunday morning. I knew we'd gone to online instruction, but I did not think that I was not going to come back to work." 
Norris: "On social media, seeing it nationally and within like my own social circle, the way that people were going about being business as usual and normal and going on vacations they planned and all these great things, it was in those moments where I told myself, 'OK, I don't think this is going to stop at two weeks, I feel like this is probably gonna go on a little bit longer.'" 
Bratzler: "We didn't have a lot of experience with the pandemic in Oklahoma yet, but we were seeing what was happening on the coast in New York and Seattle and Los Angeles. We didn't have any reason to think that we wouldn't see the same thing happen in Oklahoma." 
On March 18 at 9:36 p.m., Harroz announced that OU-Norman classes would remain online for the rest of the semester and that all in-person events with greater than 10 people were suspended through May 11 on all three OU campuses. 
Ahmadi: "We were in New Mexico, and I told my wife, I was like, 'Holy shit. It just happened.'" 
Bratzler: "It was a fairly sobering moment." 
Waters: "I didn't read the email first. Our Scandals group chat just started blowing up." 
Percival: "I got the email with my family. And I was very, very sad. I was very sad." 
McGrath: "I was at home in Denver, at my house. I didn't read the email first. I got like, four different group message notifications from people talking about it. And then I hopped on a group FaceTime with some of my friends and we talked about it. And I was definitely sad." 
DeAngeli: "I mean, it sucked. Like, there's no other way to say it." 
Stern: "I was at home in Charlotte, North Carolina. I actually only packed for three weeks because, at that point, I only thought we were going to be home for three weeks. So I packed probably like two weeks' worth of clothes. And then we got an email saying the whole rest of the semester was canceled."  
Norris: "I found out with everybody else. So I didn't know that there was ever a plan to just be like, 'OK, we're not coming back.' Because I don't think that ever was a plan. Like it wasn't a backup plan or anything. I think it was a consequence of the situation." 
Nguyen: "It just happened so fast. I was in Austin. Everything was shutting down in Austin, like all the restaurants, and I just remember being on conference calls with Student Affairs leadership, and we were just trying to figure out like, 'OK, what's happening?'" 
Waters: "I wasn't too upset about the school part of things because most of my classes, at least all my teachers were already in the process of transitioning their stuff online and I'm close with them and those classes weren't too difficult. So I knew I could finish out the semester pretty well. It was just more of a bummer that we put all this hard work into an event, and we don't get to see the final product come to fruition. 
Hajatalou: "I knew my friends were going to go to their homes and families. My reaction was, 'Where am I going to stay? Am I going to be in my dorm all alone in the towers? How's this going to look, like how am I going to go to online classes?' And most of all, I was so scared of being alone in a dorm." 
On March 24, Norman issued a 21-day shelter-in-place order. OU students, staff and faculty across the country worked online and experienced the effects of the pandemic — and still are. 
Bratzler: "I used to walk all over this campus from one end to the other because I had meetings all over this campus. Now I just sit at a desk all day, which drives me crazy."
Hajatalou: "In my tower, there were only four people. On my floor, there was only one person. It was scary, lonely and depressing for sure."
Looking back: 'It really was like a blink'
The weeks leading up to OU going fully online will be among the moments from the ongoing pandemic that many will remember most. With COVID-19 still raging in Oklahoma, as positive cases and hospitalizations reach new highs, students and staff are just grateful to be alive.
Norris: "Whiplash was probably the perfect way to put it."
Percival: "It just happened so quick. It really was like a blink."
McGrath: "It just felt like a series of events that you were hoping wouldn't happen, but (you) were suspecting they would, and you just couldn't believe that it was all happening that way."
Bratzler: "Never ever did I think I would be working and having such a role in our state and our university for a global pandemic that's killing a lot of Oklahomans, that's created just complete havoc on university operations, Oklahoma economy, everything else."
Percival: "We're definitely still in the thick of COVID. So to talk about that time period of just absolute uncertainty — not only did my college end, also my future plans that I had for post-college ended."
Bratzler: "We're still overwhelmed with hospital patients. And, sadly, I don't see that changing for some time."
DeAngeli: "As much as I can (complain) about how upset I am that the year went the way that it did, it's also sort of like, 'Damn, I've got my health, and my friends have their health.' And that's what is important."