Before I left Norman for my hometown of Kansas City, I double checked my bags. I had my laptop and favorite video games, my camera bag fully set up (of course) and my backpack packed with enough clothes to comfortably last me for two weeks. 
I did not anticipate the last meeting I had in the OU Daily's newsroom would be my last of the semester. While members of our newsroom gawked at other universities closing their campuses for the rest of the semester, we were hopeful a two-week period of online-only classes would be the end of what has now escalated into a worldwide pandemic. 
I did not anticipate the last photos I would take on campus for the newspaper would be photos of senior athletes partaking in some of their last college workouts. Even with cancellations and postponed events, I was looking forward to taking more photos. For a men's basketball team that, in my head, had a chance to make a deep tournament run, for a women's gymnastics team looking to defend its conference title and compete for another national title, for a softball team that was just getting into the swing of the season and for so many other sports.
Above all, I didn't anticipate a state of emergency and an emergency order turning my hometown of Piper, Kansas (a town near Kansas City, Kansas), into a ghost town. The only signs of civilization are the trash truck doing its rounds, a skeleton crew of construction workers repairing the always-broken Kansas roads and a handful of police officers.
Though I primarily brought my camera home to take pictures in a now-canceled high school senior photo shoot, I was motivated to document how different my bustling town had become. According to the emergency order, "media and communications providers" qualify as essential business, so I went out and did my job.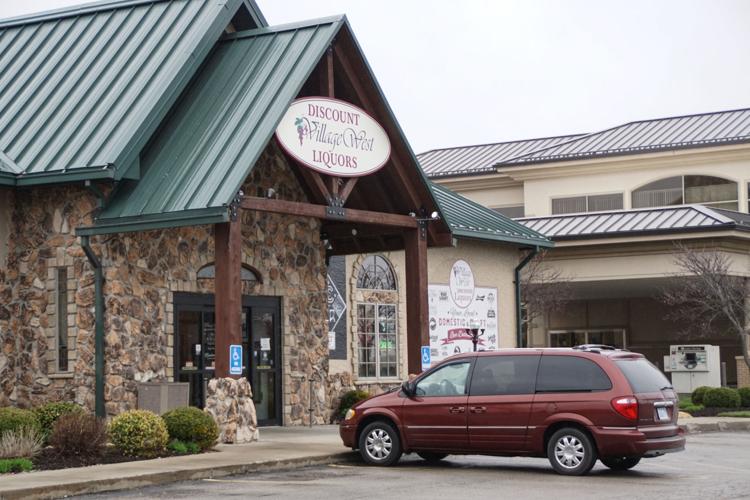 The liquor store had booming business the day before the order was enacted, but on this day there was only one visitor. I was there after the visitor had arrived, and even after spending time in the parking lot contemplating my next nearest destination, nobody else showed up.
I left the mysterious van at the liquor store and headed to our town's Walmart to gauge the desolation. When I got there, I saw one person enter, and there were a handful of cars parked in front of the store. Inside, the human presence was felt more by the number of workers and police officers idling than by any customers. 
After leaving the store, I visited the town's claim to fame, the Legends Outlets Kansas City, commonly known as "the Legends" to anyone within 30 minutes of the outdoor shopping mall. There, I spotted just two people who were able to convince a worker to let them inside a store — to use the restroom, I assume, as all the signs had "CLOSED" notices on them. The mall that used to be brimming with people of every demographic now looked like something out of a contemporary art piece with empty sidewalks and upturned benches.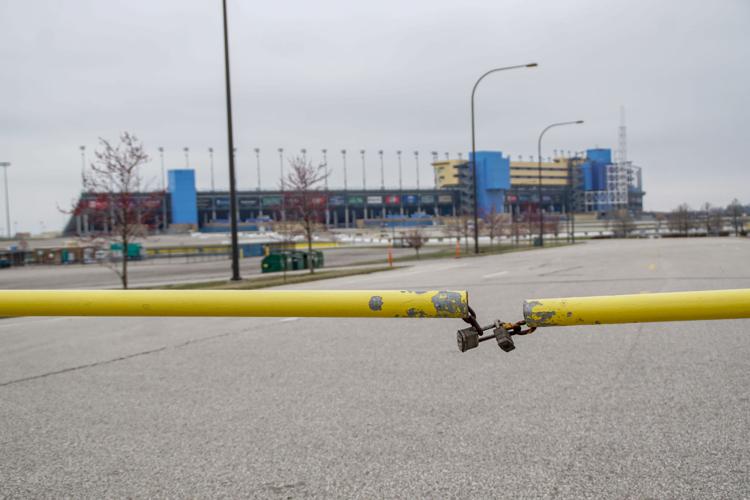 I have participated in events at the race track in town, but I was never able to stop in and watch a NASCAR race. Being one of only 30 tracks in the nation, the Kansas Speedway brought in thousands from across the country, and it would be an injustice not to include it.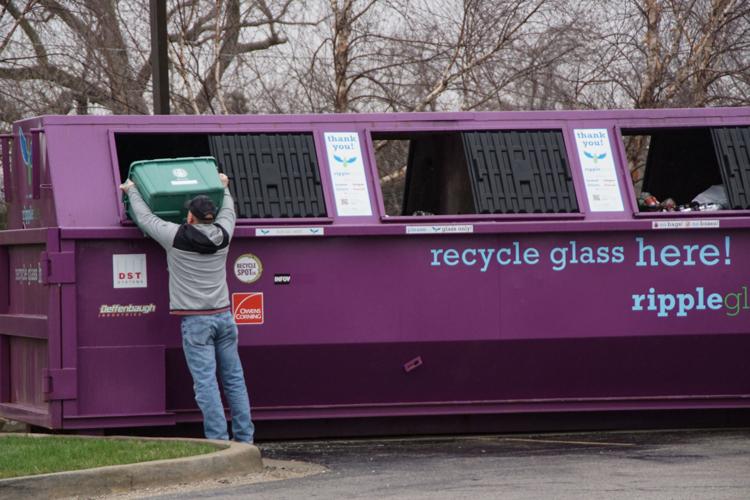 Even with everything coming to a quarantined halt, life has found small ways to persist. I watched a man dump his recycling at a drop-off point that seemed to be the only point of interest in the area.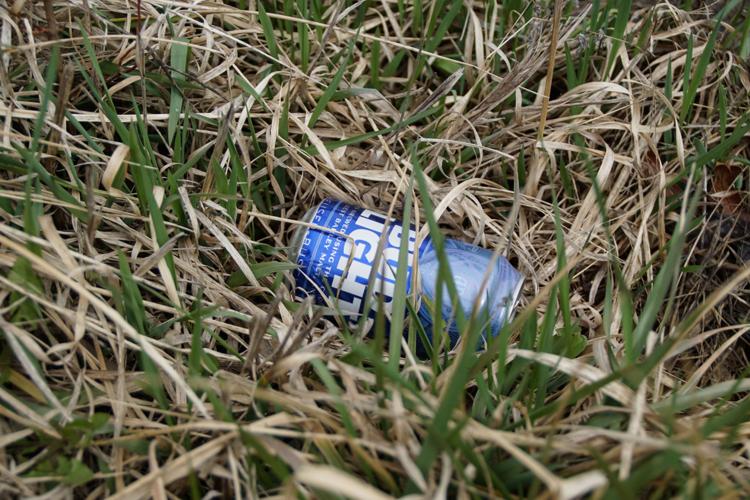 Ironically, at the next location I visited, I found an empty beer can lodged into overgrown grass. 
Even in areas like suburban Kansas, I didn't have to drive farther than 15 minutes from my house to find farm animals. I was most impressed with their ability to hear my camera's shutter clicks, as I was far away and my camera is quieter than most. Despite their owners being under quarantine, the animals didn't seem to have any changes to their quiet lifestyle. 
Going back to visit my old high school, I felt a rush of old memories, especially those from my senior year. After taking an alternate entrance, I drove around and found the senior parking spots. Many are familiar with the concept — seniors pay to reserve a spot, and they get to paint their legacy on it for the year. I never had a spot because my vehicle of choice had two wheels, but I still felt for the high school seniors of this current class who weren't able to finish using their spot. The thought of a semester cut short stings not just because of a parking spot, but also because of memories like senior sports in high school. This year, the men's basketball team made it all the way to the state championship for the high school's division, and they had to bring everything home after sporting events were canceled. 
I have attended several summer camps at Wyandotte County Park, and my fiancée had her high school graduation party there. I could almost see the memories playing out when I looked at the park, and I expected to find empty swing sets. To see the same playground I have known for over a decade wrapped in caution tape made me feel like the problem was coming from the park, despite the opposite being true.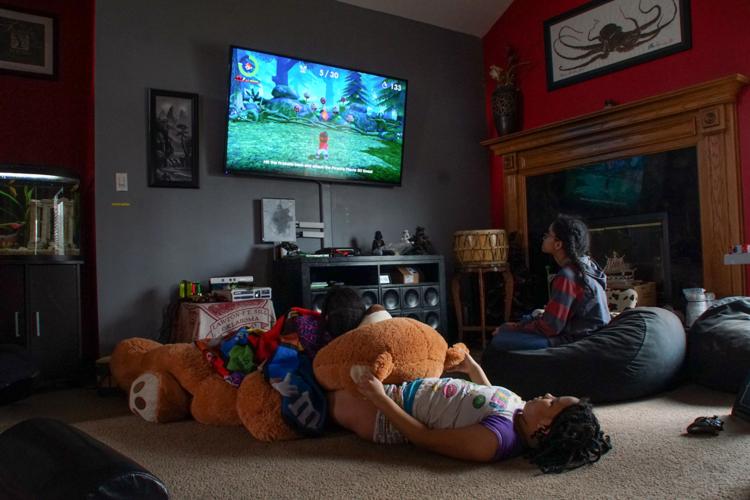 The one upside to this historic event is that I have been able to spend a lot of time with my family, so much so that I have only separated myself to take one picture. With me living 365 miles away, travel isn't easy for my family of six (not including myself). It's been difficult at times to even remove myself from having fun together and give my attention to the world outside of the house.
It has been nice to relax outside when it wasn't below freezing (so about every other day) and to watch the interactions between my family's various animals and my dog, Riley.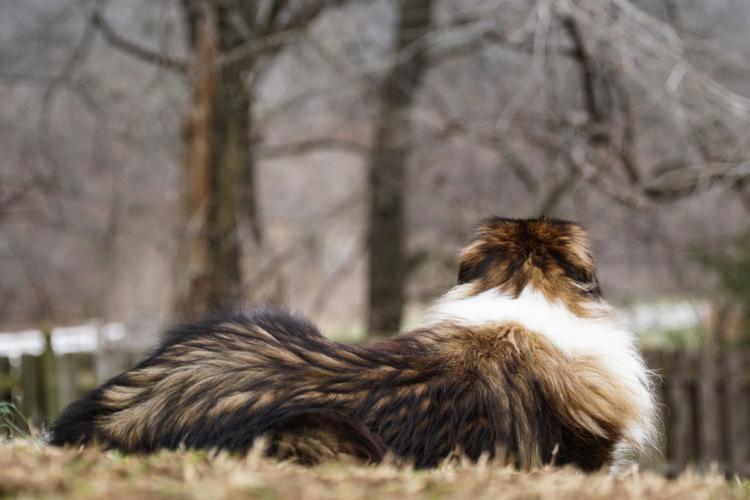 Quarantine can be unfavorable for a myriad of reasons, but it is also important to remember why we're doing this. 
The Oklahoma State Department of Health encourages Oklahomans to stay home, wash hands frequently, avoid touching the face and reduce social contact. If an individual begins experiencing COVID-19 symptoms — including fever, cough or shortness of breath — contact a medical professional or call the COVID-19 call center at 877-215-8336 or 211 for assistance.
The Daily's coverage of the COVID-19 pandemic can be found at oudaily.com/coronavirus.