The live music capital of the world has fallen silent. 
When I packed my bags to return to Norman in early January, I told my friends in Austin, Texas, that I did not plan on coming back. Little did anyone know that campus would soon be deserted and I would have to return to the so-called enemy territory. 
The move to a two-week period of online school did not surprise me, but it also did not upset me. All I asked was for sports not to be canceled and for me to be able to live in my fraternity's house still. One by one, the emails and texts came with the announcements of no more sports and no more living in Norman as OU made the call to move classes online for the rest of the school year.
My spring break that was going to be filled with doing what I love: gone. A second semester of living with my closest friends: gone.
The Austin I returned to was not the Austin I've lived in my entire life. It was quiet. The city known for being weird was even stranger. It was full of fear and uncertainty. Restaurants that never seemed to have a slow day were empty. All the food trucks were closed, and no one was walking around downtown going to the various shops. Zilker Park had no games of football or soccer, and there were no more than four people in a group. I had never seen anything like it.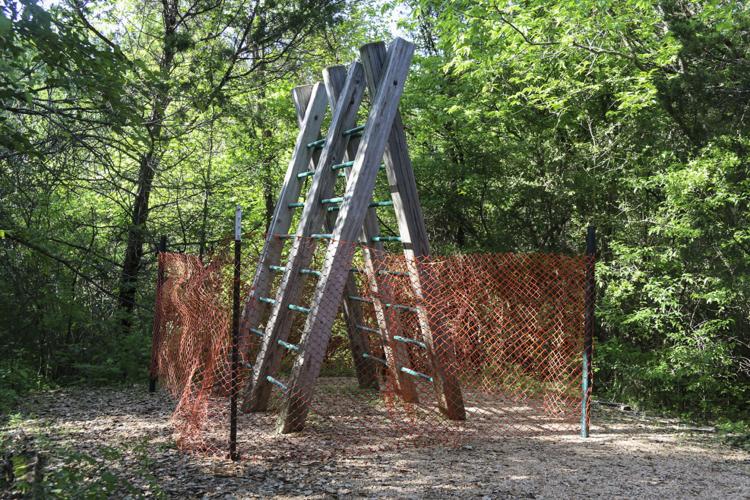 When driving home from Norman, I'm usually greeted with a parking lot of a highway. Taking 15 minutes to drive 2 miles was not uncommon, but this time I was able to leave my cruise control on and fly down Loop-1 to my exit. I took a photo of Loop-1 just after 5 p.m. when it is normally at its busiest, but there were only three cars.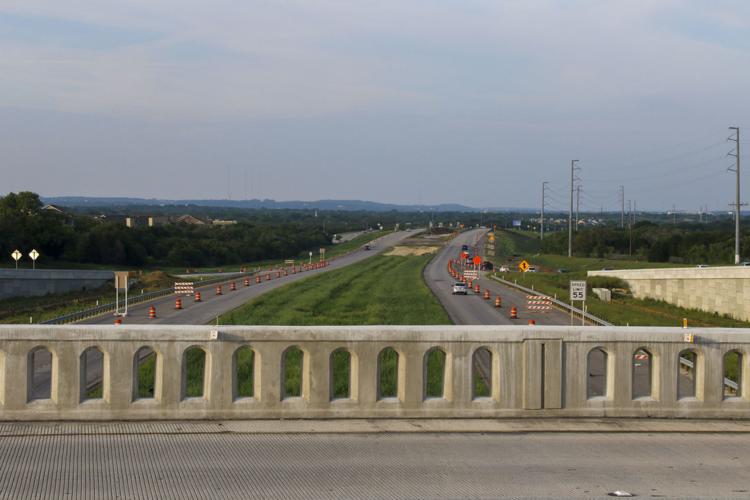 Sitting right next to Loop-1 is the Alamo Drafthouse Cinema, a popular movie theater here where you can order full meals from your seat. When coming to see a movie, people have to arrive at least 20 minutes before the start time because finding a parking spot is nearly impossible. Now, the lot is empty, except for the few cars there to pick up food. I have not seen the lot this empty since the building was constructed.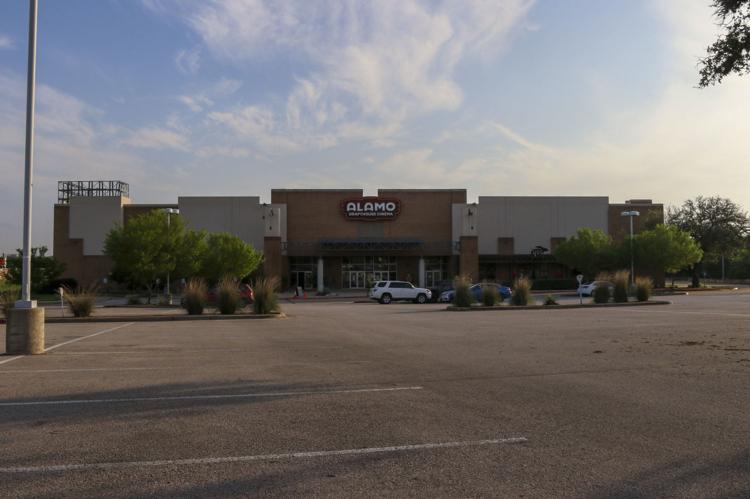 I decided to journey to the core of nightlife in Austin: Sixth Street. All the bars had been boarded up to prevent people from breaking in. Navigating downtown is usually a challenge, but the streets were empty. It made driving around easy, but it was also a sad sight to see.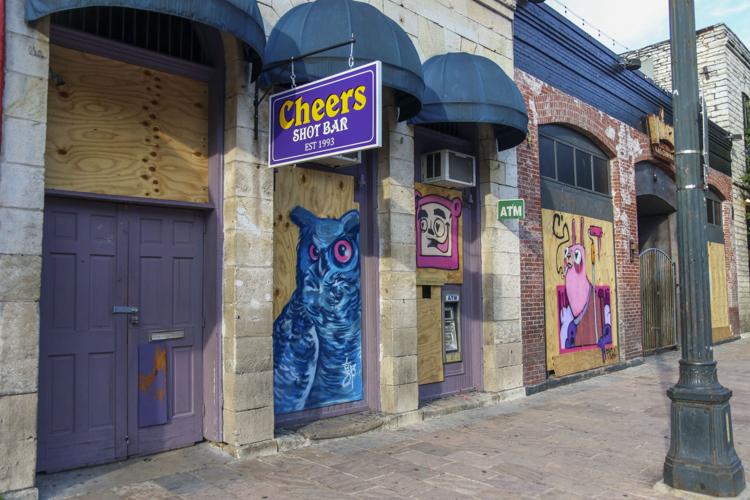 Artists used the boards as canvases that made the barren streets feel like the Austin we all know and love. I was delighted to see some artists using the boards to lift our spirits. One of the boards reads, "Hope is stronger than fear," and another reads, "Austin strong."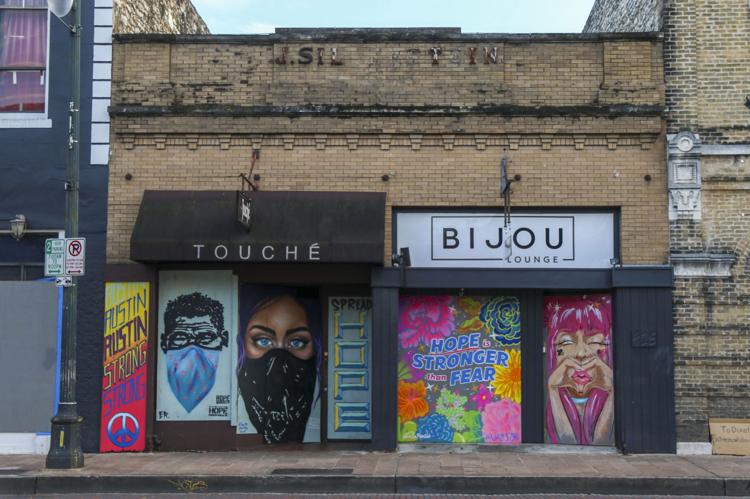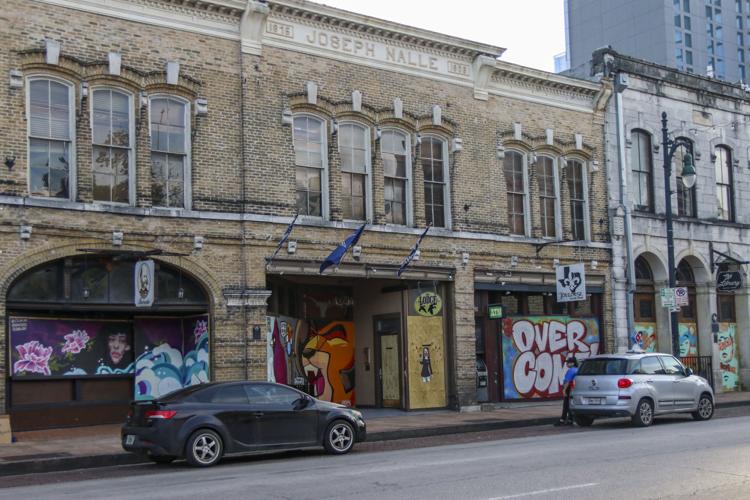 Back near my house, there is a massive Lifetime Fitness. Since they built the facility, I had never seen the parking lot less than half full. The day I went by, there was only one other car there. It was 93 degrees outside that day, which would have been perfect to swim in their massive pool, but the doors and gates remained locked, everything empty.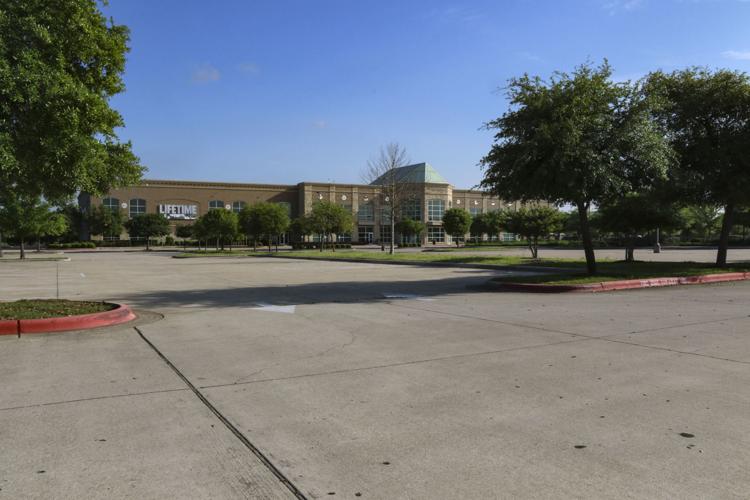 Across Loop-1 from Lifetime Fitness is a Costco Wholesale. Outside the entrance is a maze of shopping carts and caution tape. Multiple people in line were wearing masks and gloves while they patiently waited to be let in. I even saw two people take a selfie of themselves wearing masks while waiting in line.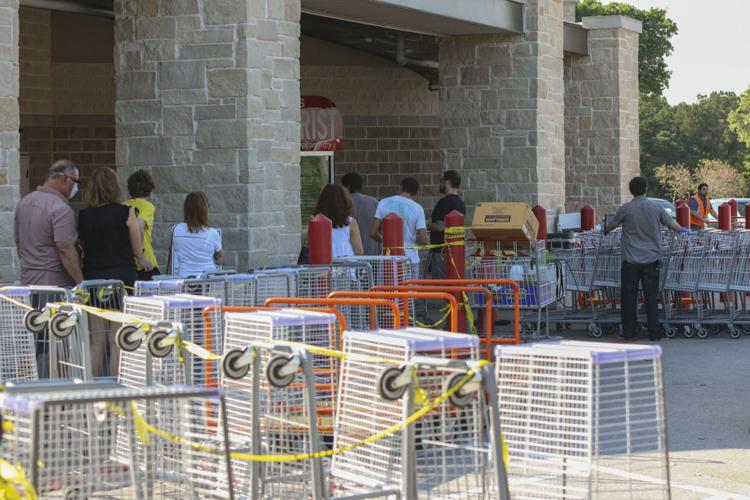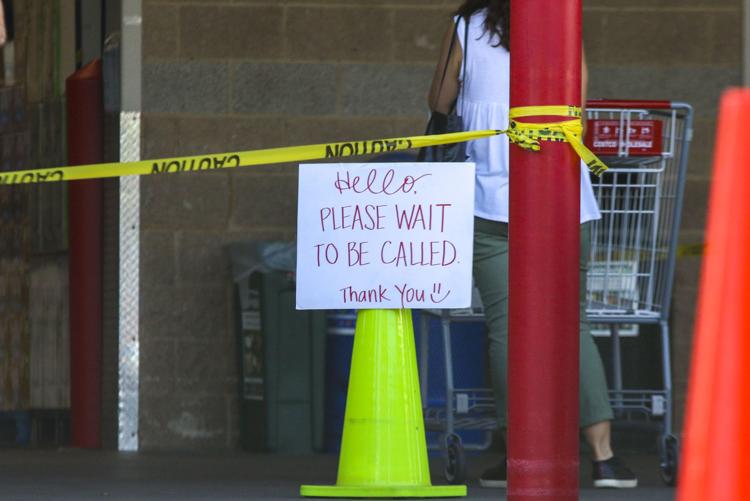 Outside of Whole Foods, an employee was stationed to give people hand sanitizer and to disinfect carts. He was accompanied by a security guard, who was also wearing a mask but asked to not be photographed. Despite these rough times, the employee was very friendly and was interested in what I was doing walking around with a camera. His friendliness gave me hope and kept my spirits up.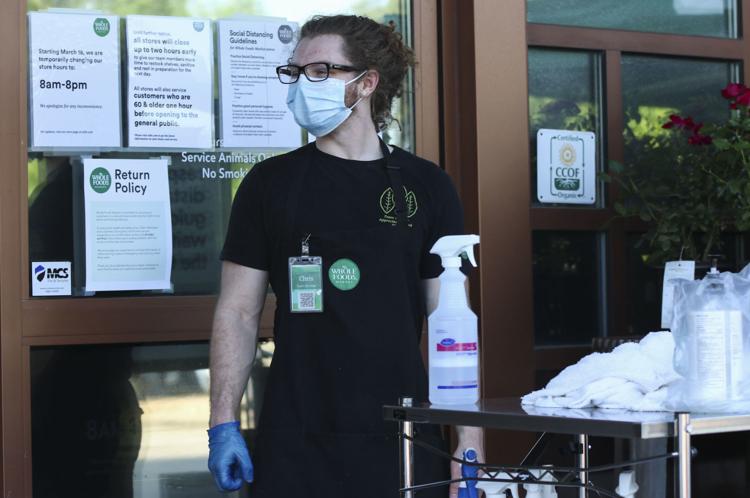 I traveled to a third grocery store that was next to my house before returning home. Outside of HEB, which is a popular Texas-based chain, they had placed stickers for people to stand on while in line. Each mark was a few feet away from the next. I have been to this grocery store countless times, but this was my first time going since Austin was under a shelter-in-place order. Almost every person there was wearing some form of mask and nearly half also had gloves. Similar to Whole Foods, there was someone in front of the entrance to give people hand sanitizer and disinfect shopping carts.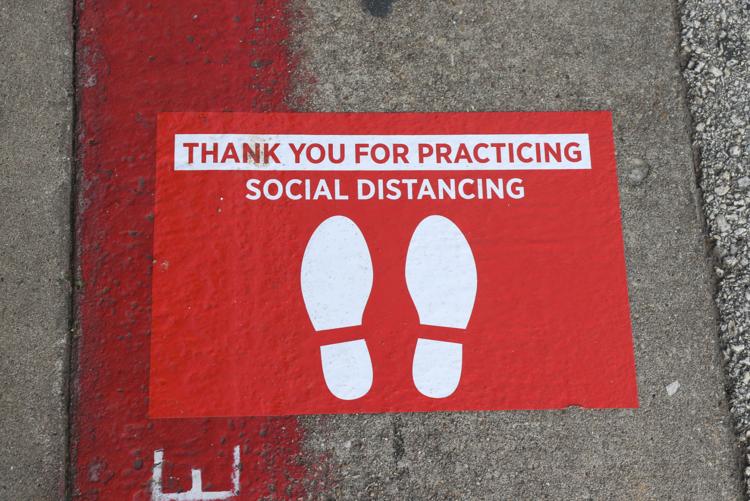 Outside of HEB, I saw a man putting on gloves before entering, and I asked him if I could get a picture of him with his gloves and mask on. Despite the serious look on his face in the photo, he was super friendly and even started doing different poses. He was yet another happy soul in these dark days.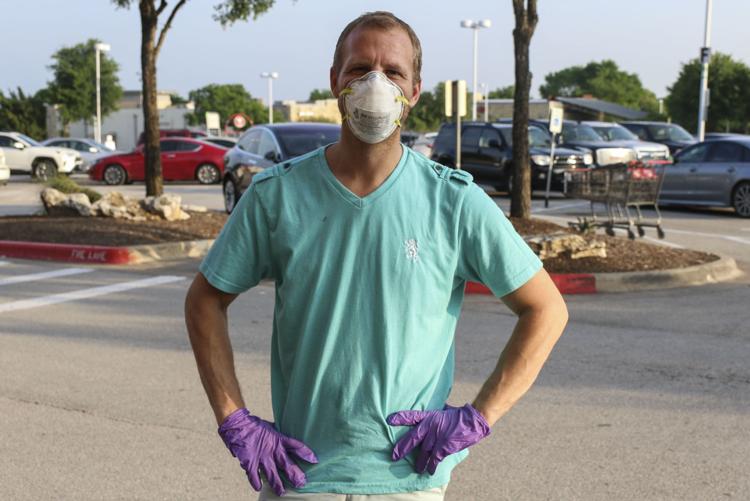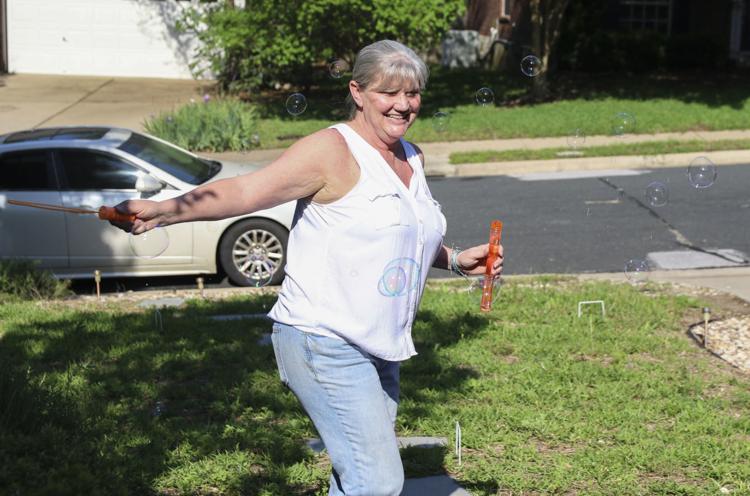 Back at my house, my family was celebrating my little sister Macy's 17th birthday. Since we could not invite her friends over, my mom got her friends to drive by our house in their cars. Some of her friends gave her presents, which they specified had been wiped down with disinfectant wipes.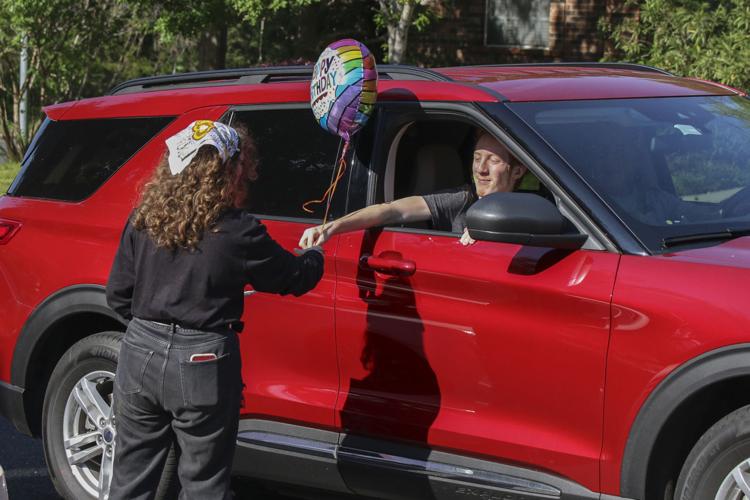 On our birthdays, it is tradition for the birthday person to pick a place for us to go eat, but since my sister's favorite restaurant was closed, my mom cooked my sister's favorite dish for dinner. This was followed by a scavenger hunt to find my sister's presents. It was another way to bring us together and have some fun.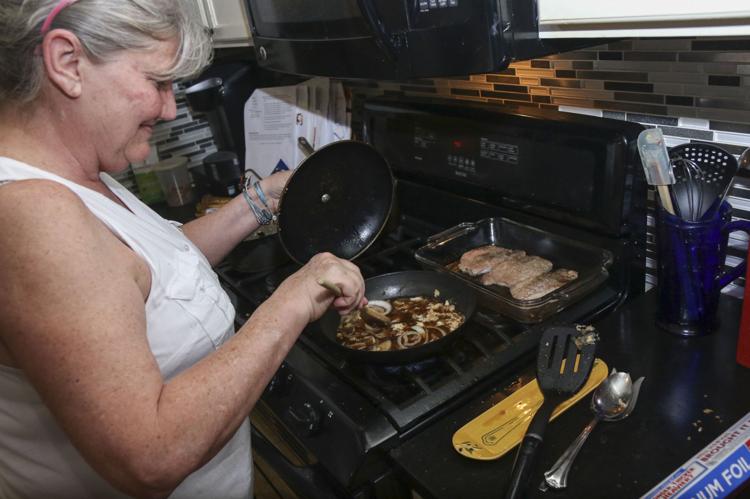 The art on Sixth Street and the friendliness of the people I spoke to while photographing the city of Austin gave me hope. If we all keep doing our part to stay safe and find little positives each day, we will get through these difficult times.