From behind plexiglass shields, student employees take orders from masked students standing on floor markers in a socially-distanced line. 
Prepackaged utensils have replaced silverware. All orders are packaged to-go. Every 30 minutes, an alarm sounds reminding employees to take off their gloves, wash their hands, put on new gloves and sanitize all surfaces. 
At Chick-fil-A, employees must pass a temperature check and a list of screening questions before being allowed to clock in or even enter the kitchen. To reduce wait time and prevent back-up in the ordering line, the restaurant no longer serves sandwiches with lettuce and tomato and has taken customized additions off of its menu.
As OU continues with its fall reopening plan amid the coronavirus pandemic, student employees at campus restaurants are learning to adapt to a new norm.
Garrett Means, a history and German senior and Chick-fil-A student supervisor, is in his third year working for the restaurant. He said at his location, he feels confident to come to work because of all of the precautionary measures Chick-fil-A added to OU Dining's COVID-19 mitigation strategies, such as the temperature checks and daily screening questions.
Chick-fil-A, unlike other campus restaurants, hasn't even opened for business yet. According to Means, employees are still training on new protocols, and the restaurant won't open until everyone completes their training. He said the restaurant hopes to open Sept. 8.
"Chick-fil-A's got a lot of things going on," Means said. "They don't mess around when it comes to anything. They go the full mile with it. And in this case, I mean, that's probably a better thing for sure."
'We'll be lucky to make it a month.'
Biology and pre-med junior and Quiznos student employee Courtney Zang said even with the university's precautions, she still has concerns about relying on OU's student body to make responsible decisions so she's not exposed to COVID-19.
After seeing pictures and videos on Twitter of large groups of students at Campus Corner, bars and house parties, Zang said she's nervous those same students will eat at her restaurant after a night of partying.
"I do worry about getting (COVID-19) from (partying students) more so than anyone I know personally, because I choose to hang around people who care and take this seriously," Zang said. "So it's definitely concerning. And I feel like if I'm going to get (COVID-19), it's going to be from the people who aren't taking this seriously and are going to huge events."
Another campus restaurant employee, who asked to remain anonymous, said after seeing videos and pictures of crowded bars and packed parties, they were especially concerned about how seriously the student body is taking the pandemic.
They said as soon as students moved back to campus, they had to deal with students moving tables and chairs to sit close to friends and ignoring social distancing while waiting in line.
"That first week was really disheartening to many of us," they said, "just seeing how overcrowded everything was."
They said they had hoped the university would be able to remain in-person until later in the semester — until they saw how students were behaving.
"Many of us thought we'd probably last until late October, (and) if we're lucky, make it to Thanksgiving before we send everyone home," they said. "But after those first few days … we were like, 'Yeah, we'll be lucky to make it a month, if that.' We kind of lost faith that first few days of service, like 'We're not going to make it, it's going out of control.'"
They said they want to keep their job and have a full semester on campus, but they don't have much faith in the university community to make responsible decisions.
"We have a chance to save everything," they said. "But some people just don't want to give up the little things."
Alex Baron, a broadcast journalism senior who worked at Couch restaurants as a student manager, said he's not working at the restaurants this semester because he got another job after the university switched to online classes after spring break. But, he said if he was faced with the choice to work at campus restaurants again, he's not sure he would. 
"What would be my determining factor for if I was going to continue working this semester is, what was going to be in place for not only my safety, but the other students' safety?" Baron said. 
Baron said he started working campus restaurants as a room-and-board student, which meant he paid off his housing through working on campus. Baron said if the university offered other jobs that interacted less with the student body as viable room-and-board employment options, he thinks students would take the opportunity.
"For most of them, I feel like if they did have the choice, if it was a perfect situation and they could choose to do something differently and still have that room and board paid for, I guarantee that they would," Baron said. "Because (working in campus restaurants) would be not only very hectic with everything that's going on, but it's definitely going to be very difficult to maintain that kind of safety."
Baron said at his new job as a server in an upscale restaurant, he rarely sees students, so he feels safer than he would working at campus restaurants. 
"I'm pretty sure 'frat lap' was on Wednesday," Baron said. "Now imagine all those freshmen who were doing 'frat lap.' They go into (Couch restaurants) this entire rest of the week. And there are going to be cases that pop up, pretty much guaranteed. (Couch restaurants are) going to be one of those places where all of those students have probably been, they had tons of interaction with the employees or other students that are in there with them. So I just feel like overall, it's going to be kind of difficult, especially for everyone's safety."
Means said though he disagrees with students partying without social distancing or masking, he can't control what people choose to do in their free time.
"There's only so much I can do," Means said. "... I can't tell people how to live their lives. I disagree with what they do, and I would assume they would at least know (that) if they started feeling (COVID-19) symptoms, not to come to school. But again, I can do my part. I just hope for the best at this point."
At a distance
Sarah Spurlin, a spring 2020 vocal performance graduate, said over three years, she worked in Couch, Cross, the catering kitchen in the Oklahoma Memorial Union and was a student manager at Cate Center Dining Locations. She said in her experience, distancing in kitchens and behind restaurant counters would be extremely difficult — if not impossible. 
"There's no way to socially distance," Spurlin said. "There's a certain amount of staff you need at Cate. What we needed was probably 25 people to keep it going … But the back is really small, and there's no ventilation. In Cate, in the summer, we didn't even have air conditioning."
Asked if OU Dining has changed staffing requirements to allow for more social distancing, Amy Buchanan, director of Marketing and Communication for OU Housing and Food Services, said in an email to The Daily there have been no staffing cuts, and changing to all staff-served options from self-served options is what makes this process work. She also said some positions have been reassigned to clean and disinfect tables in the dining rooms between uses.
Buchanan said "new COVID-19 protocols and procedures were communicated to staff during this fall's training."
Sage Edwards, a public relations junior and Quiznos student worker, said when she works behind the counter, she's not usually able to maintain a six-foot distance from her coworkers. She said the lack of distancing was not addressed in her training.
"I would say that distancing is probably the weaker part of what we're doing," Edwards said. "I think we are focusing a lot more on wearing masks and cleaning things a lot more."
Edwards said she knows her coworkers well and thinks they probably don't go to parties or bars, but if she didn't trust her colleagues, she would be more concerned. Whether in the back storage room or behind the counter, she said the space isn't big enough to functionally accommodate a six-foot distance at all times.
"I feel pretty safe, though," Edwards said. "As an employee, I think I have bigger concerns with the people on campus that I don't know and customers coming in who don't wear their masks."
Means said he thinks Chick-fil-A's more stringent requirements and training is due in part to size restrictions — though he said his restaurant has one of the biggest kitchens in the Union.
"I think that Chick-fil-A knows that at any of its stores, that's not going to be plausible to work at a six-foot distance," Means said. "So they want to do what they can with how much they (have). Fast food is not a very good setup for social distancing."
Journalism freshman Garrett Queener started the room-and-board program this semester and works at Quiznos. He said he and his coworkers are usually able to keep some distance from each other, but that it's difficult to maintain when the restaurant gets busy.
"We're not all huddled together or anything," Queener said. "We try to do the best we can with what we have, but we just don't have a lot of room at the front."
In an email to The Daily, Buchanan said there was enough space for restaurant employees to socially distance.
"Along with social distancing, masking is key," Buchanan said in the email. "The amount of staff in the kitchen and the space allow for proper social distancing protocols to take place. But the most important policy we have is that everyone is wearing a mask at all times."
Queener said although he's adhering to the new protocols, he isn't too concerned if he ends up contracting COVID-19.
"I don't have just a huge fear of the COVID and all that," Queener said. "Which is not to say that I don't take it seriously or understand why we're taking such precautions. But, I just personally am not as afraid to get it. … I just kind of go with the flow. And if it happens, I'll deal with it."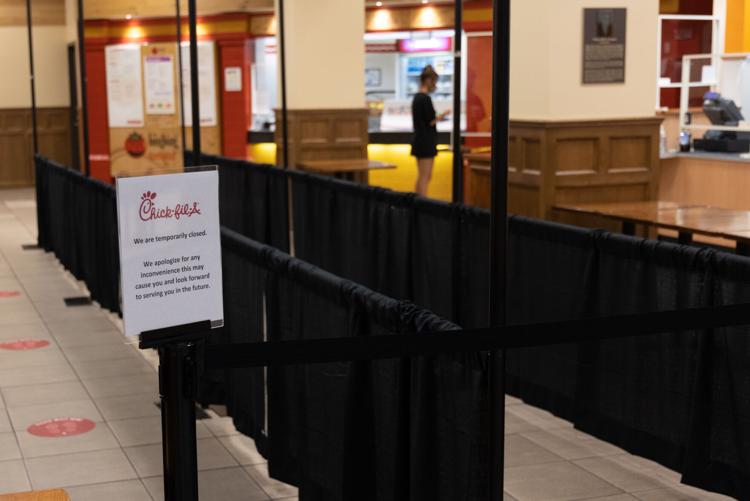 'It seems rather like hope than preparedness.'
Myles Smith, a broadcast journalism senior, has worked at Couch restaurants for four years, mainly at the hot bar. He said if the university ends up going fully online, he's worried that he'll be out of a job like he was this spring when OU switched to online classes. He said he's concerned only full-time workers will be retained.
"Figuring out how to pay for rent is up to me," Smith said. "I don't know, we'll see. Hopefully, I'll be ok."
The anonymous source who spoke to The Daily said they were "lucky" to be a full-time staff member because they were able to keep their job after spring break. They said they were unsure if they'd have a job this semester if OU went online.
"That is the million-dollar question," they said. "... Some people are still hoping we'll last till the end of the semester. There's so many dynamics within campus Housing and Food, that we're not really sure what's going on."
Smith said it would be helpful if the university identified a threshold for switching to all online classes so he could plan for a job switch — though President Joseph Harroz said in a July 20 town hall there was no "bright line" that would trigger a switch to all-online classes.
"It'd be nice (to know what would trigger a switch to all-online classes), especially if I had an idea of the amount of cases currently at OU," Smith said. "And hopefully, that number is known before it leads to somebody dying on campus."
Smith said OU's new COVID-19 dashboard is helpful, even if it doesn't give a complete picture of the university's current cases.
"It does make me a little bit more comfortable knowing that (OU is) trying to figure it out," Smith said. "... But it does also make me a little uncomfortable knowing that nobody knows the exact number."
Ultimately, the anonymous source said, they'd like to see "some more transparency from the administration," in communicating with workers about their futures.
"For me, for (OU) to say there's no threshold and they're just watching to see what happens just seems like hoping for the best," they said. "It doesn't seem like there's an actual plan in place. I'm sure there is, but it seems rather like hope than preparedness."