Gov. Kevin Stitt and other state leaders discussed a "relatively stable" seven-day COVID-19 average about two weeks after Thanksgiving, and the implementation of new restrictions and aid programs to stem the spread of the virus and its impact on Oklahomans. 
In a Thursday afternoon press conference, Oklahoma Employment Security Commission executive director Shelly Zumwalt said she's received guidance allowing the agency to distribute the remainder of the federal FEMA Lost Wage Assistance funds, resulting in a one-time $400 payment to over 120,000 Oklahomans.
Zumwalt said the eligibility for this program will be the same as the Lost Wages Assistance program that provided multi-week $300 payments to claimants from Aug. 1 through Sep. 5 — recipients must have received $1oo in benefits from any claim type and confirm their employment status was affected by COVID-19. 
OESC will start distributing payments on the evening of Dec. 16, and those payments will arrive between Dec. 17 and Dec. 21, she said. 
"I hope this announcement is a bright spot in a year that has brought so many challenges to the people that OESC serves," Zumwalt said. 
Stitt said he's implementing a new executive order that will limit capacities at youth sporting events to four spectators per participant, or 50 percent of the building's capacity, whichever is lower. The order will also keep public gatherings, including weddings and funerals but excluding church gatherings, at 50 percent capacity. 
Though church events won't be included in the regulations, Stitt said he encourages religious leaders to "continue to innovate," explaining some churches check temperatures of all children in their nursery or space out members in common spaces.
Oklahoma State Department of Health Deputy Commissioner Keith Reed said 166,000 COVID-19 vaccine doses will arrive in Oklahoma by the end of the month, with some arriving next week. He added this will represent a first dose for 166,000 individuals, with second doses to arrive in subsequent deliveries. 
State officials said on Dec. 3 health care workers, long-term care staff and residents, and public health employees administering COVID-19 tests and vaccines will be the first to be vaccinated. A "priority 2" group will include first responders, those 65 or older and other groups of health care workers and residents living or working in congregate facilities. 
The third priority group will include teachers, students and critical infrastructure personnel, and a fourth group will include all other Oklahomans. 
Phase one of COVID-19 vaccinations at OU will begin Dec. 17, Chief COVID Officer Dr. Dale Bratzler said Thursday, and university spokesperson Kesha Keith said OU will follow OSDH's distribution plan. 
OSDH Commissioner of Health Lance Frye said the priority groups for the vaccine are fluid, and some groups might be vaccinated simultaneously. He said, for example, if 1,000 doses are allocated to frontline workers, and there aren't that many workers in that group, some of those doses will go to other groups. 
Stitt said although COVID-19 case numbers are still too high, the state currently has a seven-day average of 3,058 cases, when the average was 3,002 cases on Nov. 23. 
In Cleveland County, 180 new COVID-19 cases were reported today — the highest amount reported this week, according to OSDH data. According to the city of Norman COVID-19 dashboard, 80 new cases were reported in the city. 
"The data shows what Oklahomans are doing is making an impact," Stitt said. "I am cautiously optimistic that we've started to flatten the curve, and our trends are moving in the right direction." 
Stitt said he's had the same three goals since March — protecting Oklahomans' health and lives, keeping businesses open safely and keeping kids in school safely. 
A Dec. 6 White House Coronavirus Task Force report includes a list of recommended state mitigation efforts, including "no indoor gatherings outside of immediate households," but Stitt said state officials must balance White House recommendations with considering other factors. He described the 50-percent capacity limit on public gatherings as a policy that "makes sense in indoor facilities," assuming attendees are only sitting with their families. 
Stitt said he'll also be extending an executive order for another 30 days requiring that seating in restaurants and bars be spaced out six feet, and those establishments stop sales at 11 p.m., except for through drive thrus or to-go orders.
"Just like it's critical to slow the spread of this virus, it's also critically important to support our local businesses, (and) keep our businesses open safely," Stitt said. 
Stitt said in discussion with health care professionals, he's learned restaurant and bar capacity are two of the biggest factors in infection rates. He also said state officials provided over $19 million in CARES funding to restaurants and bars earlier in the pandemic, and if another federal stimulus package is passed, those businesses will be some of the first to receive aid. 
In a Nov. 17 Norman City Council meeting, mayor Breea Clark said she'd like to use some of the $3.075 million of CARES Act funding to support local businesses through micro-grants. 
Frye said while he doesn't have a timeline of changes in infection rates since the first executive order was put in place, cases have been at around the same level for the last several weeks. 
Frye said he encourages Oklahomans to consider gathering virtually for the upcoming holidays, or limiting gatherings to members of their immediate households. He said any in-person gathering should be socially distanced and held outside if the weather permits, and individuals should wear masks when around those outside their household. 
New Centers for Disease Control and Prevention guidelines for quarantine provide new options for families, Frye said, explaining quarantine can now be ended after 1o days if no symptoms have been reported. If an individual tests negative after seven days in quarantine, they can end their isolation then. 
"These new guidelines are intended to allow flexibility while keeping us safe and healthy," Frye said. "I want to stress that it's important to observe the quarantine period according to the guidelines to ensure the health and safety of your family and loved ones."
Stitt said he's heard from many Oklahomans who want him to issue a statewide mask mandate, but "many, many more" don't want him to. According to Carnegie Mellon data sourced from Facebook surveys, he said 79 percent of Oklahomans were wearing masks on Nov. 1, and more than 87 percent are now. He also said the state has "closed the gap" with Alabama and Louisiana, which have had mask mandates since the summer.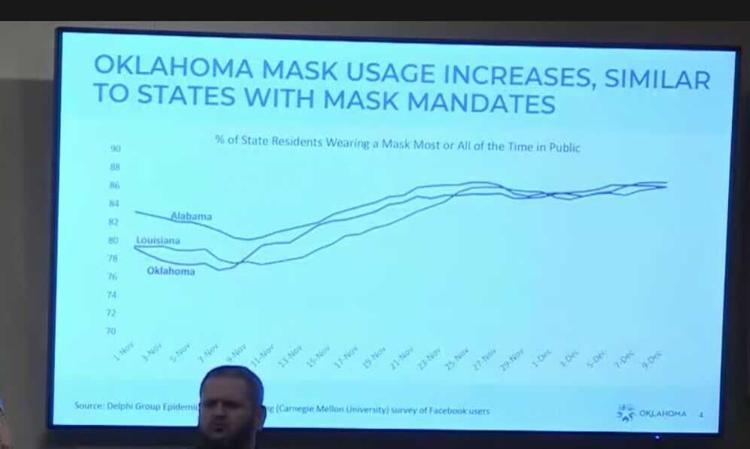 "We can see the light at the end of the tunnel," Stitt said. "We are going to get through this together. The reality of this situation is that it's up to every one of us to keep Oklahomans safe, keep our neighbors safe, and slow the spread so we can keep our kids in school, we can keep our businesses open safely."