Looking out the window of his condo in Jacksonville, Florida, Jim Ross sees nothing but the Atlantic coastline. 
As he watches waves crash onto the mostly empty shore, Ross considers himself lucky. Due to strict lifestyle changes, he and his loved ones have had few run-ins with COVID-19 since it slammed the United States.
For Ross, that's meant missing Thanksgiving and, soon, Christmas with loved ones. He's also worked through COVID-related obstacles in his job as a commentator for All Elite Wrestling, which has continued holding bouts with limited crowds. But, on top of all that has happened in 2020, there's one change that blindsided Ross.
This is the first season since the early '70s Ross did not attend a single Oklahoma football game.
"I bought my house in Norman to have a place to stay when I came to football games," said Ross, OU superfan and WWE Hall of Famer. "Usually, I get season tickets, I get suite access, all of that good stuff. But, this year, I've missed everything. I feel bad about not getting to see the Sooners in person, but I feel better about my safety."
Ross' repentance is common for fans in 2020. Since March, sporting events everywhere have been affected in some form by the coronavirus pandemic. Sooner fans and the team itself were not outliers.
Oklahoma instituted a 25 percent cap on attendance at Gaylord Family-Oklahoma Memorial Stadium, meaning just 113,500 total fans — the fewest since 1949 — attended the five socially distanced home games. It scrapped a home bout against Tennessee, called off a trip to West Point, New York, to face Army and postponed — and eventually canceled — a Morgantown matchup against West Virginia.
For the athletic department overall, it has meant administering over 5,000 tests since July, and seeing 244 student-athletes and 41 staffers get and recover from COVID-19 as of Dec. 12.
The following is an oral history of how OU's football program navigated through the COVID-19 pandemic from March — when OU closed campus — to fall finals week as the Sooners are scheduled to face Iowa State on Saturday in pursuit of their sixth consecutive Big 12 Championship. The story is made up of quotes from 12 voices throughout the college football world — including three from individual interviews — about how 2020 has been a time unlike any other. 
"There's nothing like it," Ross said.
"And, God willing, there'll be nothing like it ever again."
Offseason: 'It feels like we're getting slapped every day'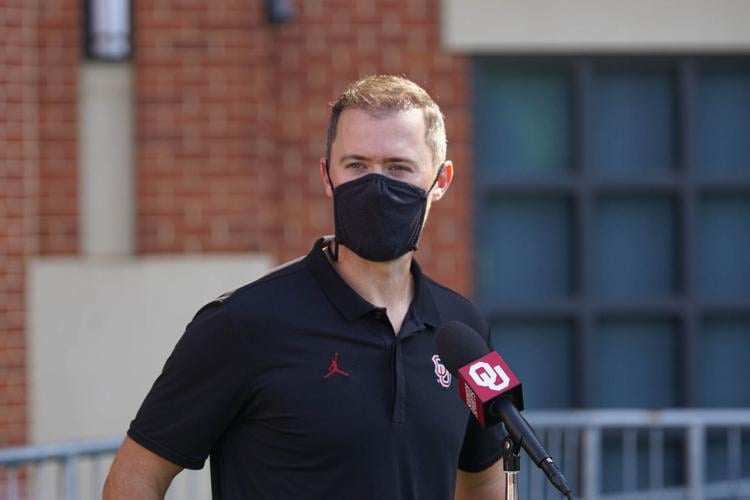 On March 9, OU announced it was considering shifting to online-only courses as COVID-19 cases rose across the country. The next day, after the Ivy League canceled its basketball tournament, Oklahoma head coach Lincoln Riley spoke about the virus for the first time in a press conference.
Riley: "I'm not worried about it. I'm not a health expert, and we'll certainly follow the country and what our university administrators decide. We're trying to protect our guys right now more than anything. Our immediate focus is spring break, where these guys are traveling. I'm trying to just educate those guys, make sure that they're safe during that time. That's the main focus right now."
Ross: "I underestimated the seriousness of it. … I just thought maybe this is a one-off deal … maybe it's a rush to judgment. Maybe this is an overreaction. And, admittedly so, I was wrong."
Joel Klatt, college football commentator and analyst for FOX Sports: "(In early March), I felt like, OK, this is going to be a thing for a month or two — college football won't be affected. It's far enough away and it's so big and so important to intercollegiate athletics that it'll be fine."
Toby Rowland, OU play-by-play commentator: "I thought we were going to have fans in the stands. I thought we were going to have stadiums full or close to full."
On March 11, the NBA canceled a matchup between the Oklahoma City Thunder and Utah Jazz minutes before tipoff due to COVID-19 concerns. Jazz center Rudy Gobert was revealed to have tested positive for coronavirus later that night, and the NBA indefinitely suspended play.
Rowland: "I was in my living room, getting ready to watch the game. ... That night, there were some Big 12 play-in games going on, but I flipped over to watch the Thunder. I remember the delay, and I remember telling my wife, 'This is getting interesting.' That seemed to be the starting point of all the chaos in sports. It was pretty shocking. … It was kind of like a house of cards from there."
In the ensuing days and months, OU athletics followed the rest of the halted sports world. OU football would pause team activities and ultimately cancel the 2020 spring game. Many worried about the fate of the coming season.
OU classes resumed virtually March 23, after spring break. At that point, the state had 81 COVID-19 cases and two deaths. The next day, Norman would document its first death due to the virus. 
Bob Bowlsby, Big 12 commissioner, in a media teleconference March 26: "It's hard to imagine looking into (the stands) and seeing people sit 6 feet apart. I suppose it is possible that we could end up returning to some form of competition before we got to the point where we were comfortable with public assembly. … It's hard to forecast those things because we have things happening right now that we couldn't have envisioned three weeks ago."
Rowland: "The possibility of us not having a football season, I thought, was real, but pretty unlikely."
Riley in a press conference March 31:"I definitely haven't considered (a 2020 cancellation), just because I think that's so far out in front right now. I just don't know that it's going to do me or us any good. There's still just so many unknowns. We've got a plan in terms of if it does happen."
Joe Castiglione, OU athletics director, in a press conference April 3: "I think anything short of no football season at all is something we'd have to talk about. We understand that we're dealing with something much bigger than sports, but you're talking about our job, you're talking about things that help make our athletic program operate, you're talking about the economic engine for our entire program."
The next day, the state would record its 1,000th COVID-19 case, at which point 42 Oklahomans had died from the virus, including eight in Cleveland County. On April 19, Oklahoma commemorated the 25th anniversary of the federal building bombing that killed 168 people. Three days later, the state's tally of COVID-related deaths reached 170.
Klatt: "As May came along, I was like, OK, we are in some trouble here. … If you were to ask me, 'Hey, do you think we're getting basically a full season?' I would have said, 'No shot.'
"I was in constant contact with commissioners and other people within the sport, and to be honest, there were just a lot of conversations about what could happen, what couldn't happen and what the options were. There were days when I was optimistic, there were days when I was pessimistic."
Riley in a press conference May 14: "In my opinion, we need to bring (players) back as late as we possibly can before we play a season. Every day early that we bring them in is a day we could've gotten better. It's a day we could've learned more about the virus. It's a day PPE maybe gets better. It's a day closer to a vaccine. … It's just not worth it. So, we've got to be patient. We got one shot at this, and we've got to do it right."
By Memorial Day, more than 6,000 Oklahomans had contracted the virus, and 313 had died, including 37 in Cleveland County and 20 in Norman.
Joe Harroz, OU president, in a Tulsa World interview published June 24: "I don't think you can say (there's a zero chance of suspending football) just because this is such an unpredictable virus. I can tell you that right now, it's our belief that we'll have it and be playing football. Now, there's obviously questions about conference versus non-conference games, and how you manage those. The current plan is to play all of them, but as we've said a lot, we don't control this virus — it may control us."
By July 4, the state tally had grown to 15,645 cases and 398 deaths. In Norman, three more people had died. Three days later, the city enacted a mask ordinance. 
Ross: "I think a lot of people just didn't want to believe we are in trouble. I think a lot of people just didn't want to think, with all the blessings we have in America, how could we be in trouble? … It's a slap in the face, and it feels like we're getting slapped every day."
On Aug. 11, the Big Ten and Pac 12 conferences announced the cancellation of their fall football seasons. Though both decisions would eventually be reversed, it was initially a shock to the college football world.
Klatt: "The biggest moment of the entire pandemic, from a college football perspective, was tied to two individuals and their willingness to stay the course, and the political capital within their conferences to do so. That was Bob Bowlsby and (SEC Commissioner) Greg Sankey. We would not be playing if those two gentlemen didn't have the foresight, the patience and the courage to not fold their hand in the face of the Big Ten and Pac 12 canceling their season. 
"That was the moment — when (the Big 12 and SEC) stood firm in the gap — when I thought, 'We're going to have a season of some sort.'"
Creed Humphrey, redshirt junior center, in a press conference Aug. 21: "It's definitely been a weird time for sure, a lot of uncertainty going around and everything. But, at the end of the day … we have a lot of goals this season. (We) believe we have a really talented team and believe we can really make a lot of noise in the country this year. … We've done too much this year to not play. We understand the risks. 
"We understand what could come with (playing the season), but at the end of the day, this team wants to play. And we're gonna do whatever it takes. With our training staff and everybody, they put together great protocols for us to stay as safe as we can. So, they have our complete trust and we're definitely gonna play the season."
As OU resumed classes the next week on Aug. 24, the state's COVID-19 toll stood at 53,522 cases and 730 deaths, including 1,712 and 34, respectively, in Norman.   
Sooners' rocky start: 'There was a big, white elephant in the room.'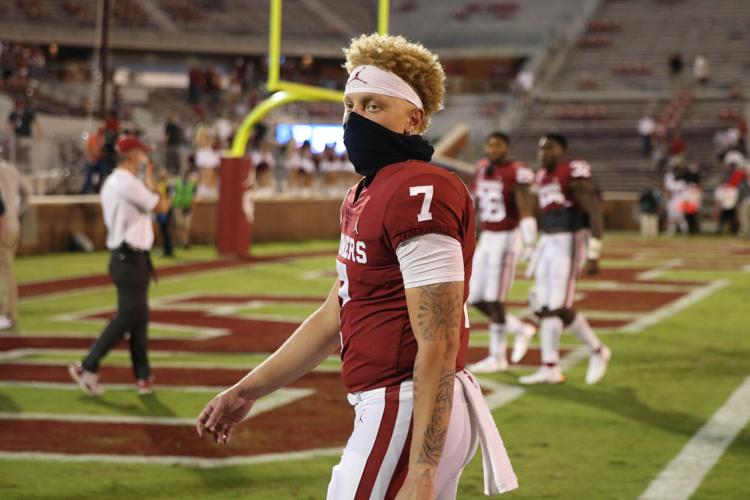 It didn't take long for COVID-19 to interfere with Oklahoma's regular season. For their opener against Missouri State on Sept. 12, the Sooners had a total of 29 players miss the game due to COVID-19. 
Riley after the game: "(Being able to play) hung in the balance for a bit, but we were able to do it. (I'm) thankful we were able to. … It's maybe not exactly how you draw it up, but it's either one of two things: You either see it as a hindrance and say 'poor me' ... or you look at it as an opportunity. An opportunity to see some new players that maybe we wouldn't have seen. An opportunity as coaches to test yourselves and to be able to adjust when things come up. We had a lot of opportunities tonight, and it was fun to see the guys that stepped up and played in those places."
Players recovered in the ensuing weeks, but the Sooners were nowhere near full power. For the first time since 1998, OU began its season 0-2 in conference play after losses to Kansas State and Iowa State.
A few days after logging its 1,000th death, the state hit 86,219 cases Sept. 29, eclipsing the capacity of Gaylord Family-Oklahoma Memorial Stadium. In Norman, the numbers stood at 3,280 cases and 36 deaths.   
Humphrey on Oct. 3: "We have to learn from these past two games. (We need to) see what we've been doing wrong, and work our asses off to fix it this next week. … This next week of practice has to be ridiculously good and we have to attack it the right way. We can't hold our heads down because we've lost two in a row. We have to get over that, get back up and go on to the next one. I'm excited to see how this team responds."
Riley, the same night: "We felt like we took some steps (toward getting better). It's hard to accept that when you look at the scoreboard at the end of the game, and we're so used to winning and we expect to win every time we touch the field. That's not going to change, (but) we have some key guys that are young and in some of these positions for the first time, they've got to grow. We have to continue to coach them better and we've got to continue to go finish."
Klatt: "There's no doubt (COVID hurt OU) early on. Every time I would talk with coaches around the country, they would say the same thing, which was teams with incumbent starting quarterbacks and consistent offensive coordinators were going to have such an advantage. That put OU behind the eight ball a little bit trying to break in a new quarterback. And keep in mind, with the situation OU was in, this was the first time Lincoln Riley was having to break in a college quarterback (at OU). … And you couple that with the fact that their running back room was decimated with an opt-out, transfer and suspension. ... In a normal year, I don't think OU struggles like they did out of the gate, but it happened."
Rowland: "You saw, across the country, many examples of teams not coming out of the gates crisp. (Teams) just didn't look sharp, or not as sharp as they normally would, and that's completely understandable. OU had a young quarterback. They were playing young guys at a bunch of positions. Had some key guys who were suspended. So, I think all of those things added up to them just not cooking with the gas they normally cook with early in a season. But, that doesn't matter, still counts as a loss. Everybody else was in the same boat. … But, I think you'd be a little naive to think that there wasn't an impact on the start of the season because of how discombobulated the preparation for the season was."
Ross: "I was angry when (OU) lost; COVID played a role. … Nobody really wanted to admit there was a big, white elephant in the room. … I was angry because it upset my (playoff) plans. I was selfish and entitled, like most OU fans. (But), when you lose practice time, and your players can't get in a rhythm and routine, you lose structure. We lost that structure because of COVID. Guys get sick, miss practice. … It had a tremendous impact. They have a system now where they know what they can do and can not do.
"And at the time, we didn't know how many more (OU) would lose, they still had to play Texas."
Entering the Red River Showdown on Oct. 10 unranked for the first time since 2016, the Sooners needed a rebound. That rebound came in a 53-45 quadruple overtime win.
Riley after the game: "It took a lot of guts to do what we did. … We had a lot of guys that were hurting, a lot of guys that were just absolutely gassed and everybody was just begging to go back in the game. I just think that says a lot about our culture and toughness, and just how much the (players) were ready to fight tonight."
Woodi Washington, redshirt freshman defensive back, after the game: "Throughout the game, we knew we were going to (face) adversities. It's something we talked about all week. All year, really. We stuck to the bottom line. … We just kept fighting."
Ross: "One of the better (OU-Texas games), no doubt about that. Our young quarterback kind of grew up that day. By the end of that game, he was playing how he was expected to play. Going into OT, there was a sense of urgency and drama. … There's never not been a memorable OU-Texas game. There's always something we can leave with and say, 'Man, I'm not going to forget this day.'"
Rowland: "That was a remarkable day. Just look at Spencer Rattler alone … you're talking about a five-star, No. 1 quarterback in the country who's probably never seen a bench in his life, much less been on one, and he gets pulled in the middle of the OU-Texas game. That (decision) could have gone the other way. It was shocking when it happened. He completely turned his season around that day. … That'll go down as one of my favorite games I've ever called."
Klatt: "After the game, I was so bummed. I was borderline devastated. Why? Because that game deserved a full house. The players deserved it. (Sam) Ehlinger deserved it. Rattler deserved it. He gets benched in the middle of the game and comes back — (the game) had everything, except a full house. If you had 90,000 in there for that game, it was one of the most epic Red River Rivalries ever. It'll be remembered for different reasons, but man, I was just like, 'Gosh, that team deserved better.' 
"From Oklahoma's standpoint, that was the real turning of the season. Maybe even more so than getting (Rhamondre Stevenson and Ronnie Perkins) back. The reason why is because, up until that point, I felt like Rattler was living on talent, and I don't think that (Riley) had his full attention. … I believe Riley benching (Rattler) was him basically saying, 'Hey dude, I know you're talented, but my offense is better than you — use it.' … And when Rattler came back out, and when starting making the play that was there instead of making the biggest play that he could, I think the offense took off."
Ten days after the Texas game, the state was nearing 110,000 cases and 1,200 deaths as Norman hit 4,039 cases and its 43rd death. 
OU rattles off six-straight wins: 'One of the best teams in the country'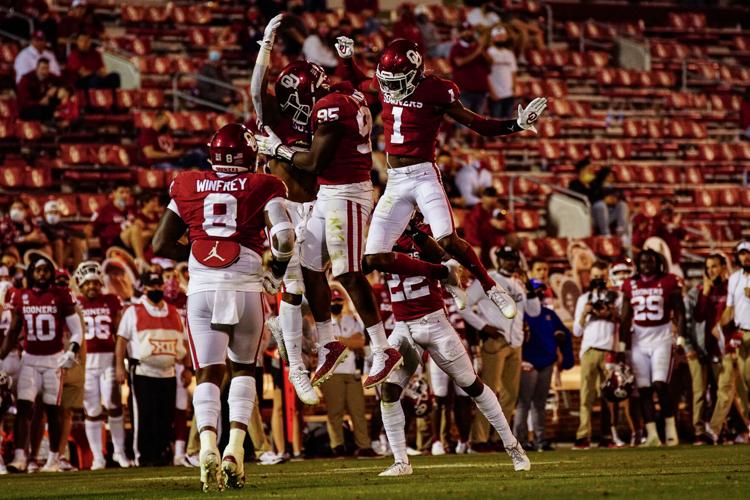 After defeating Texas, Oklahoma found its stride. Averaging nearly 45 points per game over its next five matchups, the Sooners found themselves back in the Big 12 title race — and near the front of it.
Riley after winning 33-14 over TCU: "Now we're on the right trajectory. And then we just got to do everything we can to continue to push that. And I just commend our players, staff, everybody, it's been a really productive last two weeks after the Texas win. We had a good plan together. The guys executed the plan, we got better and came down here and got a win on the road against a tough opponent." 
Ross: "The key for the team this year has been the defense. (OU) actually tackles people now. … (Defensive coordinator) Alex Grinch cannot receive enough credit for what they've done."
Spencer Rattler, redshirt freshman quarterback, after winning 62-28 over Texas Tech: "Our goal is to take a step every week, and I think these past three weeks we've taken steps every game. What I said last night to the team was, 'It's time for us to go out and embarrass somebody.' We've been having these games where we're getting up and getting comfortable, and tonight we didn't get comfortable. We kept running it up." 
Riley after winning 62-9 over Kansas: "We're a pretty close team, we really had to come together, kind of had several of those fork-in-the-road type moments, whether we're going to crumble up and divide or we're going to come together, and then the team has chosen to do the latter. And I think you see that in those moments. I think they're genuinely happy for each other when they make plays. And I think they're happy when other guys get opportunities and I think they enjoy playing this game together." 
Bedlam was played Nov. 21 as the state neared 171,000 cases and hit 1,624 deaths. In Norman, the numbers were 5,911 and 68, respectively.  
Rattler after winning 41-13 over Oklahoma State: "I told myself I needed a big game, especially in this one. I (went) out there and trusted the process. Guys around me played really well and helped me out, (our offensive line) blocked well, receivers caught the ball (and) the defense played well. It's not just me out there. Everybody played well and that contributed to the stat sheet."
As December arrived, Oklahoma's numbers neared 200,000 cases and hit 1,758 deaths, including 6,783 and 71, respectively, in Norman days after most OU students vacated campus for the duration of the semester. The week prior, 35 members of the athletic department tested positive and OU's game at West Virginia, originally scheduled for Nov. 28, was postponed.  
Before Oklahoma's final home game, former head coach Bob Stoops returned to the team for a brief period as an assistant after Riley's staff was left shorthanded due to COVID-19 precautions.
Riley in a Dec. 1 press conference: "It's been kind of in our hip pocket this whole time. If we had any staff member that fell off, we got a Hall of Famer sitting on the bench. So that's a pretty good bench when you can call that guy up."
Stoops in a Dec. 1 release by OU: "If I can add some enthusiasm or positive energy for these players — and I do know most of them — that's a good thing. But let's not get carried away. The people that will influence this game and the rest of our games this season will be coach Riley, his staff and the players. I'm just going to do my best to help out however I can while keeping a low profile."
Ross: "That was an organic, feel-good moment. And it shows you his commitment and love for the football team he helped build. What (Stoops) did there is nothing short of extraordinary. You look around at the stadium, you look at those conference titles and championships, all of that has Bob's signature all over it.
"I thought it was something we needed, from an emotional standpoint, in 2020."
Isaiah Thomas, redshirt junior defensive lineman, after OU clinched a Big 12 championship spot Dec. 5 with a 27-14 win over Baylor: "We always have confidence in ourselves. We always believed we had the chance to make it. When the chances for us making the Big 12 Championship didn't look so great, we didn't point the finger at anybody.
"We have a lot of critics out there believing OU's not the same and all that, then whenever we do great everyone wants to pat us on the back. We stay focused on the ones that truly support us — and that's the ones in this facility and the ones in Norman. We just kept having to put our head down and work through adversity. That's what revealed our true character and we're definitely seeing who really are."
Klatt: "Now, I think Oklahoma's one of the best teams in the country. Their defense is playing outstanding football. They're healthy on offense (and) they can move the ball like Oklahoma normally does."
Sooners end regular season with lone cancellation: 'Don't doubt what's possible'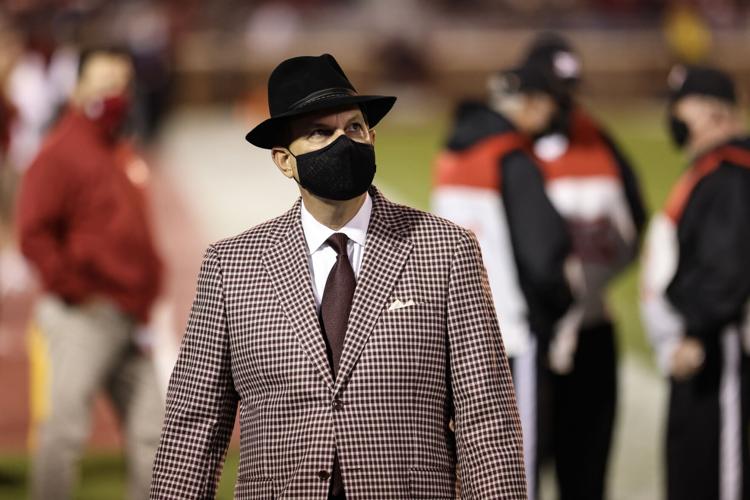 OU's game at West Virginia, rescheduled for Dec. 12, was ultimately canceled due to an outbreak in the Mountaineers' program. However, OU's ability to play all but one of the games on its schedule is a feat not many programs accomplished this season. Entering this week, Ohio State and Oregon have played a total of 10 games combined.
Rowland: "I have been overwhelmingly impressed, from day one, with Joe Castiglione and Lincoln Riley's ability to lead. … They have always put health first and, at the same time, creatively found a way to play a football season in the most unexpected times. I just have a ton of respect for them. They've been creative, they've been flexible, they've been undaunted and tireless. (This season) is exhausting. … All that they're being asked to do is unfair and above and beyond, it's just tireless how they've stayed after it.
"It was inevitable that there would be some cracks and somebody would get it, there would be a game here or there that would have to go, but they've been relentless in their desire to help these student-athletes and coaches at this university and its fan base have what they love this year. I'm inspired by that. It's made me want to be relentless, too. … I mean, come on, I could wear my mask at the grocery store. I can do all these things that they're asking me to do. Just look at what they're having to do. It's inspiring."
Ross: "For any great organization, its greatness can only be achieved and measured by its leadership. That's not to be over-thought. With president Harroz, Joe Castiglione and Lincoln Riley, OU has great leadership. And it's not about winning games or making the College Football Playoff, it's about keeping their staff, their fans, and, more importantly, their players healthy. I think the leadership at OU has done an amazing job of dealing with this matter because it's hard to combat an enemy that's invisible. That's unknown. That you haven't experienced before.
"I think the OU leadership has simply done an amazing job recognizing these challenges and addressing them."
Klatt: "I'm in awe of the players and the commitment that they have made. Not seeing their families, not being normal students. This isn't normal in any sense, and the commitment that they've had to make in order to make this (season) possible is unprecedented. Every time we're fortunate enough to be able to call a game, I just think to myself, 'These kids are more disciplined than I would've been.'
"The Big 12 and the SEC — along with Bob Bowlsby and Greg Sankey — come out of this looking so good because they just handled it right. They had the flexibility and elasticity in the schedule. They had, I thought, better and more reasonable protocols than other conferences, and because of that, we (had) basically a full season of Big 12 football."
This week, as OU prepares to defend its Big 12 crown and learn its bowl fate while ranked No. 10 in the College Football Playoff standings, Oklahoma has endured more than 240,000 cases — a tally nearing three times the capacity of Memorial Stadium. Of those, 2,086 Oklahomans have died, including 78 in Norman.  
Riley in a press conference Dec. 15:  "We've all learned quite a bit (this season) — don't doubt what's possible, (control) what you can control and appreciate the opportunities to play. That might be something that we all take for granted that this year we haven't. … It probably hasn't hit me yet, maybe even all of our guys yet, (but) I'm sure, as this season wraps up and comes to a close, it will more.
"I think when it's all said and done and we look back on it, the fact that we've been able to play and get even close to somewhat of a full season in — considering all the challenges — is pretty remarkable."