Oklahoma songstress to bring powerful voice, story telling to Norman Music Festival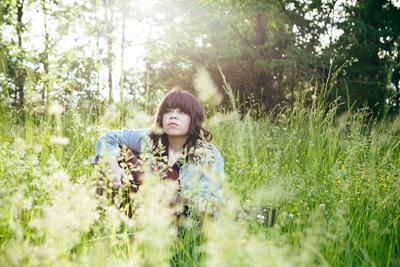 With powerful lyrics, soulful melodies, and an intense voice, Samantha Crain, an Americana-folk musician and Shawnee, Oklahoma, native, will be one of several headliners at this year's Norman Music Festival.
Crain's newest album, "Under Branch & Thorn & Tree," contains interpretations of the struggles and strengths of characters worldwide.
"I have more life to write about than just simply heartbreak," Crain said.
Crain wrote the song "Elk City," found on her album, about the time she drove through Elk City and met a woman at a restaurant while having dinner. 
"A lady also sitting at the bar began telling me her whole life story without any prompting from me," said Crain. "She was having a hard go at it. I took her story and turned it into this song." 
Elk City, the now sleepy little town, had an oil boom in the 1970s that attracted many job-seeking people. The song is about a woman who came for that reason but ended up stuck, Crain said.
"I believe people have a hard time, naturally, feeling empathy for people that aren't like them. So this is an attempt at showing an underdog's life to people that have led a different life and my hope that it leads to empathy," she said about the universality of the song. 
Crain, a member of the Choctaw Nation, says she has never felt like she belonged — to a group or space.
"The best way that I've come to terms with that, for myself, is that the displacement my ancestors were forced into during the Trail of Tears, part of that still runs in my blood," Crain said.
She thinks that might be why she searches for a place to belong.
"That is why I tour, why I travel," Crain said. "Then, the searching, that poured out onto paper in the form of songs."
Crain has been on several tours through the United States and Europe since 2011, she said.
"The support I receive from those crowds is nearly the entire reason I can still make records," Crain said.
Crain also made the point that the U.K. and Ireland revere music more than the U.S.
"I feel like musicians have been forced into a type of prostitution almost in the U.S.," she said. "They have become merely liquor salespeople and party starters, which I fail miserably at since the majority of my songs aren't upbeat and aren't sexy."
Crain has played at the Norman Music Festival before. In 2014, she led the peaceful protest against the band Pink Pony, whose members said they would be wearing full regalia during their set at the festival.
Crain said since then she has been touring in Europe but is looking forward to the event.
"I think there is a good mix of bands and artists playing, really something for everyone," she said. 
While the festival brings depth to and opportunities for artists and musicians, Crain points to how funding education is even more important when it comes to promoting the arts. 
"As much as we try and come up with cool new ways to bring arts to the forefront of a growing and modernizing state, none of it matters much if we aren't spending money on the education of the state's children, and first, integrating art and music into their learning throughout their childhood," Crain said. "So, it's hard for me to even think about our tiny music scene as thriving until these basic social infrastructure issues are solved."
Samantha Crain will perform at 6 p.m. Saturday, April 23, on the Bud Light Depot Stage. Check out her latest album on iTunes. 
Correction: This article was updated at 3:14 p.m. on April 21 with a photo of Samantha Crain. The photo that previously accompanied the article showed a different artist.